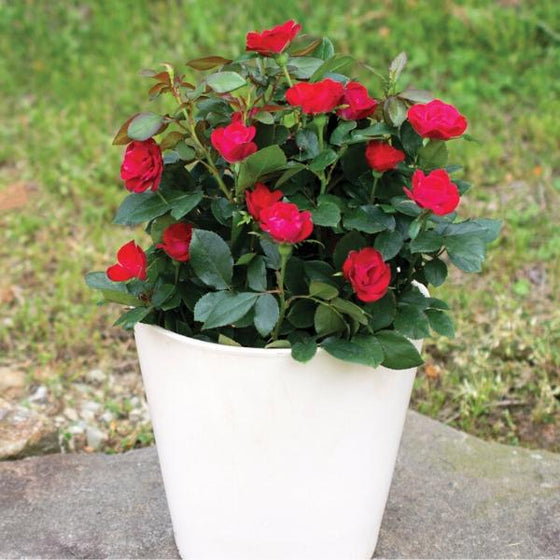 Images Depict Mature Plants
Petite Knock Out® Rose Plants for Sale Online
Petite Knock Out Roses are the first-ever miniature Knock Out Rose! This new addition to the collection is just as fragrant as the original Knock Out, and the stunning fire engine red flowers persist throughout the season.
The long bloom time, fade-resistant flowers, and glossy green foliage make this mini rose bush a fabulous option for decorative containers and outdoor patios. As a pollinator favorite, Petite Knock Out Rose bushes will become a magnet for pollinators like hummingbirds and butterflies. 
This easy-to-grow rose bush is covered in fire engine red flowers that are complemented by deep green foliage. The red blooms on this popular yard shrub make for a dramatic pop of color and are sure to bring interest to a living space.
Botanically referenced as 'Rosa meibenbino,' the petite plant is loved for both its flower power and easy care regimen. Ideal care for the Petite Knock Out Rose plant includes full sun and well-drained soil. We recommend pruning the plant in early spring each season for optimal growth. Additionally you should give your rose bush water when the soil is dry.
Coming in the forms of both a bush and a tree, The Petite Knock Out is versatile and has many uses. The Petite Knockout Tree, for instance, brings the perfect amount of height and adds a bit of uniqueness to a landscape with its tree form. Place this plant in a decorative planter for a fun new addition to yards and patios.
---
Growzone: 5-9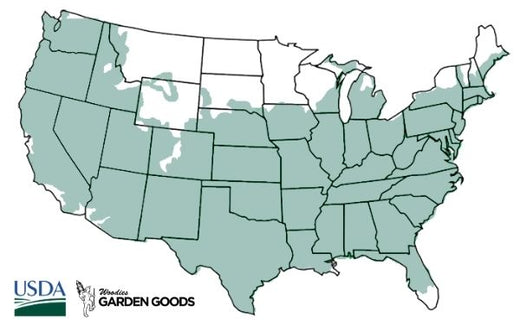 | | |
| --- | --- |
| Hardiness Zone: | 5-9 |
| Mature Height: | 1 to 2 Feet |
| Mature Width: | 1 to 2 Feet |
| Classification: | Broad leaved deciduous shrub rose |
| Sunlight: | Full sun for best blooms |
| Habit: | Compact and bushy |
| Foliage: | Dark green, extremely glossy |
| Flower Color: | Fire engine, non-fading red |
| Pruning Season: | Prune in late winter |
| Soil Condition: | Any well drained soil |
| Water Requirements: | Water well until established |
| Uses: | Extremely attractive when used as a focal point in the mixed border, mass planting, or a specimen planting |
---
How to Care for Petite Knock Out® Rose
Be sure to read our planting instructions to ensure a healthy and happy plant for years to come!

How do I mulch Petite Knock Out® Rose Shrubs?
We highly recommend that you mulch your Petite Knock Out Rose shrub with either a ground hardwood mulch or a ground cypress mulch depending on your local availability. Any type of mulch will do but cypress or hardwood mulch will be of a higher quality and provide better nutrition overall as they breakdown. Mulching helps to keep weeds away which will compete with your new investment for water and nutrients. A 2 to 3 inch layer of mulch is sufficient but remember to take care not to cover any part of the stem of the plant with mulch. It's better to leave a one inch gap of space between the mulch and the stem or trunk of the plant.

How do I fertilize Petite Knock Out® Rose Bushes?
Shrub roses such as Petite Knock Out Roses grow best if they are fertilized once or twice in the summer. You should fertilize your roses monthly from springtime to fall. Knock Out Roses like nutrient rich soil and ample fertilization. Try using some Epson salt as well. This will help boost the levels of magnesium in the soil which promotes increased flower production. When selecting a fertilizer for your Knock Outs, use a rose fertilizer blended specifically for roses such as Espoma Rose Tone for example. Either chemical fertilizers or organic matter can be used successfully.

How do I water Petite Knock Out® Roses?
After back filling and lightly compacting the 50/50 mix of existing soil and compost give the Petite Knock Out Rose a good deep watering. This is not to be rushed. Most of the water you put on the plant at first will run away from the plant until the soil is soaked. A general rule of thumb is to count to 5 for every one gallon of pot size. For example a one gallon pot would be watered until you count to 5 a three gallon pot would be 15 and so on. Check the plant daily for the first week or so and then every other day there after. Water using the counting method for the first few weeks. You'll want to water the bushes regularly after planting until they've been well established. We like to tell folks that when watering Roses its best not to water the foliage of the plant. Water at the base of the plant near the soil line only. Although Knock Out roses are generally resistant to black spot there are other foliage diseases that can effect roses in general that are favored by wet foliage conditions. Gator bag Jr. can be used to help aid in this process and also provide plants with a good soaking due to the slow release of the water into the root-zone of the plant. Soaker Hoses can also be used to water when planting a long hedge.

How do I prune Petite Knock Out® Roses?
It is best to prune your roses during the late winter or early spring. You can remove dead leaves and prune to shape but deadheading is not necessary as it is a self cleaning rose shrub.
---
Frequently Asked questions
Is My Knock Out Rose Disease Resistant?
---
General questions
What do the pot sizes mean?
---
---
Other Products you may be interested in
---
Customer Reviews