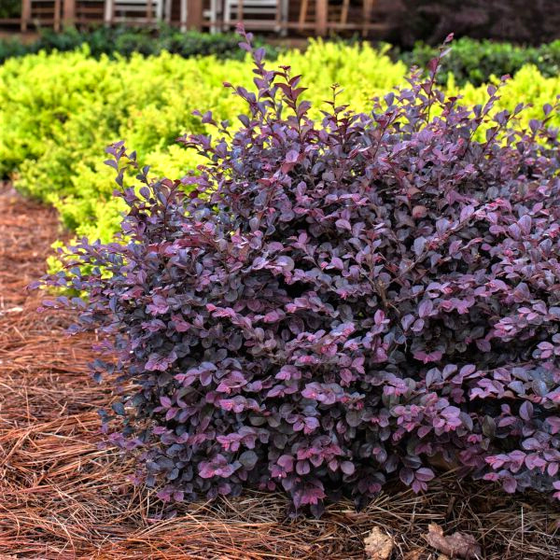 Images Depict Mature Plants
Crimson Fire Loropetalum for Sale Online
Crimson Fire Loropetalum Shrubs (Loropetalum chinense var. rubrum 'Crimson Fire') produce neon pink flowers in the early spring that are an eye-catching contrast to the deep burgundy-red foliage. This dense evergreen shrub only grows about 4 feet tall and wide with a mounding habit, making it perfect for small spaces.
When planted in full sun to partial shade and well-drained soil, it is extremely easy to grow. In fact, it is deer resistant and drought tolerant once the root system has established.
---
Growzone: 7-9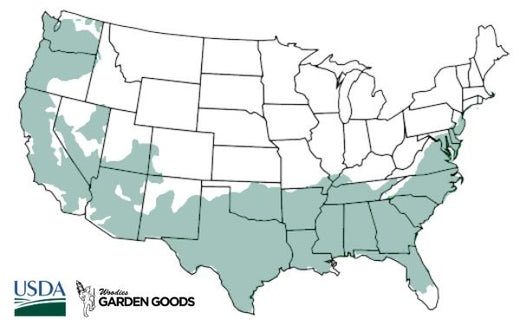 | | |
| --- | --- |
| Hardiness Zone: | 7-9 |
| Mature Height: | 3 to 4 Feet |
| Mature Width: | 3 to 4 Feet |
| Sunlight: | Full sun to partial sun |
| Habit: | Compact, dense |
| Flower Color: | Hot pink |
| Foliage: | Ruby red aging to burgundy |
| Pruning Season: | Prune after flowering or in very early spring |
| Soil Condition: | Any well drained soil |
| Water Requirements: | Water well until established |
| Uses: | Extremely attractive when used as a focal point in the mixed border, mass planting, or a specimen planting. Provides nectar sources for pollinators. Great winter interest due to the peeling bark. |
---
How to Care for First Edition® Crimson Fire™ Loropetalum
Before you buy a Crimson Fire Loropetalum plant, make sure to read about the recommended care instructions to keep this plant healthy and thriving.

How to plant crimson fire loropetalum?
As with any plant, dig a hole twice as wide as the root system but not any deeper. Use the container your shrub was delivered in as a guide for how to measure the depth. If the perennial sits too deep in the soil, it runs the risk of drowning and developing root rot. Loosen the bottom of the root ball with your hands and place it in the hole. Backfill with a mix of the original soil and compost or topsoil. As you are filling, allow the hose to drip in and as you mix the soil and water, a slurry will form that will encourage the roots to settle.

What kind of light is best for the Crimson Fire Chinese Fringe Flower?
While this shrub flowers best in the full sun, it may be best to give it some afternoon shade. Especially it the hot climates where this shrub thrives, too much direct midday sun can be straining. When you buy a Crimson Fire Loropetalum with Garden Goods Direct, it will have spent a few days in a dark box, so do not place directly into full sun. Instead, give it some time to acclimate.

How often should I water a Crimson Fire Loropetalum?
This evergreen shrub loves to reside in well-drained, sometimes dry soils, so an average watering will be sufficient. As mentioned earlier, once established, it is drought-resistant and can thrive even with less frequent watering.

When to prune crimson fire loropetalum?
To maintain and control the size of your dwarf plant, cut it back one quarter to one-third of its size. It is best to trim back the Crimson Fire Chinese Fringe Flower in spring after the shrub has bloomed. Pruning in the fall could hinder the number of blooms the following spring. The removal of dead or dying limbs or spent flowers can be done at any time.
---
Frequently Asked questions
How big do crimson fire loropetalum get?
---
Other Products you may be interested in
---
Customer Reviews