Images Depict Mature Plants
Crape Myrtle Midnight Magic Shrubs for Sale Online
Crape Myrtle Midnight Magic™ produces superb purple-maroon colored foliage and offers loads of dark pink flowers all through the summer. Beyond it's beauty, the popular specimen plant is loved for its small size, long bloom time and hardiness to a wide variety of conditions.
The Midnight Magic Crape Myrtle has a naturally rounded and compact shape that reaches a mature height of four to six feet tall. The small shrub is ideal for small yards and confined planting spaces. Pink blooms emerge in July when most other plant blooms are fading in the heat. The stunning plant stays blooming and remains colorful well into September. Additionally, the foliage color stays dark even in the southern heat.
The popular shrubs grow best in USDA zones 7-9 and enjoy conditions of full sun and well drained soils. The shrubs are known to be highly resistant to resistant to leaf spot, powdery mildew and pests. Plant your Midnight Magic shrub in early spring for optimal growth. With its beautiful dark foliage and good leaf spot and mildew resistance, this shrub will easily become a focal point of the summer landscape.
The Midnight Magic plants will bloom again in late summer if the first flush of flowers are deadheaded. The bold shrubs are perfect to add a shot of summer color in a foundation planting or as an informal hedge.
---
Growzone: 7-9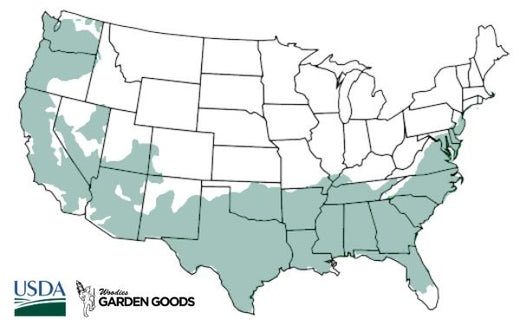 | | |
| --- | --- |
| Hardiness Zone: | 7-9 |
| Mature Height: | 6 to 10 feet |
| Mature Width: | 6 to 10 feet |
| Classification: | Semi-dwarf shrub form (6 to 10 feet) |
| Sunlight: | Full Sun |
| Habit: | Deciduous, densely branched, multi-stemmed summer through the first frost |
| Flower Color: | dark pink flowers in mid to late summer through the first frost |
| Foliage: | New growth emerges a rich reddish purple, eventually turning dark purple |
| Soil Condition: | Any well drained soil |
| Water Requirements: | Water well until established |
| Uses: | xtremely attractive when used as a focal point in the mixed border, mass planting, or a specimen planting . Small enough for a large containers on the patio |
---
How to Care for First Editions® Midnight Magic™ Crape Myrtle
Be sure to read our planting instructions to ensure a healthy and happy plant for years to come!
---
Additional Information
History and introduction of Crape Myrtles:
In the mid-1960s, the National Arboretum embarked on a crape myrtle breeding program that continues today, forty-five years later. It was begun by the late Donald Egolf, a research horticulturist whose goal was to produce disease-resistant, cold-hardy crape myrtles. In the first five years, he focused on breeding and selecting pure Lagerstroemia indica for these traits. The result was the release of six cultivars in 1967 and 1970, each named for a Native American tribe, chosen to impart a distinctly American designation to introductions from this program. Several of these selections are still widely grown today, including 'Catawba', 'Cherokee', and 'Seminole'. Though an improvement over cultivars then available, they were to be followed by a much more important milestone in breeding and development. In 1956, a long-forgotten species of crape myrtle (Lagerstroemia fauriei) was rediscovered on the small Japanese island of Yakushima. Botanists found only one specimen on the island. Seeds collected from that tree were sent back to the United States and dispersed to arboretums and nurseries. The resulting seedling trees proved to be immune to powdery mildew, a disease that often afflicted L. indica and that the USNA breeding project had sought to eradicate. This purely white-flowered tree was less showy in bloom than L. indica, but it bore dramatic cinnamon and burgundy exfoliating bark. Egolf began hybridizing Lagerstroemia indica with the seedlings of L. fauriei. He hoped to impart disease resistance and handsome bark to the hybrid offspring, which were assigned the name L. xfauriei. What he achieved was a lasting legacy of spectacular and popular cultivars. Disease resistance, beautiful bark, and enhanced cold hardiness were imparted to these hybrids, just as Egolf had planned. Following the release of the first hybrid selections ('Muskogee' and 'Natchez') in 1978, twenty-one hybrid cultivars would be selected, named, and introduced over the next twenty-five years. Each was thoroughly tested for disease resistance, length of bloom, and cold hardiness in Washington, DC (USDA zone 7a). Later, a third cold-hardy species was added to the hybrid program: Lagerstroemia limii, a lavender-flowered species occasionally grown in western Oregon. Its large furry leaves and rough bark distinguished it from L. indica and L. fauriei. In 2003, the first two triple hybrids were released, fulfilling a long-sought goal: the introduction of truly red-flowered hybrid crape myrtles ('Arapaho' and 'Cheyenne') with disease resistance. This National Arboretum breeding program continues to use names of Native American tribes, though not all of the introductions so named are hybrids; the first six cultivars were purely Lagerstroemia indica. Lagerstroemia indica, commonly known as crape myrtle, is an upright, wide-spreading, multi-stemmed, deciduous shrub or small tree in the loosestrife family. It typically grows to 15-25' tall. It is native from the Himalayas through southern China, southeast Asia and Japan, but has naturalized in the U.S. from Virginia to Arkansas south to Texas and Florida. An additional common name is Lilac of the South in reference to its popularity in southern gardens (USDA Zones 7-9). Key ornamental features include long bloom period, exfoliating bark and superb fall color. Terminal, crepe-papery inflorescences (to 6-18" long) of showy flowers with crimped petals bloom in summer (sometimes to frost) on upright branches. In the wild, flowers are typically rose to red.
---
Frequently Asked questions
How do I water Midnight Magic Crape Myrtle?
How do I fertilize Midnight Magic Crape Myrtle?
How do I mulch Midnight Magic Crape Myrtle?
How do I prune Midnight Magic Crape Myrtle?
---
---
Other Products you may be interested in
---
Customer Reviews