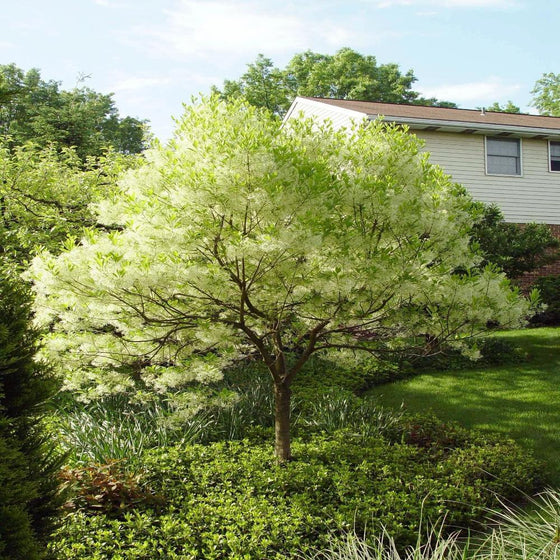 Images Depict Mature Plants
American Fringe Trees for Sale Online
American Fringe Trees (Chionanthus virginicus), also known as Virginia Fringe Tree or White Fringe Tree, is a North American native tree with fragrant six to eight inch panicles that emerge in the late spring. A mature tree can stop traffic when in full bloom, usually early to mid-May.
Chionanthus virginicus is a dwarf flowering tree and cloaks itself in lacy white petals from top to bottom before the leaves appear in the spring. The female flowers will give way to dark blue berries in the summer that are attractive to wildlife. It is one of the last trees to bear new leaves in the spring and it is a beautiful accent for any landscape.
---
Growzone: 4-9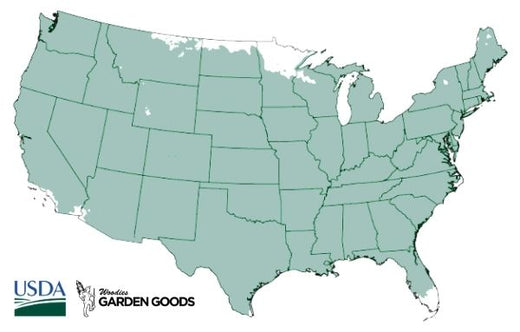 | | |
| --- | --- |
| Hardiness Zone: | 4-9 |
| Mature Height: | 20 to 25 Feet |
| Mature width: | 15 to 20 Feet |
| Classification: | Broad leaved deciduous tree, spring flowering |
| Sunlight: | Full sun |
| Habit: | Upright, dome shaped canopy |
| Foliage: | Dark green, yellow fall color |
| Flower Color: | Pure white |
| Pruning Season: | No pruning needed |
| Soil Condition: | Any well drained soil |
| Water Requirements: | Water well until established |
| Uses: | Tolerates moist soil and full sun. Add to native and wild gardens for habitat and seasonal interest; will adapt to drier sites |
---
How to Care for American Fringe Tree
Before you buy an American Fringe Tree, make sure to read about the recommended care instructions to keep this plant healthy and thriving.

How do I fertilize American Fringe Trees?
Trees such as American Fringe Trees grow best if they are fertilized lightly in the spring once frost has passed with a well-balanced, extended-release, fertilizer such as Espoma Tree-tone. Fertilize American Fringe Trees again 6 to 8 weeks later to encourage denser foliage or faster growth of young trees. We recommend Bio-Tone fertilizer when planting. Either chemical fertilizers or organic matter can be used successfully with Fringe Tree. Since an organic method of applying manure and/or compost around the roots, produces excellent results and also improves the condition of the soil, this would be an excellent first line of attack. Organic additions to the soil can also be combined with a shot of chemical fertilizer for maximum effect.

How do I water American Fringe Trees?
After planting the American Fringe Tree, give it a slow, deep watering. This is important especially during the early stages of being planted in your yard. Be patient with this because most of the water that hits the soil at first will run off, it takes time for the water to penetrate the soil and reach the roots. We have a trick that we use with our own plants - count to 5 seconds for every gallon of the pot. So if the plant was in a 3-gallon pot, you would count for 15 seconds as you water the plant. Water your tree using the counting method for the first few weeks after planting it in your garden. After that, you'll want to water the bushes regularly after planting until they've been well established.

How do I prune American Fringe Trees?
I find pruning to be one of the most relaxing yet rewarding chores in the garden. Pruning a specific plant to look a specific way, involves art in creating a unique definition for a specific plant, and it involves science in understanding the physical growing habits of the plant to be pruned. The most important reason for pruning tree is to improve the overall health of the plant which in turn will reward you with a plethora of blooms. Many times, trees that have not been pruned in a few years will develop dead or degenerative twigs. Removing the dead and dying limbs will minimize the possibility of diseases such as "dieback" and will also allow the plant to re-concentrate its energies and produce flowers.

How do I mulch my American Fringe Trees?
We highly recommend that you mulch your American Fringe Trees with either a ground hardwood mulch or a ground cypress mulch depending on your local availability. Any type of mulch will do but cypress or hardwood mulch will be of a higher quality and provide better nutrition overall as they breakdown. Mulching helps to keep weeds away which will compete with your new investment for water and nutrients. A 2 to 3 inch layer of mulch is sufficient but remember to take care not to cover any part of the stem of the plant with mulch. Its better to leave a one inch gap of space between the mulch and the stem or trunk of the plant.
---
Frequently Asked questions
How fast does Chionanthus virginicus grow?
Can I Buy A Male or A Female American Fringe Trees? Do I Need Both?
What Do American Fringe Trees Smell Like?
---
Other Products you may be interested in
---
Customer Reviews