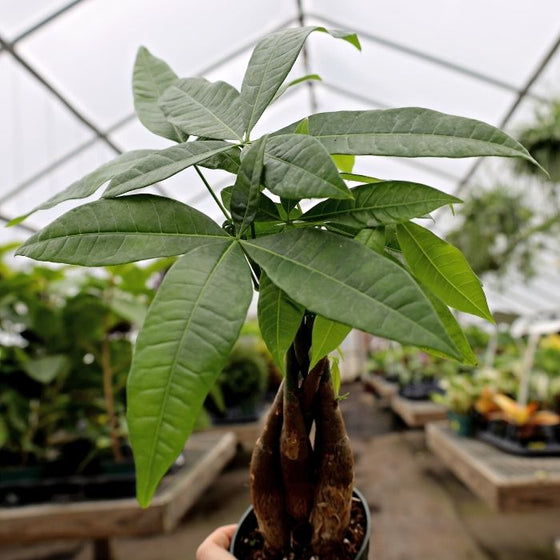 Images Depicted Range in Maturity & Container Size
Pots Not Included Unless Otherwise Stated
Money Tree Plant for Sale Online
Known for good luck, Money Trees are popular indoor plants believed to bring good luck and good fortune to the person who receives them as a gift. This small, tree-like plant features a braided trunk and large leaves, and it's guaranteed to add feng shui to any space.
Botanically referenced as 'Pachira Aquatica,' the Money Tree plant creates positive energy, or chi, and is commonly found in storefronts and businesses. Its braided trunk brings an ornamental value to this plant.
Ideal care for Money Tree plants includes bright indirect sunlight and a well-draining potting mix. The Money Tree prefers less attention than many houseplants and it is best to allow the soil to dry out some between waterings. We also recommend that you pot your tree in a pot with drainage holes to avoid issues of root rot.
The Pachira Aquatica is a fun, unique addition to indoor spaces and adds an element of style and natural beauty to a home. This ASPCA-certified pet-friendly plant is also known to clean air and can help purify the air in your home.
The Money Tree plant is loved by bonsai enthusiasts, as it already follows the form and can handle being root bound in a small container. The hand-shaped leaves have five sections and are said to symbolize the elements of creation: metal, fire, water, wood, and earth. Native to South America, this tropical tree is grown for its edible nuts.
---
Growzone: 9-11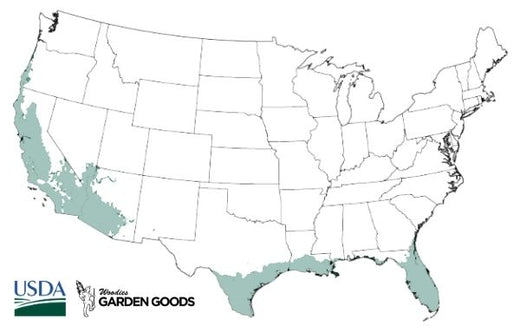 | | |
| --- | --- |
| Hardiness Zone: | 9-11 |
| Mature Height: | 36 to 48 Inches |
| Mature Width: | 12 to 24 Inches |
| Classification: | House plant |
| Sunlight: | Fluorescent light to some bright, indirect |
| Habit: | Upright, clear trunk |
| Flower Color: | Does not flower indoors |
| Foliage: | Green, smooth |
| Soil Condition: | Potting mix |
| Water Requirements: | Likes to dry out occasionally |
| Uses: | Fabulous housewarming gift or present for a new space or business |
---
How to Care for Money Tree
Before you buy a Money Tree plant, make sure to read about the recommended care instructions to keep this plant healthy and thriving.

How do I fertilize Money Tree Plants?
We recommend fertilizing your plant during the spring and summer growing months. Any all purpose, fertilizer will work for Money Tree Plants. Indoor houseplant fertilizers fall into two groups: water soluble, liquid quick release, and granular, slow release fertilizers. Jack's Classic Indoor plant food works well as a powder, quick release fertilizer that is mixed with water to quickly provide nutrients to a plant that has been in a container for an extended time.

What is the best light for Money Tree Plants?
Money Tree Plants prefer low, fluorescent light to some bright, indirect light. Due to its tropical nature, it enjoys moderate to high humidity. Avoid placing your Money Tree in direct sunlight which results in leaf-scorching. While this plant grows well in low-light, cool drafty air and hot dry air will lead to leaf loss.

How do I water Money Tree Plants?
Money Tree plants prefer to dry out occasionally between watering, and don't like to sit in water or dry out for too long. This plant is tolerant of infrequent watering. During the winter months, this plant requires less watering.

What is the best soil for Money Tree Plants?
Very tolerant of all soil types, Money Tree Plants can be planted in regular potting mix. Even a bonsai mix would work, as some enthusiasts keep this plant as a bonsai for its stout trunk and leafy foliage. Be sure to plant this tree in a pot with drainage holes to prevent root rot. To repel pests, we recommend adding neem oil to the soil.
---
Frequently Asked questions
Are Money Tree Plants Pet safe?
---
Other Products you may be interested in
---
Customer Reviews