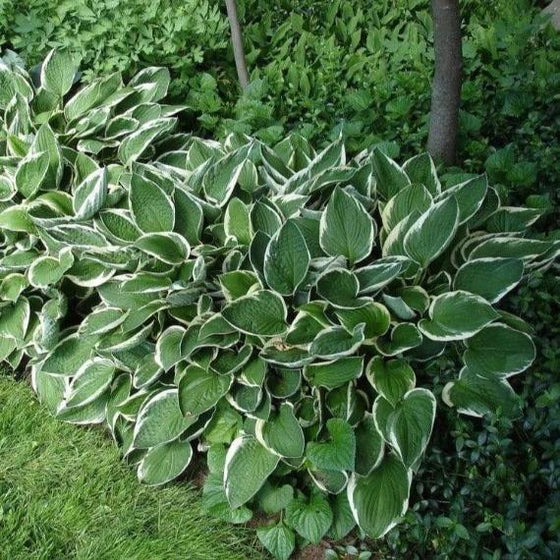 Images Depict Mature Plants
Hosta Albomarginata for Sale Online
Hosta Albomarginata (Hosta undulata) is a flowering shade perennial beloved for its pale green leaves with white margins. The color of the foliage will fade if the conditions are too hot or too sunny; at most, this hosta can tolerate morning sun but thrives in full shade. Hostas are known to be very versatile and hardy plants, but they prefer to be planted in rich-well-draining soil with an average ph. They are one of few plants to flower in full shade. The Hosta Albomarginata is one of the first of its family to bloom in the early spring with dramatic tall flower stalks with pale lavender flowers at the top.
---
Growzone: 3-9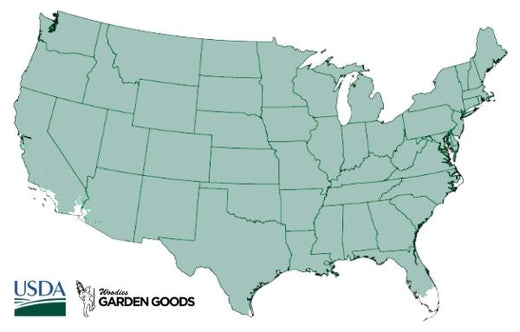 | | |
| --- | --- |
| Hardiness Zone: | 3-9 |
| Mature Height: | 18 Inches |
| Mature Width: | 32 Inches |
| Sunlight: | Full shade |
| Water Requirements: | Regular watering until established |
| Flower Color: | Lavender Purple |
---
How to Care for Hosta Albomarginata
Be sure to read our planting instructions to ensure a healthy and happy plant for years to come!

How often should I water my Hosta undulate?
While your plant is establishing in its new location, water regularly. You can reduce the frequency of your watering schedule after the first season once your plant has matured. During this time, water once a week during the growing season, but your plant will not need water during the winter months while it is dormant.

What type of fertilizer is best for my Hosta Albo Marginata?
Any average, all-purpose fertilizer will work perfectly for your Hosta plant. Fertilize once per year in the spring to promote vigorous growth during the growing season. Do not fertilize in the late fall; fertilizing in the fall will encourage new growth that will be susceptible to winter conditions.

How do I mulch my Hosta Albomarginata?
Apply a 2-inch thick layer of any high-quality mulch of your choosing around the Hosta albomarginata plant. Be sure to leave a gap between the plant and the mulch to prevent damage. Mulching protects the moisture of the soil as well as the roots of your plant from harsh conditions.

How do I plant my Hosta?
Dig a hole that is twice as wide, but no deeper than the container your Hosta arrived in. Gently remove your perennial from its container and loosen the roots at the bottom. Place the plant in the center of the hole and backfill the surrounding area with a mix of the existing soil and organic matter such as comport or topsoil. Be sure not to cover the original base of the plant. Water slowly and deeply to encourage the roots to settle in their new home.
---
General questions
What do the pot sizes mean?
---
---
Other Products you may be interested in
---
Customer Reviews