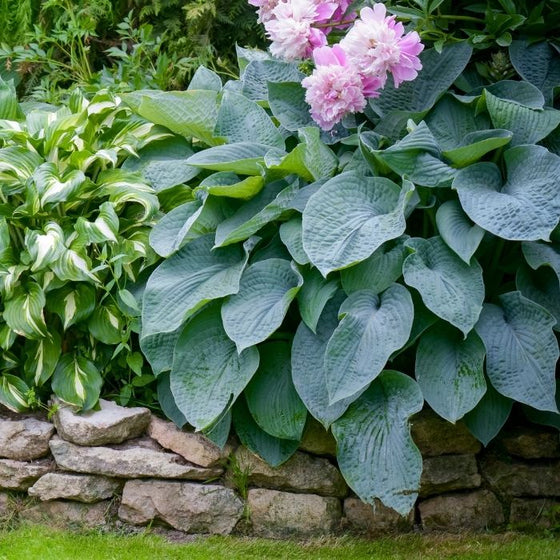 Images Depict Mature Plants
Hosta Blue Angel for Sale Online
The Hosta Blue Angel is a low-maintenance flowering perennial long-time favorite for gardeners. This plant is versatile and looks flawless in border gardens, containers, or mass plantings; be sure that these areas are shaded. When mass planting, space your hostas 30 to 36 inches apart. The Blue Angel thrives in hardiness zones 3 through 8.
Unlike most flowering perennials, the hosta can produce blooms with minimal sunlight; it actually prefers it. The dense large blue leaves rise from a central crown and spread out, creating a mound of powder blue foliage. Rising above this blue mound in the spring are strong sturdy stems that hold clusters of white blooms. These hosta flowers in early spring or summer.
Hostas grow best in rich, well-draining soils. These shade lovers can handle a little bit of morning sun, but anything more will hinder growth and influence yellow leaves. The dark green hosta leaves are thick, making the plant slightly drought tolerant, but the soil should be kept moist for optimal growth.
---
Growzone: 3-9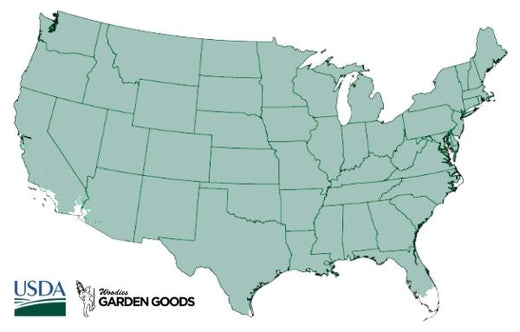 | | |
| --- | --- |
| Hardiness Zone: | 3-9 |
| Mature Height: | 3 Feet |
| Mature Width: | 3 to 3.5 Feet |
| Flowers: | Clusters of white blooms |
| Sunlight: | Part shade to full shade |
| Water Requirements: | Average |
---
How to Care for Hosta Blue Angel
Be sure to read our planting instructions to ensure a healthy and happy plant for years to come!

How do I plant a Hosta Blue Angel?
The most important thing to remember when choosing a location for your hostas is that the area is shaded. When you receive your hosta, lay the container out in the chosen location for a couple of days to allow the plant to acclimate to its new environment before putting additional stress on it by planting. When it comes time, remove the hosta from the container it came in. Dig a hole twice the width, but no deeper than the container. Loosen the roots at the bottom of your plant using you hand and then place the hosta in the hole. Backfill with a mix of the original soil and compost or topsoil. Pat down around the plant and give it a good watering.

How often should you water Blue Angel Hostas?
Hostas like to remain in moist soil, so water regularly to maintain desired conditions. Newly planted, or transferred hostas will require more frequent waterings, but established plants can thrive from one deep watering a week. This is preferred over frequent, light waterings. Apply water to the base of the plant, rather than from the top. Excess water on the leaves can cause the leaves to burn.

What type of mulch is best for blue Hosta Plants?
Mulching helps protect the roots of your hostas and retain moisture in the soil. Since Blue Angel Hostas especially love moist soils, mulching is very beneficial and recommended. We recommend using organic mulches such as pine needles, shredded bark, or leaves. When organic mulches start to decompose, they add much-needed nutrients to the soil surrounding your plant. Soil after winter is over, applying a 3-inch layer around your plant but be sure to leave a gap between the base of the plant and the mulch to prevent rot.

When should I fertilize my Hosta Blue Angel?
The best time to apply a slow-release fertilizer to a Blue Angel Hosta is in the spring before the plant blooms. If you opt for a balanced granular fertilizer, you can apply it once a month to encourage continuous growth and overall health. Stop fertilizing 6 to 8 weeks before the first frost. Failure to do this will result in the hostas being vulnerable to cold winter weather and your hostas may not come back the following spring.
---
General questions
What do the pot sizes mean?
---
---
Other Products you may be interested in
---
Customer Reviews