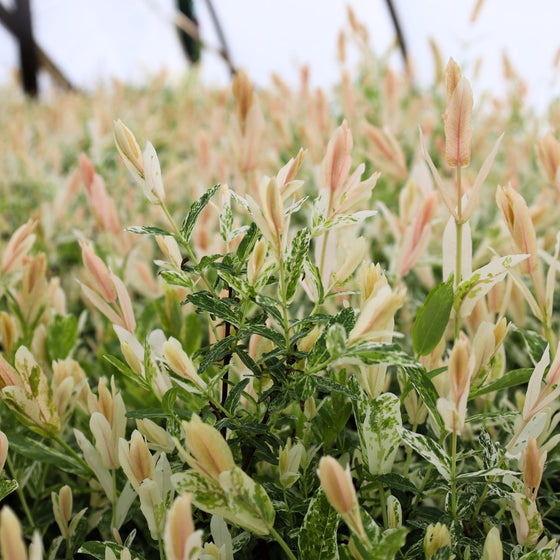 Images Depict Mature Plants
Japanese Dappled Willow Shrubs for Sale Online
Bright pink shoots open to creamy white and green variegated leaves on this graceful willow shrub. Heavy fertilization will maintain its color. Dappled Willows can also be trained into a small tree and can usually be found in shrub and tree forms.
Dappled Willow, also known as Salix Integra 'Hakuro Nishiki', is native to the gardens of Japan, and expresses a semi weeping form. This deciduous shrub's vibrant, distinctive leaves unravel from the buds in spring with a mix of cream, green and pink colors. As the new growth begins to mature, pink coloration will subside, leaving a creamy white and gray-green variegated leaf.
This color Dappled Willow displays good winter interest with red stems that disperses with the landscape. This deciduous shrub tends to be very versatile and fast-growing. It is easy to take care of looks classy in your garden. Salix Integra grows best when planted in full to partial sun, which will ensure its dramatic foliage color.
---
Growzone: 4-9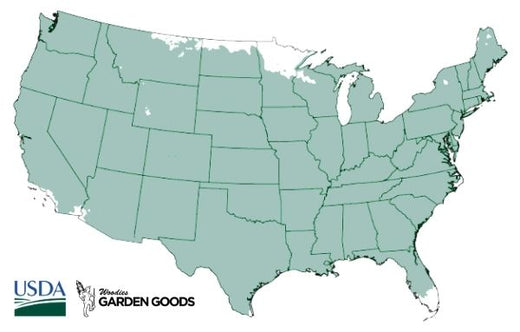 | | |
| --- | --- |
| Hardiness Zone: | 4-9 |
| Mature Height: | 4 to 6 Feet |
| Mature width: | 4 to 6 Feet |
| Classification: | Broad leaved deciduous shrub |
| Sunlight: | Partial to full sun |
| Habit: | Upright and outward |
| Flower Color: | Yellow |
| Foliage: | Green, white, and pink variegation |
| Soil Condition: | Any well drained soil |
| Water Requirements: | Water well until established |
| Uses: | Border, Specimen, Hedge, Woodland Gardens |
---
How to Care for Dappled Willow
Once you buy a Japanese Dappled Willow shrub, make sure to read about the care instructions that are required and recommended to keep this plant healthy and thriving.

How do I water a Japanese Dappled Willow Shrub?
Japanese Dappled Willows need a lot of moisture to survive, especially as freshly planted young shrubs. Give them a deep watering once a week, making sure the top two inches of soil are moist after watering. Increase your schedule to twice a week in the case of excessive heat. You never want to over water your plants, however, as this can cause root rot and death to the stem. Once your willow bush is established, it can tolerate longer periods of drought.

What type of light is best for Salix Integra?
Japanese Dappled Willow shrubs grow best in full sun to ensure optimal color. This easy to grow shrub will grow in partial light, but we recommend that your Japanese Dappled Willow shrub has access to at least 6 hours of full sun per day. By giving your Japanese Dappled Willow shrub ample light, you can watch its yellow showy flowers dazzle in the wind!

How do I plant Japanese Dappled Willow?
We suggest when planting your newly purchased Japanese Dappled Willow plants that you dig a hole twice as wide as the root system, but not deeper. Depending on the quality of your existing soil, you may need to add a locally sourced compost or topsoil to the back-fill soil from your local garden center. The most common cause of plant death after transplanting is planting the new plant too deep. That is why we do not recommend planting in a hole any deeper than the soil line and root ball of the plant in the pot. A good rule is that you should still be able to see the soil the plant was grown in after back-filling the hole.

What type of fertilizer should I use for Japanese Dappled Willow?
Fertilize Japanese Dappled Willow with a general purpose fertilizer very early in spring before any growth begins. Somewhat heavy fertilization will help maintain its' foliage color, but don't overdo it. Just be sure to fertilize each and every spring, being somewhat more generous than you would for other low maintenance shrubs. Apply an early spring fertilizer with a product such as Espoma Tree-tone or Plant-tone at the recommended rate this will give the plant a boost of nitrogen that will be needed for healthy abundant foliage. Follow this up with a early summer application of Espoma Flower-tone, this will provide the necessary nutrients and raise the acid level in the soil which mahonia favor. Espoma products are easy to use, just sprinkle around the base of the plant and water it in.
---
Frequently Asked questions
How should I prune a Japanese Dappled Willow?
---
Customer Reviews