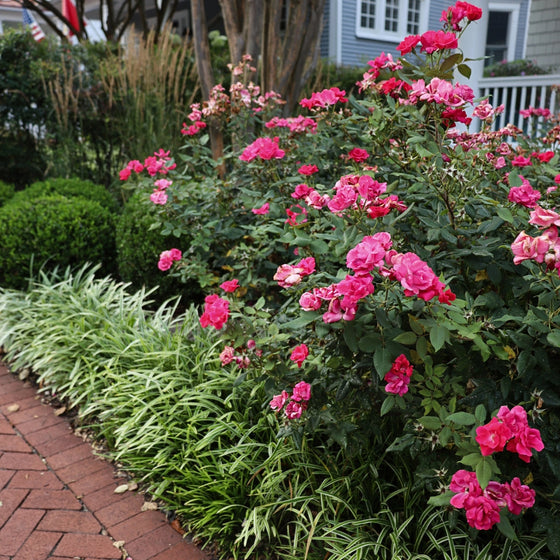 Images Depict Mature Plants
Double Red Knock Out Roses for Sale Online
Classic rose-shaped flowers bloom in cherry red from early spring to the first frost. The Red Double Knockout rose bush has superior drought tolerance once established, it has the toughness and disease resistance for which the family is known. A vibrant color that perks up any landscape.
Double Red Knock Out Rose bushes are excellent for planting as a low hedge. In fact, this rose bush blooms over 9 months of the year. Double Red Knock Out is self-cleaning so there's no need to deadhead. This flowering bush is black spot and powdery mildew resistant.
---
Growzone: 5-9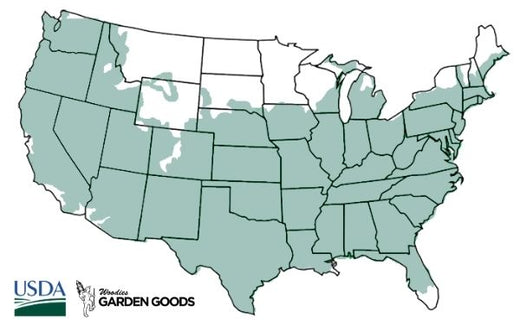 | | |
| --- | --- |
| Hardiness Zone: | 5-9 |
| Mature Height: | 3 to 4 feet |
| Mature Width: | 3 to 4 feet |
| Classification: | Broad leaved deciduous shrub rose |
| Sunlight: | Full sun for best blooms |
| Habit: | Upright, rounded, densely branched |
| Foliage: | Dark green, red new growth |
| Flower Color: | Medium pink |
| Pruning Season: | Prune in late winter |
| Soil Condition: | Any well drained soil |
| Water Requirements: | Water well until established |
| Uses: | Extremely attractive when used as a focal point in the mixed border, mass planting, or a specimen planting |
---
How to Care for Double Red Knock Out® Rose
Before you buy Red Double Knock Out Roses, make sure to read about the care instructions that are required and recommended to keep this plant healthy and thriving.

How do I plant a Red Double Knock Out Rose Bush?
We suggest when planting your newly purchased Red Double Knock Out Rose plant that you dig a hole twice as wide as the root system but not deeper. The most common cause of plant death after transplanting is planting the new plant to deep. That is why we do not recommend planting in a hole any deeper than the soil line of the plant in the pot. A good rule is that you should still be able to see the soil the plant was grown in after back-filling the hole. Depending on the quality of your existing soil you may need to add a locally sourced compost or topsoil to the back-fill soil.

How do I prune Red Double Knock Out Roses?
We highly recommend that you mulch your Red Double Knock Out Rose with either a ground hardwood mulch or a ground cypress mulch depending on your local availability. Any type of mulch will do but cypress or hardwood mulch will be of a higher quality and provide better nutrition overall as they breakdown. Mulching helps to keep weeds away which will compete with your new investment for water and nutrients. A 2 to 3 inch layer of mulch is sufficient but remember to take care not to cover any part of the stem of the plant with mulch. Its better to leave a one inch gap of space between the mulch and the stem or trunk of the plant.

How do I water Red Double Knock Out Roses?
After planting the Red Double Knock Out Rose, give it a slow deep watering. Most of the water you put on the plant at first will run away from the plant until the soil is soaked. A general rule of thumb is to count to 5 for every one gallon of pot size. Check the plant daily for the first week or so and then every other day there after. Water using the counting method for the first few weeks. You'll want to water the bushes regularly after planting until they've been well established. We like to tell folks that when watering Roses its best not to water the foliage of the plant. Water at the base of the plant near the soil line only. Although Knockout roses are generally resistant to Black spot there are other foliage diseases that can effect roses in general that are favored by wet foliage conditions. Gator bag Jr. can be used to help aid in this process and also provide plants with a good soaking due to the slow release of the water into the root-zone of the plant. Soaker Hoses can also be used to water when planting a long hedge.

How do I fertilize Red Double Knock Out Roses?
This low maintenance plant does not generally need fertilizer to thrive. However, if you opt for fertilizer, choose a well-balanced formula that is meant for blooming plants. But use sparingly as overzealous use of fertilizer will create more foliage, at the expense of your beautiful blooms. Do not start fertilization until your blooms have gone through one whole bloom cycle, and apply in the spring. Waiting until late summer will promote new growth that will not have enough time to develop and will likely die in the cold weather. Finally, to prevent root burn and rot, make sure the soil is moist before applying, and do not apply the fertilizer too close to the trunk of the bush.
---
Additional Information
History and introduction of Knockout Roses:
When rosarian William Radler was a teenager, he resolved to breed a hardy rose that was beautiful, bloomed all season, was disease resistant, and maintained an attractive shrub-like habit. He remains committed to breeding the "high-maintenance" issues out of his roses. He succeeded with his first introduction, Knock Out™, the award-winning shrub rose that mail-order catalogs call "perhaps the best-ever landscape rose for four-season interest." Mr. Radler germinated the first Knock Out seed in his basement during the winter of 1988–89, and that spring he planted the small shrub outside in his garden. The following 11 years were spent overseeing bud grafting, testing, and production of more stock. The rose was offered to the All America Rose Selections committee and declared a winner in 1997. Knock Out became available to the public with 250,000 plants in production. And a star was born. In 1992 a well known company known as Star Roses & Plants near Philadelphia signed a contract with Radler to begin testing on his new rose, a process which took eight years. With testing complete, the company filed for a patent and named the new, easy-care rose Knockout. Sales began in the year 2000.
---
General questions
What do the pot sizes mean?
---
---
Other Products you may be interested in
---
Customer Reviews