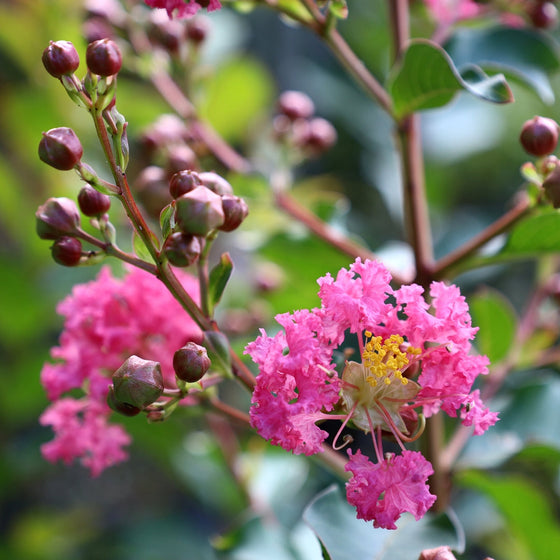 Images Depict Mature Plants
Pink Velour Crape Myrtle Trees for Sale Online
Pink Velour Crape Myrtle Trees (Lagerstroemia indica 'Whit III') produce clusters of vibrant flowers that blanket this multi-stemmed tree all summer long. Just when we think the flowers are beginning to fall away, a new set of flowers pop out of the red berries that hide beneath. In the summer the leaves change to green then once again in the fall to a vibrant orange-red.
Depending on your climate, the Pink Velour can reach up to 10 feet tall and wide at maturity. Perfect for medium to large gardens it shines when planted in mass plantings, and even more as a specimen plant. Once established, it can grow several feet each season and produce 2 foot long clusters of pink flowers, a real showstopper.
The Crape Myrtle Tree is a southern classic, thriving in the sun and heat that persists for most of the year. The Pink Velour is no exception and thrives in growing zones 7-9. To find Crape Myrtle Trees with more extensive growing zones, read our blog: Today's Crape Myrtles.
It prefers full sun and medium, well-drained soil, but can tolerate chalky, clay, loamy, or even sandy soil. Resistant to drought, powdery mildew, and disease, the Pink Velour Crepe Myrtle will rebloom every year no matter what. 
---
Growzone: 7-9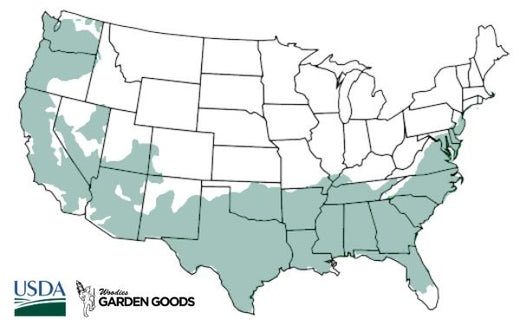 | | |
| --- | --- |
| Hardiness Zone: | 7-9 |
| Mature Height: | 8 to 10 feet |
| Mature Width: | 6 to 8 feet |
| Classification: | Tree form small to mid-sized (5 to 10 feet) |
| Sunlight: | Full Sun |
| Habit: | Deciduous, densely branched, multi-stemmed habit |
| Flower Color: | Bright pink flowers |
| Foliage: | New growth emerges a deep wine red changing to deep purple-green, then changes again to a equally vibrant orange-red in the fall |
| Soil Condition: | Any well drained soil |
| Water Requirements: | Water well until established |
| Uses: | Extremely attractive when used as a focal point in the mixed border, mass planting, or a specimen planting. Also try them in large containers on the patio |
---
How to Care for Pink Velour Crape Myrtle
Before you buy a Pink Velour Crape Myrtle, make sure to read about the care instructions that are required and recommended to keep this plant healthy and flourishing.

How do I plant Crepe Myrtle Trees?
We suggest when planting your newly purchased Crape Myrtle Pink Velours that you dig a hole twice as wide as the root system but not deeper. Depending on the quality of your existing soil, you may need to add compost or topsoil to the backfill soil. We do not recommend using straight topsoil or compost as a backfill soil for Crape Myrtle Velour trees because more times than not these products will retain entirely to much moisture and will cause the root system to rot. Adding compost or topsoil will help the young feeder roots of Crape Myrtle trees spread through the loose, nutrient-rich soil much easier than if you used solely the existing soil, which more times than not will be hard and compacted. The most common cause of plant death after transplanting is planting the new plant too deep. That is why we do not recommend planting in a hole any deeper than the soil line of the plant in the pot. A good rule is that you should still be able to see the soil the plant was grown in after back-filling the hole.

How do I prune Pink Velour Trees?
Depending on the variety, crape myrtles can have different shapes and sizes. The miniature, or dwarf, varieties such are generally bred to have lots of branches, and they tend to look shrub-like and would only need pruning if they are growing unevenly. Medium varieties like Pink Velours tend to develop sucker growth or small shoots at the base of the trunk. These may be pruned off if desired, and the entire plant may be pruned according to your tastes. For varieties that bloom before mid-July, deadheading (or cutting off spent blossoms) can often result in a second blooming. Be careful not to cut off too much of your tree. Rather than trying to control the size of your tree through pruning, opt for a Dwarf Crape Myrtle if you do not have space for a full tree.

How do I mulch Crape Myrtle Pink Velour Trees?
We highly recommend that you mulch your Pink Velour Crape Myrtle with either a ground hardwood mulch or a ground cypress mulch depending on your local availability. Any type of mulch will do, but cypress or hardwood mulch will be of a higher quality and provide better nutrition overall as they breakdown. Mulching helps to keep weeds away that will compete with your new investment for water and nutrients. A 2 to 3-inch layer of mulch is sufficient, but remember to take care not to cover any part of the stem of the plant with mulch. It's better to leave a one-inch gap of space between the mulch and the stem or trunk of the plant.

How often do I water Crape Myrtles?
In order for this plant to be as resilient and tolerant as promised, it needs to develop an extensive and deep root system once planted in your garden. To accomplish this, water regularly as needed, possibly several times a week. Test to see if the soil surrounding your tree is moist 3 inches deep, and water if dry. Once your tree is established, which can take up to a few years, this tree is drought tolerant and can usually survive off of rain-water. If you live in a climate that receives little rain, water once a week.
---
Additional Information
History and introduction of Crape Myrtles:
In 1998 Dr. Carl Whitcomb developed the a series of Crape myrtles including Crape Myrtle Pink Velour, which is a prolific producer of long lasting clusters of rich vivid pink flowers. Lagerstroemia indica, commonly known as crape myrtle, is an upright, wide-spreading, multi-stemmed, deciduous shrub or small tree in the loosestrife family. It typically grows to 15-25' tall. It is native from the Himalayas through southern China, southeast Asia and Japan, but has naturalized in the U.S. from Virginia to Arkansas south to Texas and Florida. An additional common name is Lilac of the South in reference to its popularity in southern gardens (USDA Zones 7-9). Key ornamental features include long bloom period, exfoliating bark and superb fall color. Terminal, crepe-papery inflorescences (to 6-18" long) of showy flowers with crimped petals bloom in summer (sometimes to frost) on upright branches. In the wild, flowers are typically rose to red. Cultivated varieties have expanded the flower color range to include white, pink, mauve, lavender and purple. Alternate to sub-opposite, thick and leathery, privet-like, elliptic to oblong leaves (to 3" long) emerge light green often with a tinge of red, mature to dark green by summer and finally turn attractive shades of yellow-orange-red in fall. Flowers give way to round seed capsules which often persist well into winter. Smooth pale pinkish-gray bark on mature branches exfoliates with age. In the St. Louis area where winter injury can be a problem, plants will typically grow to 6-10' tall. In the deep South, plants will grow much taller if not pruned back. Straight species plants are not sold in commerce. A multitude of named cultivars from dwarf to tree size have been introduced over the years, many of which are hybrids between L. indica and L. faueri. Genus name honors Magnus von Lagerstroem (1691-1759), Swedish botanist, Director of the Swedish East Indies Company and friend of Linnaeus. Specific epithet means of the Indies in reference to native territory. Common name is in reference to the crepe-papery inflorescences and the myrtle-like (Myrtus communis) features of the bark and foliage of Crape Myrtle Pink Velour Trees.
---
---
Other Products you may be interested in
---
Customer Reviews