Images Depict Mature Plants
White Crape Myrtle Trees for Sale Online
Famous for their extended bloom time, Natchez Crape Myrtle Trees (Lagerstroemia indica 'Natchez') produce pure white flower clusters in June that can last up to 5 months before they fall away in the fall. At this time, the dark green glossy leaves turn orange and red, which fit beautifully with the autumn colors. When this deciduous tree sheds its leaves, all that is left is the smooth, dark cinnamon-brown bark that brings the tree year-round interest.
Growing up to 5 feet a year, the White Crape Myrtle can be 20 feet tall at maturity. It is ideal for growing zones 7 to 9 but can tolerate the harsher conditions of zone 6 with extra care.
Their resilience extends further: these trees are pest, disease, deer, and mildew resistant and can tolerate drought conditions once established. The only pest that bothers this tree is the aphid. This problem can be combated with horticultural oil, neem oil, or insecticidal soap.
The Natchez Crape Myrtle can be used as a large shrub or small tree and trained as a privacy screen or hedge when planted together in a line. This beautiful tree will shine whether you place it in a mixed garden or as a specimen plant in the center of your yard.
---
Growzone: 6-9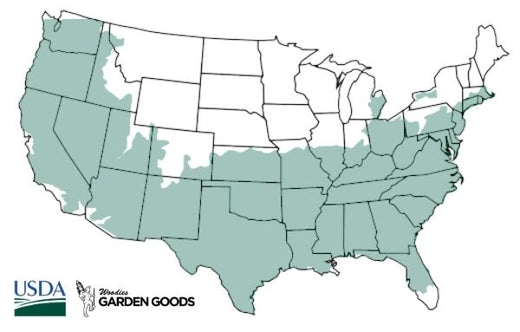 | | |
| --- | --- |
| Hardiness Zone: | 6-9 |
| Mature Height: | 18 to 20 feet |
| Mature Width: | 15 to 18 feet |
| Classification: | Tree form large (20 feet or more) |
| Sunlight: | Full sun |
| Habit: | Deciduous, densely branched, multi-stemmed habit |
| Flower Color: | Pure white flowers in mid to late summer through the first frost |
| Foliage: | New growth emerges a rich glossy green, changing to a equally vibrant orange-red in the fall |
| Soil Condition: | Any well drained soil |
| Water Requirements: | Water well until established |
| Uses: | Extremely attractive when used as a focal point in the mixed border, mass planting, or a specimen planting |
---
How to Care for Natchez Crape Myrtle
Before you buy a Natchez White Crape Myrtle, make sure to read about the care instructions that are required and recommended to keep this plant healthy and flourishing.

How do I plant my Crepe Myrtle Tree?
The Natchez Crape Myrtle prefers full sun, so it is best to pick a spot where it will not have to compete for the afternoon rays with taller trees. In warmer climates, we recommend that you plant your tree in early spring before temperatures reach 80 to allow your plant to establish before hot conditions set in. Dig a hole that is wider, but no deeper than the container it came in. After placing your tree in the hole, fill the hole back in with the soil you removed earlier, and pack down. Be sure not to cover any limbs with the soil. Once this is complete, give your tree a good watering and cover with some pine bark mulch.

What kind of soil is best for Crepe Myrtle Trees?
While able to withstand most soil types, this Crape Myrtle prefers slightly acidic, well-drained soil. They can even tolerate clay if it is well-draining. If you decide to fertilize your tree, opt for a multi-purpose, slow-release fertilizer and apply once early in the spring. A common myth is that heavy fertilizing will increase the abundance of blooms. However, giving your tree too much fertilizer will support foliage growth, at the expense of your blooms and can also make the tree more susceptible to winter weather. When it comes to the Crape Myrtle, less is more.

How often do I water my Natchez White Crape Myrtle?
Although it is drought tolerant, the Natchez thrives when maintained in moist soil. When the tree is young, water twice weekly until the roots have established. After that, reduce your watering to once a week. A good way to test if your tree is thirsty, stick your finger in the surrounding soil. If it's dry, give it some water.

How do I prune my Natchez Crape Myrtle?
When pruning a young tree, you can remove excess limbs, but 3 to 7 trunks are standard for a Crape Myrtle. While pruning can be used to limit the growth of your plant, over-pruning can be harmful to the tree. It is best to shop for a Crape Myrtle that is the right size for your space, then prune sparingly. Ideally, you should remove dead, dying, or crowded branches and suckers (or extra limbs growing from beneath the ground). In order to allow your tree proper time to bloom, pruning should be done in late winter.
---
---
Other Products you may be interested in
---
Customer Reviews