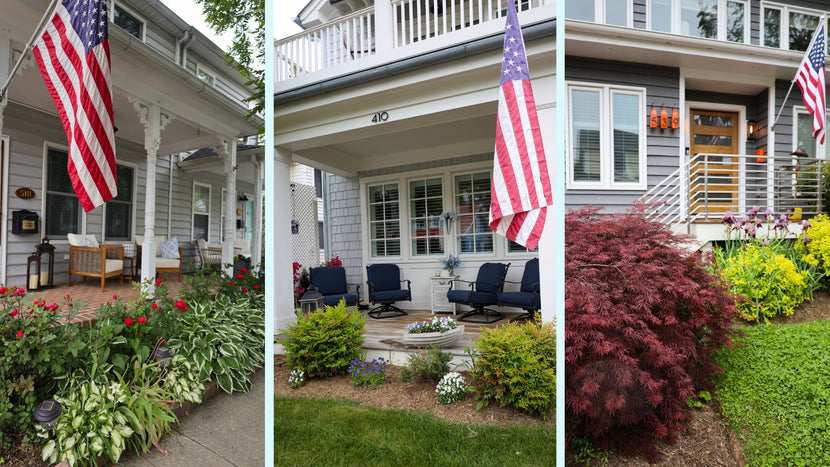 Ideas For Planting A Patriotic Garden
With Memorial Day approaching, and the Fourth of July on the horizon, what better time to get in the garden and incorporate the colors of freedom into the landscape?
It's a great time to make changes to the landscape for the holiday. This is a chance to celebrate everything that our country stands for. Take advantage of the sitewide savings now!
Not sure where to begin? Don't fret! If you're in need of some ideas for a patriotic garden, our team has compiled a series of plants worth including.
Patriotic Annuals For Your Garden
The first step to crafting a garden that sports your American pride is incorporating annuals. There are so many ways to include annuals in your garden while simultaneously supporting the USA!
Annual Hanging Baskets are a great place to start if you are looking to bring some red, white, and blue into the landscape. Our Headliner Night Sky Petunia hanging basket brings the stars of our flag to life!
In addition to hanging baskets, there are a variety of red and white flowering annuals that are perfect for mixed planters and flower beds. Combining red and white petunias, along with red geraniums and white vinca, with a splash of dusty miller throughout is a subtle and stunning way to show your support for the USA!
Red White & Blue Perennials
If you are looking for some patriotic plants that will come back every year, perennials are the way to go! Some of our favorite plants that would look gorgeous together in a red, white, and blue garden include the following:
Red Summer Perennials
Red-blooming summer perennials are a great way to bring a bold pop of color to your summer yard.
Pardon Me Daylily
Echinacea Cheyenne Spirit
Heuchera Dolce Cherry Truffles
Heuchera Fire Alarm
Lobelia Black Truffle
Hibiscus Lord Baltimore
White Summer Perennials
Just as the American flag is not complete without its white stripes, your patriotic garden is simply not complete without some bright white bloomers!
Becky Shasta Daisy
Delosperma Jewel of The Desert Moonstone
White Cloud Muhly Grass
Blue Summer Perennials
Combine your red-blooming perennials with bold luscious blue flowers for a stunning contrast of color that never fails to wow onlookers!
Periwinkle Plants
Agastache Blue Fortune
Salvia Blue Hill
Brunnera Jack Frost
American Trees and Shrubs For Your Landscape
Beyond annuals and perennials, trees and shrubs are a huge way to make a patriotic splash in the landscape! Below are a few of our favorite native trees and shrubs that bring the spirit of America to your landscape!
Native Patriotic Trees
From their American origin to their vibrant hues of red, white, or blue, these trees will certainly make a splash in the landscape and show your support for the USA.
Redbud Tree
Baby Blue Spruce
Sweetbay Magnolia
Carolina Sapphire Cypress
Eastern White Pine Tree
American Holly
American Fringe Tree
White Oak Tree
Native Patriotic Shrubs
Native shrubs work to support local ecosystems, conserve water, and reduce issues of pollution caused by harsh fertilizers and pesticides. You can play a large role in making our country beautiful and healthy by planting native shrubs.
Below are some great native shrub options for your patriotic garden!
Red Chokeberry
Red Yucca
Incrediball Hydrangea
Duke Blueberry Bush
Itea Henry's Garnet
Shop Garden Goods Direct For Your Patriotic Garden
No matter what plants you decide to plant in your yard this summer season, it's always good to remember where our country came from and what it stands for!
Take pride in the beautiful place you live and pay tribute to the bountiful natural beauty that the US of A encompasses! Shop online today for everything you need to beautify your landscape.