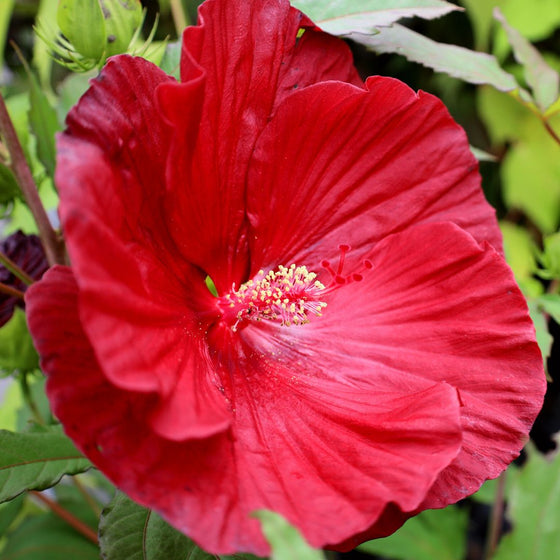 Images Depict Mature Plants
Hibiscus Summerific 'Cranberry Crush' for Sale Online
Hibiscus Summerific 'Cranberry Crush' or Rose Mallow perennials are vigorous, compact, bushy, and deciduous shrubs. They produce deep scarlet-red large and slightly cupped flowers with overlapping petals. Their foliage compliments their flowers with a glossy, deep green, and leathery appearance.
These Summerific Hibiscus shrubs are long-blooming and typically bloom from midsummer to fall. A unique quality about these Hibiscus perennials is that their flowers only last for one day; each day, they bloom new flowers. Plant your Cranberry Crush plants in moist but well-draining soil and allow them to get full to partial sunlight daily.
---
Growzone: 5-9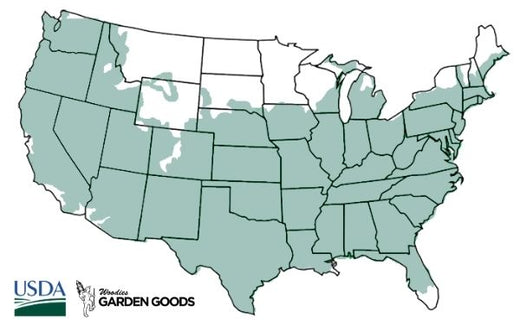 | | |
| --- | --- |
| Hardiness Zone: | 5-9 |
| Mature Height: | 4-5 Feet |
| Mature Width: | 3-4 Feet |
| Sunlight: | Full Sun, partial sun |
| Water Requirements: | Average to wet |
| Flower Color: | Scarlet-red |
| Foliage: | Glossy, deep green, leathery |
| Soil: | Moist, well-draining |
| Usage: | Border plant, Specimen, Focal point, container plant |
---
How to Care for Hibiscus Summerific Cranberry Crush
Before you purchase your Hibiscus Summerific Cranberry Crush, be sure to read the recommended care instructions to ensure your plant remains happy and healthy for years to come!

What Kind of Soil Does my Hibiscus Summerific Cranberry Crush Require?
Cranberry Crush Hibiscus perennials thrive best in well-draining but moist soil conditions. There is a tricky balance between keeping your plant's soil moist and wet, which could cause root rot disease. The best way to avoid root rot disease is to ensure your plant's soil is well-draining. If the plant receives water at an average rate but consistently and well-draining soil conditions, you will not have to worry about its roots rotting. However, do not water your perennial during the winter. The winter is their growth dormancy period, and moisture at this time could drown your plant's roots and cause damage.

How Do I water my Rose Mallow Hibiscus?
Rose Mallow Hibiscus plants prefer to have consistently moist soil conditions, so it is crucial to water them regularly. Do not overwater your plants because this could cause root rot disease. However, water your plants enough so that their soil is always moist to the touch. When winter arrives, do not water your Hibiscus shrubs. The winter is their growth dormancy period and watering them is not necessary. If you water your plants during their growth dormancy period, you will cause damage that will carry over into their next growing season.

How Much Sunlight does my Summerific Hibiscus Rose Mallow Plant Need?
Hibiscus Rose Mallow perennials grow in a wide variety of sunlight exposure. Your plants can handle anywhere from full sunlight to partial shade and anywhere in between. We recommend that you give your perennial 6 hours or less of direct sun each day to ensure their flowers blossom to their fullest potential. If you live in a hot climate, your plant would appreciate some midday shade to get away from the intense midday sun. It is best not to plant your Hibiscus in an area that receives too much shade because this could cause them to produce fewer flowers, or their flowers will be less vibrant in color.

When Should I Prune My Hibiscus Summerific Cranberry Crush Plants?
The best time to cut back your Hibiscus Cranberry Crush plants is in the spring. Doing so at this time will allow new growth to appear once this perennial's growing season begins. You will need a strong pair of loopers or a saw to prune this plant, so be sure you have something stronger than a typical pair of sheers. If you are simply cutting off dead or dying flowers, foliage, or stems, feel free to use a clean and sharp pair of sheers.
---
Frequently Asked questions
when Should I Fertilize my Hibiscus?
Can I Use Coffee Grounds On My Summerific Hibiscus?
Will my Summerific Hibiscus Cranberry Crush Attract Pollinators?
---
Other Products you may be interested in
---
Customer Reviews