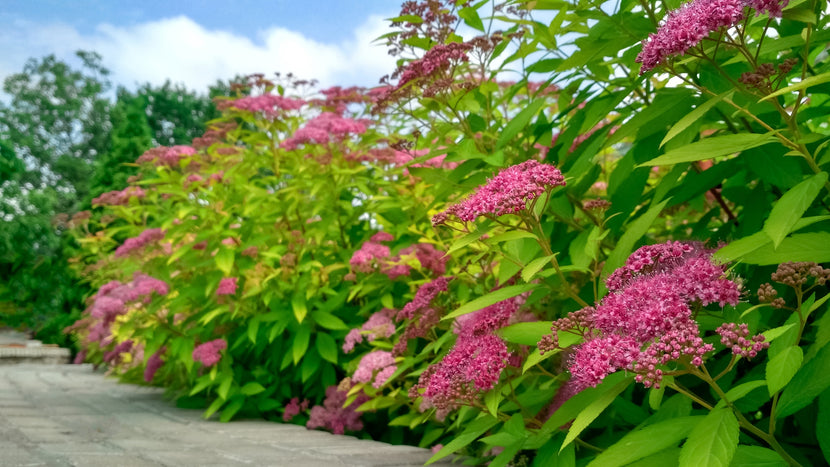 8 Shrubs to Plant Now for Spring Blooms
Planting your spring-blooming shrubs now is a great way to enjoy the full bloom season of your shrubs. The soil temperatures are beginning to warm up and the days are slowly getting longer with more hours of sunlight. Cool rains and the lower angle of the sun allow moisture to stay in the soil longer, making the perfect atmosphere for your plants to adapt!
Late winter is a great time to start to think about spring flowers. Many trees and shrubs have begun to set flower buds for the spring. Others will flower on new growth that bursts from the base when the temperatures start to warm.
We've selected eight of our favorite plants that are perfect for planting in the late winter and will reward you in the spring with an abundance of colorful blooms!
Bridal Wreath Spirea
First on our list of shrubs to plant now for a stunning show come spring is Bridal Wreath Spirea. This magnificent shrub is loaded with stunning clusters of small white blooms which cover the branches in early spring before even the leaves emerge!
In addition to the white flowers in early spring, Bridal Wreath Spirea boasts clean dark green leaves throughout the spring and summer seasons. The foliage turns an outstanding deep purple in the fall when the days begin to cool.
Bridal Wreath has been around for many years and has proven itself time and time again. If you are looking to bring classic elegance and sophisticated grace to the garden. Bridal Wreath Spirea is surely the early spring-blooming shrub for you!
Spring Blooming Camellias
Spring-blooming camellias provide floral color in late winter and very early spring when not much else is blooming. Large established plants will bloom over a long period and even carpet the ground with petals.
Camellias are evergreen shrubs that produce many large flower buds, which open at different times so an extended bloom of 6 or more weeks is typical. Our favorite, of course, is Camellia Kramer's Supreme, for its vibrant red hues and a plethora of ruffled petals never fail to take our breath away. However, there are so many spring-blooming Camellia varieties to choose from! In our area relative to the east coast, it's not uncommon to see spring-blooming camellia flowers peeking through the snow.
In addition to the flowers, Camellias are loved for their versatility in the garden. These wanderlust shrubs will bring enchantment and beauty to any outdoor space and work well as a statement piece on their own, or planted in mass for yard hedges and garden backdrops.
Lilac Shrubs
Lilacs bring fresh scents and beautiful colors to any area of the garden. Lilac Flowers burst forth in the mid to late spring and we offer newer varieties like the Lilac Sensation, which will continue to re-bloom through the early to mid-summer as well.
Butterflies and hummingbirds will be attracted to any of the varieties you choose. Not only are the flowers of Lilac Shrubs great to look at outside, but bring them in and place them into a flower arrangement for interior home decorations.
Ninebark Shrubs
Ninebark Shrubs are an easy way to introduce early spring blooms into the home garden. As an added bonus they also add colored foliage as well. Botanically referenced as 'Physocarpus,' this fast-growing shrub has few if any, pest problems.
In late spring it blooms with white button-like spheres of flowers that accent the leaves nicely. Use the Ninebark shrub it as an accent by itself or mixed in as part of a mixed border. The stunning spring bloomer may even be used in cut flower in arrangements!
Deutzia Shrubs
Deutzia shrubs are commonly grown as ornamental plants. Deutzia is a hardy shrub with white or pink flowers in the spring. They feature masses of gorgeous blooms and provide excellent fall color. They are deer resistant as well Deutzias typically bloom in April and May.
Winter Jasmine Shrubs
As one of the first shrubs to bloom in mid-winter through to the spring, Winter Jasmine is an extremely rewarding shrub to get in the ground early. Quick to establish itself, and easy to care for, your golden-blooming shrub will bring intense beauty to your yard with little effort on your behalf.
The bright yellow fragrant flowers on Winter Jasmine will surely brighten up your yard and your life! You can allow your Jasmine shrub to arch naturally, or you can give it a trellis to climb and cascade in an effortless show of color and beauty.
Pieris Shrubs
Pieris, also known as Lily of the Valley, is a wonderfully versatile shrub that flowers from late winter to early spring. Flower colors range from white, pink, and rosy-red. When the flowers fade the show is far from over. The fragrant pink-to-white blooms are absolutely breathtaking in the early spring sunshine, and they make lovely additions to cut flower arrangements!
New foliage emerges in colors ranging from bronzy pink to fiery red. The foliage color can last for 3 to 4 weeks and then turn green. This easy-to-grow plant is available in many different varieties, so you're certain to find one that suits your taste or need. It's easy to care for, long-lived, and prefers partial shade and moist, well-drained acidic soil.
Forsythia
Producing a range of golden yellows and oranges, Forsythia Shrubs are well-loved in the early spring landscape. The flowering shrubs are extremely fast-growing and are often used as a living privacy wall in the growing seasons of spring through fall.
Enjoying conditions of full sun to part shade, these low-maintenance shrubs with wow you with their long branches covered in flourishing yellow flowers that precede their green foliage.
Shop Garden Goods Direct For Early Spring-Flowering Shrubs
Whether you're looking for a few shrubs to brighten up a dull yard, or you have plans to completely revamp your landscape, we have everything you need to make your dream yard a reality!
Shop online today and have your early spring-flowering shrubs shipped straight to your front door!
Until next time see you in the garden,
- Woodie