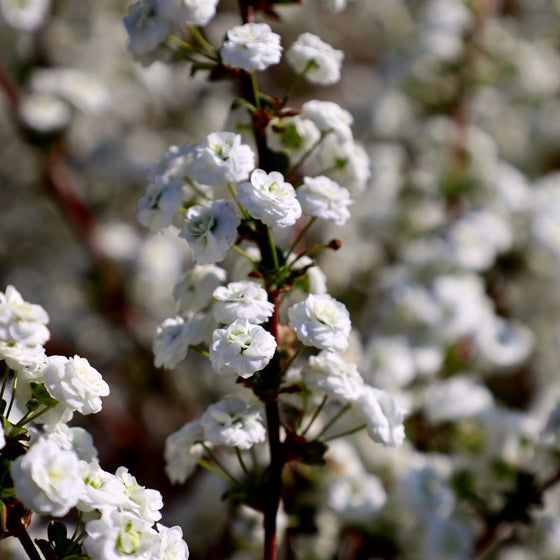 Images Depict Mature Plants
Bridal Wreath Spirea for Sale Online
Bridal Wreath Spirea (spiraea prunifolia) spring blooming deciduous shrubs. Like other spireas, these shrubs will bloom through early summer, sometimes before the leaves come out.
When in bloom, Bridal Wreath spireas create a cascading waterfall of white, with clusters of flowers down its arching branches.Their flowers stand out in front of their dark green leaves, which make an excellent contrasting specimen.
Bridal Wreath Spirea grow best in full sun and well-draining soils. Though they appear dainty, these flowering shrubs are particularly hardy and will tolerate a wide range of soil conditions.
However, when the hot midday sun comes out, these shrubs enjoy some light shade from the intense sun rays. These shrubs have disease problems that include leaf spot, fire blight, powdery mildew, and others.
Popularly used in yard borders, foundation plantings and hedging, the Bridal Wreath is a fun new planting option for your yard this season. Not to mention these elegant specimen attract pollinators and create multi-seasonal interest.
---
Growzone: 4-8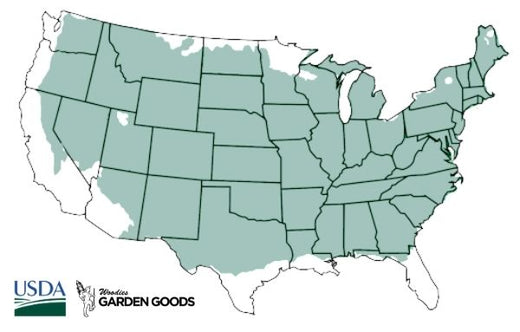 | | |
| --- | --- |
| Hardiness Zone: | 4-8 |
| Mature Height: | 4 to 9 Feet |
| Mature Width: | 6 to 8 Feet |
| Classification: | Broad Leaved flowering shrub, Late Spring to Summer flowering |
| Sunlight: | Full Sun |
| Habit: | Densely branched, mounding |
| Flower Color: | Pink Flowers, white flowers |
| Foliage: | Vibrant golden foliage turning slightly green in summer |
| Soil Condition: | Any well drained soil |
| Water Requirements: | Water well until established |
| Uses: | Extremely attractive when used as a focal point in the mixed border, mass planting, or a specimen planting |
---
How to Care for Bridal Wreath Spirea
Before purchasing your Bridal Wreath Spirea Shrub, be sure to read the recommended care instructions to ensure your plant remains happy and healthy for years to come!

How do I Fertilize Bridal Wreath Spirea Shrubs?
Spirea shrubs are one of the easiest ornamental plants to grow but are most underused today. Despite their fast growth patterns, Spireas are light feeders. We recommend that you apply an early spring fertilizer with Espoma Tree-tone or Plant-tone at the recommended rate. Doing so will give your plant a boost of nitrogen that will help it grow healthy abundant foliage. Follow this with an early summer application of Espoma Holly-tone; this will help raise the acid level in the soil. In a calendar year, fertilize your Spireas during the first part of March, May, and July for the best results.

How Do I Mulch My Bridal Wreath Spirea Shrub?
We highly recommend mulching your Bridal Wreath Spirea shrubs with either a ground hardwood mulch or a ground cypress mulch, depending on your local availability. Any mulch will do, but cypress or hardwood mulch is of higher quality and provide better nutrition overall as they break down. Mulching helps keep weeds away that compete with your new investment for water and nutrients. A 2 to 3-inch layer of mulch around your plant's base is sufficient. However, remember not to cover any part of the stem with mulch. It is better to leave a one-inch gap of space between the mulch and stem of your Bridal Wreath Spirea.

How Much Sunlight Does my Bridal Wreath Spirea Shrub Need?
Bridal Wreath Spirea shrubs thrive in a spot in your garden that receives full sun. However, these plants can tolerate part shade, though their flower production will lessen. The best time to allow your Spirea shrubs shade is midday when the sun is brightest and most powerful. When you are planting young Bridal Wreath Spirea shrubs, make sure to give them plenty of room between plantings. If they are too close together, they will grow and block each other's light.

How Often Should I Water my Bridal Wreath Shrub?
While your new planting is establishing, we recommend that you water them frequently to help them establish in their new environment. Once the shrubs are well-established plants, you can water them once a week during the summer. Spirea shrubs prefer to be in well-draining, moist soil conditions, though they can withstand some periods of drought. It is crucial that you keep their soil moist but never overwatered. Overwatering your shrubs could lead to root rot disease and damage your plant's root system.
---
Frequently Asked questions
How Do I Prune My Bridal Wreath Spirea Shrub?
What is the Best Way to Propagate my Bridal Wreath Shrub?
Is my Bridal Wreath Spirea Deer Resistant?
---
Other Products you may be interested in
---
Customer Reviews