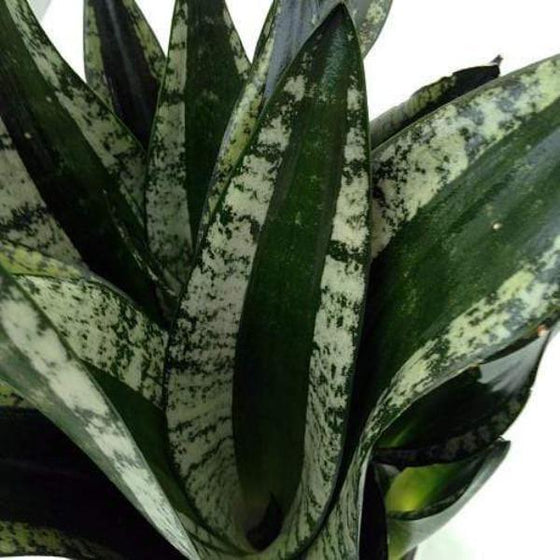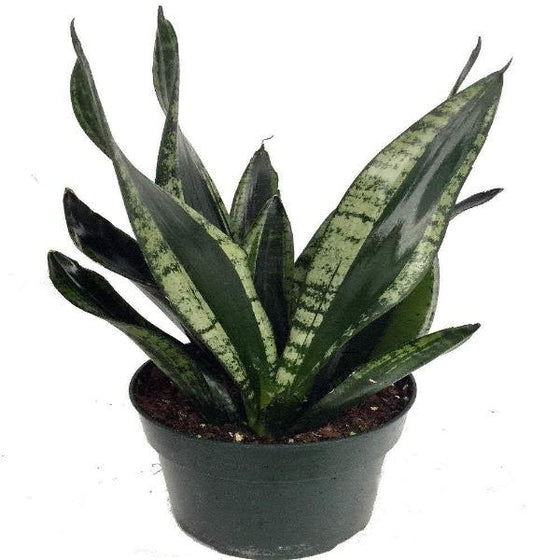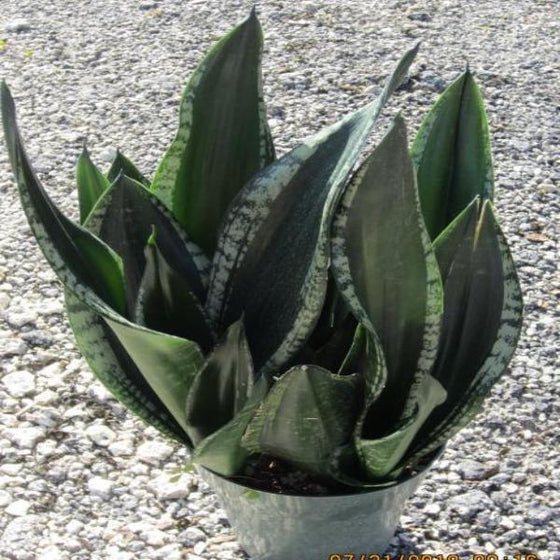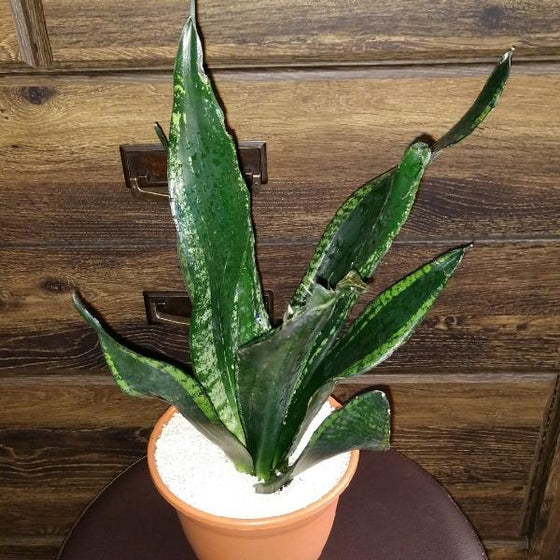 Images Depict Mature Plants
Whitney Snake Plants for Sale Online
Whitney Snake Plants (Sansevieria Trifasciata Whitney) have shiny, dark green spear-shaped foliage. This hybrid Bird's Nest form of Sansevieria is fairly small and compact in comparison to most forms in its cultivar.
The Whitney is an unusual snake plant because the variegation is on the inside of the leaves and the border is a solid dark green color. The sleek leave paired with this unique coloring makes for a classy and regal addition to any space.
Native to Africa, the Snake Plant Whitney is well adapted to desert environments with intense sun and heat during the day and colder climates at night. Snake plants are nicknamed 'Mother In Laws Tongue,' and are hardy to most treatment. Ideal care for these easy-care houseplants consists mostly of neglect.
Ideal conditions for the Whitney Snake includes indirect but bright light and a well draining potting mix. However, because these plants can handle just about anything, they will happily adapt to lower levels of indirect sunlight, and can also survive in a room without any sun at all.
Because these plants have semi-succulent leaves, they store excess water within them and do not require frequent watering. We recommend waiting until the soil is dried in between each watering for optimal growth.
A Whitney Snake Plant will surely make a statement in any space, and as an added benefit works as an air purifier to clean your home of toxins. Perfect for living rooms, bathrooms and basements alike, place your Sansevieria wherever you need a little green in your life and it will surely thrive.
---
| | |
| --- | --- |
| Hardiness Zone: | 9-11 |
| Mature Height: | 8 to 12 Inches |
| Mature Width: | 10 to 16 Inches |
| Classification: | Colorful foliage |
| Sunlight: | Fluorescent light to bright, indirect |
| Habit: | Upright |
| Foliage: | Dark green |
| Soil Condition: | Well draining, cactus or succulent mix (part sand) |
| Water Requirement: | Likes to go dry between waterings |
| Uses: | Does well in narrow spaces and in low light conditions |
Growzone: 9-11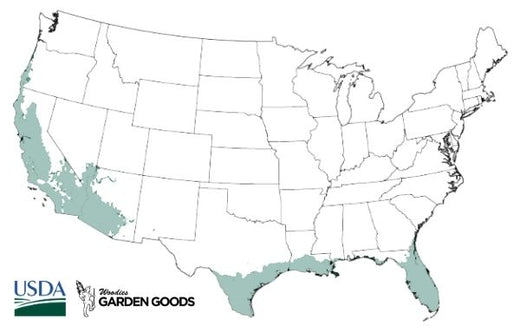 How to Care for Whitney Snake Plant
Be sure to read our planting instructions to ensure a healthy and happy plant for years to come!

What lighting is best for Whitney Snake Plants?
Whitney Snake Plants thrive in the lowest light conditions indoors, living with just fluorescent light. They can handle some bright, indirect light too, but too much light will cause browning.

What are the watering requirements of Whitney Snake Plants?
Whitney Snake Plants like to dry out almost completely between watering. It does not like to stay or sit in water. Plants that are watered too often will not survive. If unsure, do not water. Whitney Snake Plants can go weeks before being watered again.

What type of fertilizer should I use for my Whitney Snake Plants?
Any all purpose, foliage fertilizer will work for Whitney Snake Plants. Indoor houseplant fertilizers fall into two groups: water soluble, liquid quick release, and granular, slow release fertilizers. Jack's Classic Indoor plant food works well as a powder, quick release fertilizer that is mixed with water to quickly provide nutrients to a plant that has been in a container for an extended time.

What type of soil is best for Whitney Snake Plants?
Whitney Snake Plants need a very well draining soil, and prefer to have dry conditions. Regular potting mix with sand mixed in works well for plants potted in containers, otherwise a cactus potting mix would work. The cactus potting mix already has sand and other ingredients to encourage drainage.
---
Other Products you may be interested in
---
Customer Reviews