Images Depict Mature Plants
Virginia Bluebell Plants For Sale Online
Virginia Bluebells are a welcome sight in March, marking the start of Spring each year in the eastern U.S. This unique woodland flower, with its blue-pink bell-shaped blooms, appearing soon after the winter snow melts. Known for being long-lived, this native wildflower expands slowly to form beautiful clumps that return year after year. An early-season pollinator favorite, the blooms attract bees, butterflies, skippers, and Sphinx moths.
Please note that Virginia Bluebells are spring ephemerals and go completely dormant in the summer.
---
Growzone: 3-8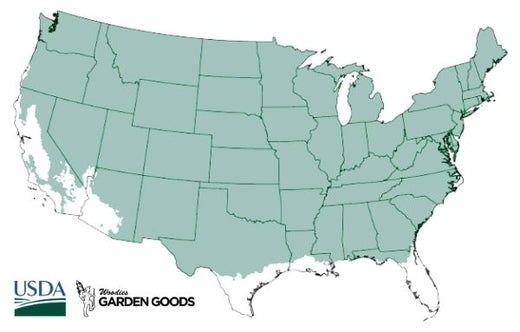 | | |
| --- | --- |
| Hardiness Zone: | 3-8 |
| Mature Height: | 1 to 2 feet |
| Mature Width: | 1 to 1.5 feet |
| Classification: | Perennial |
| Sunlight: | Shade to Part Shade |
| Habit: | Upright, clump forming |
| Flower Color: | Bright Blue, Lavender |
| Flowering Season: | March to April |
| Foliage: | Green |
| Soil Condition: | Prefers rich, organic, deep loamy soil that is moist but well drained. |
| Water Requirements: | Water well until established |
| Uses: | Border Plant, Landscape, Mass Planting |
---
How to Care for Virginia Bluebells
After purchasing your Virginia Bluebell Plant, be sure to read our recommended care instructions to ensure this native perennial is happy and healthy for years to come.

How do I plant Virginia Bluebell plants?
We suggest when planting your newly purchased Virginia Bluebell plants that you dig a hole twice as wide as the root system but not deeper. A good rule is that you should still be able to see the soil the plant was grown in after back-filling the hole. Virginia Bluebell does prefer drier soils in the winter so if there was ever a plant that we would recommend not adding topsoil or compost this is one. Bio-tone starter fertilizer is a great starter fertilizer that provides plants with a mycorrhizal fungus, a naturally occurring beneficial fungus that colonizes the new growing roots of plants and prevents root rot. Give your plant a slow, deep watering to encourage the roots to settle.

How Do I Mulch Virginia Bluebell Plants?
We highly recommend that you mulch your Virginia Bluebell with either a ground hardwood mulch or a ground cypress mulch depending on your local availability. Mulching helps to keep weeds away which will compete with your new investment for water and nutrients. A 2 to 3-inch layer of mulch is sufficient but remember to take care not to cover any part of the stem of the plant with mulch. It's better to leave a one-inch gap of space between the mulch and the stem or base of the plant.

How Do I Water Virginia Bluebells?
A general rule of thumb for watering your Bluebells is to count to 5 for every one gallon of pot size. Check the plant daily for the first week after planting or so and then every other day thereafter. Water using the counting method for the first few weeks. Once the plant has established in its new home, you can reduce the frequency of watering.

How Do I Fertilize Virginia Bluebell Plants?
At the time of planting, add some all-purpose fertilizer to the soil and reapply every spring after the Bluebells begin to show new growth. Fertilizing is a great way to add additional nutrients to your plant to ensure optimal growth, even in less than ideal soil conditions.
---
Frequently Asked questions
How do I prune Virginia Bluebell?
When should you plant Virginia Bluebells?
Are Virginia Bluebells Invasive?
---
Other Products you may be interested in
---
Customer Reviews