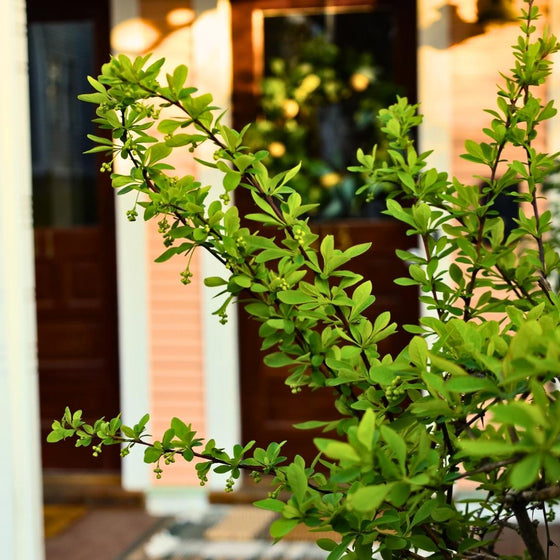 Images Depict Mature Plants
Sunjoy Gold Pillar Barberry for Sale Online
Sunjoy Gold Pillar® barberry is prized for its bright yellow foliage that maintains its vibrance all summer long. In early spring, new growth appears red, and as the plant grows and matures, the foliage turns yellow. This shrub grows in a wide column shape and looks great when used as a short hedge or border along a walkway.
This golden barberry is adaptable and tolerant of many growing conditions and does not require special care. For example, this golden upright barberry can be planted in full sun and not burn. This plant is also drought-tolerant and deer-resistant.
---
Growzone: 4-7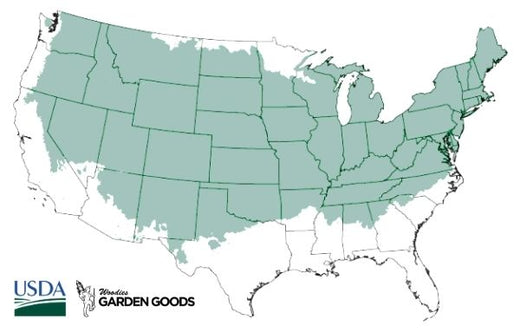 | | |
| --- | --- |
| Hardiness Zone: | 4-7 |
| Mature Height: | 3 to 4 feet |
| Mature Width: | 1.5 to 2 feet |
| Classification: | Broad Leaved deciduous shrub |
| Sunlight: | Partial to full sun |
| Habit: | Upright columnar |
| Foliage: | Red in spring turning bright golden in summer |
| Flower Color: | Inconspicuous |
| Pruning Season: | Best pruned in late spring or summer to maintain shape |
| Soil Condition: | Any well drained slightly acidic soil |
| Water Requirements: | Water well until established |
| Uses: | Use as a vertical feature or to add color to the mixed border |
---
How to Care for Sunjoy Gold Pillar® Barberry
Before you purchase your Sunjoy Gold Pillar Barberry shrub, be sure to read the recommended care instructions to ensure your plant remains happy and healthy for years to come!

How Do I Prune Sunjoy Gold Pillar Barberry Shrubs?
Gold Pillar shrubs take to pruning and shearing well to either promote good color or maintain a manageable size. Pruning should be done while dormant, in either late winter or VERY early spring, before any growth begins. You may hard prune it down to about 12" every few years, which will produce a lot of regrowth and a very dense plant. If you prefer a more open and natural form, remove up to one-third of the branches down to the ground each year or two. Gold Pillar Barberry that has not been pruned in a few years will develop dead or degenerative twigs. Removing dead and dying limbs will minimize the possibility of diseases such as "die-back" and will also allow the plant to re-concentrate its energies and produce flowers. Pruning large Gold Pillar Barberry Shrubs that are well established will enable the plant to have continued vigor and lead to many more years of supplying beauty to the landscape.

When Should I Fertilize My Sunjoy Barberry Shrub?
We recommend that you apply fertilizer to your shrub in early spring. Feeding your plant at this time will help it grow happy and healthy for its upcoming growing season, which starts shortly after early spring. You can apply a slow-release fertilizer that is specialized for trees and shrubs. In the early spring, you might see some new growth appearing. This is the perfect time for you to apply the fertilizer. Doing so at this time will give your plant plenty of time to soak in the nutrients before the peak of its growing season hits. Be sure to avoid fertilizing during their growth dormancy seasons of fall and winter. Also, be careful not to overfertilize your Sunjoy shrubs. Overfertilizing could lead to root burn and cause irreversible damage.

What Kind of Soil Does my Sunjoy Gold Pillar Barberry Shrub Need?
Sunjoy Gold Pillar shrubs thrive best in well-draining soil conditions. It is crucial to plant these shrubs in an area of your garden that has well-draining soil. If these bushes are planted somewhere with compacted or poorly draining soil, they could suffer from root rot disease. This disease is caused by your plant's roots sitting in standing water for too long and drowning in excess water. If this is not caught quickly, it can permanently damage your plants. However, besides well-draining soil, your plant is very adaptable to other soil conditions.

How Much Sun Does My Sunjoy Gold Pillar Barberry Shrub Need?
A unique quality Gold Pillar shrubs have is that they are burn-resistant. No matter how bright or direct sunlight is on their leaves, they will never burn. This makes them very versatile when finding a location to plant them. Your Sunjoy Barberry shrubs are also drought-resistant, once they are well-established, and do not require a strict watering schedule to thrive. If you live in a climate that receives lots of rain, you most likely will not need to water your plants manually. However, if you live in an area with little to no rain, you will need to water your plants weekly.
---
Frequently Asked questions
Is my Barberry Bush Deer-Resistant?
Is my Gold Pillar Barberry Shrub Pollinator Friendly?
Are Gold Pillar Barberry Shrubs Invasive?
---
---
Other Products you may be interested in
---
Customer Reviews