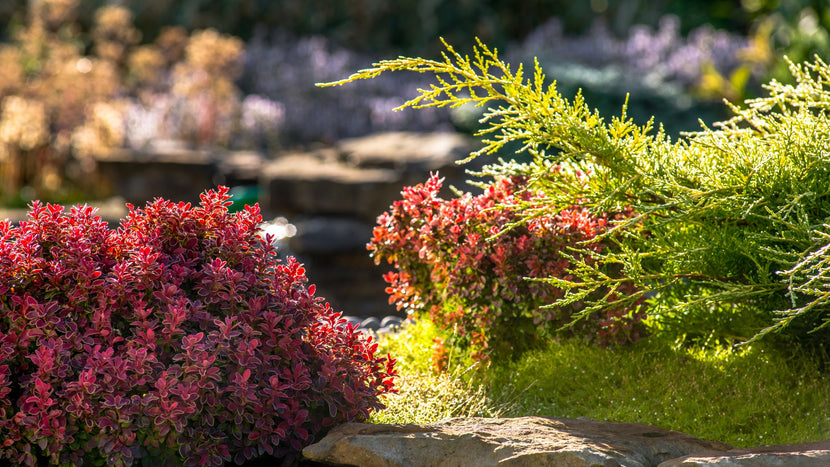 Early Fall Color For Your Yard
As temperatures drop and the crisp autumn breeze fills the air, it's only natural that you'll want to start prepping for your fall landscape and autumn garden!
While mid-late fall is the peak for fall color, early fall also brings magnificent color and beauty! Keep reading to learn our top picks for trees, shrubs, and perennials to bring early fall color to your yard.
Favorite Fall Trees
When you think of the fall season, one of the first things that come to mind is the show of color provided by the changing leaves. From flaming oranges, to warm yellows and vibrant reds, the trees are easily the focal point of a fall landscape.
If you are eager to see the changing leaves in your landscape, then you need to look into planting the following species of trees; Gingko Trees, classic Maple Trees, and Japanese Maple Trees.
These trees all bring their own unique element of fall beauty to your yard. The Autumn Gold Gingko Tree offers up stunning golden leaves that easily light up a landscape. The Brandywine Maple Tree offers bold red hues that make a standout focal point. All the while, the Coral Bark Japanese Maple is a small tree that offers up its unique red bark and bright green leaves that can easily transform any yard!
Early Fall Foliage
Once you've settled in on your trees for jaw-dropping fall color, it's time to work on your shrubs and groundcover plants. The options for colorful foliage in the fall are endless, but we do have a few favorites.
Some of our favorite plants that showcase breathtaking early fall color include Ferns, Heuchera, and Barberry.
The Autumn Brilliance Fern is a great option to bring those classic fall oranges and yellows that you will love. Heuchera on the other hand is like the Hosta of the fall; offering the landscape large leaves with a wide variety of colors, these plants make the perfect groundcover option.
The Crimson Pygmy Barberry, along with the Orange Rocket Barberry are great fall-toned shrubs to work into a fall landscape as well. The vibrant shrubs offer various shades of reds and oranges to get anyone into the fall spirit!
Early Autumn Blooming Shrubs
Now that you've selected an array of plants to provide that fall foliage beauty, you will want to move on to early fall blooming shrubs. Our favorite early fall shrubs for blooms include Itea, Hydrangea, and Camellia.
Itea shrubs exude elegance and sophisticated grace with the plethora of tiny white flowers that they put out. The Itea Henry's Garnet not only boasts fragrant blooms, but the easy-to-grow native shrub also brings with it intense red-purple fall foliage that persists into winter!
Hydrangeas are additionally a wonderful option to provide early fall color! While some hydrangeas have spent blooms and are done for the season, there are some Hydrangea paniculata varieties like Limelight and Candy Apple that continue to bloom through early autumn! Oakleaf Hydrangeas are also known for their extended bloom times.
Camellia shrubs easily steal the show and make for a grand statement in any fall garden. While the shrubs don't bloom until October, it's best to plant them in early fall so they can adjust to their new home. The Yuletide Camellia is a popular option for its elegant red flowers work in a range of different garden designs.
First Fall Blooming Perennials
Last but certainly not least on the list of plants to light up your early fall yard, are the early fall-blooming perennials. While spring and summer are the typical months to grow a flower garden, we can't help but fall in love with the beauty that is a fall garden.
If you want to keep your summer garden alive into the fall, you should consider planting the following show-stopping early fall bloomers. From the lush and whimsical Aster plant to the delicate and graceful Anemone, all the way to the exotic and fantastical toad lily, there are so many fall perennials to light up your autumn garden!
A few of our personal favorite early fall bloomers include Aster Raydon's Favorite and Anemone Fantasy Red Riding Hood.
Get To Planting Your Fall Landscape!
Whether you're just looking to spruce up your fall landscape with some early color, or you're looking to do an entire fall-landscape makeover, we have what you need to get the fall yard of your dreams!
Shop online today to get a jumpstart on your autumn yard or garden.