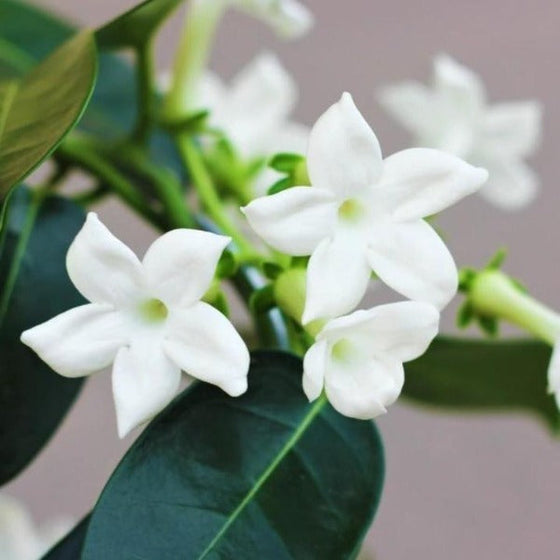 Images Depict Mature Plants
Stephanotis Hoops for Sale Online
Stephanotis is a flowering plant known for its white clusters of funnel-shaped blooms and leather-like foliage. Also known as Madagascar Jasmine, because of its fragrant flowers. However, this tropical plant is actually not a Jasmine at all, but more closely related to Plumeria and Vinca.
The Stephanotis hoop is a classic wintertime houseplant with its pure white flowers and glossy green leaves strung around in an elegant arch. It can be a vigorous climber, so we recommend to trellis it as it grows. If well maintained, the Stephanotis can bloom on and off all year long!
Stephanotis, also known as Hawaiin Wedding Flower, enjoys several hours of bright indirect sunlight. It's also drought-tolerant and likes the surface of the soil to dry out between waterings. When it comes to air quality, the more moisture the better - this twining vine doesn't like dry air. If you live in a warmer climate, this plant is perfect for you.
---
| | |
| --- | --- |
| Hardiness Zone: | 10-11 |
| Mature Height: | 15 to 20 Feet |
| Mature Width: | 1 to 2 Feet |
| Classification: | Tropical |
| Sunlight: | Bright, indirect sun |
| Habit: | Twinning vine, upright |
| Flower Color: | White |
| Foliage: | Dark green |
| Soil Condition: | Moist, well-drained soil |
| Water Requirements: | High watering |
| Uses: | Used on a trellis or alongside fence |
Growzone: 10-11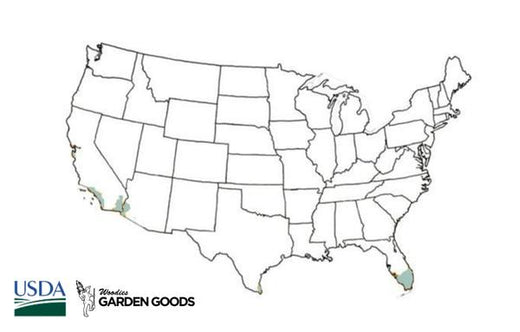 How to Care for Stephanotis Hoop
Before you buy a Stephanotis Trellis plant, make sure to read about the care instructions that are required and recommended to keep this plant healthy and thriving.

How do I water Stephanotis?
During the winter, Stephanotis doesn't require as much water, but be sure to keep this plant in temperatures around 55 degrees Fahrenheit. We recommend misting your plant regularly for additional moisture. We recommend watering Stephanotis regularly during the spring and summer growing season. Due to its tropical nature, keeping it properly hydrated is key for the best growing results. You can even place the pot on a humidity tray to ensure moisture when placed indoors.

What is the best kind of light for Stephanotis Flowers?
Due to its tropical nature, Stephanotis hoops enjoy ample amounts of indirect sunlight. Be sure to avoid placing this houseplant in direct sunlight which can result in damaged blooms and dried out foliage. Many experienced gardeners recommend giving this plant morning light (east-facing window) to increase blooms.

What is the best soil for Stephanotis?
We recommend planting your Madagascar Jasmine in nutrient rich soil that retains moisture. The tropical plant requires constant moisture, but well-drained soil to avoid soggy roots. While this plant is drought tolerant, its soil should be kept moist for the best growing results.

When should I fertilize Madagascar Jasmine?
We recommend fertilizing Stephanotis at least once a month during the growing season, and advise against fertilizing during the winter. This tropical plant should be fertilized with half-strength solution and should be misted regularly. A general-purpose fertilizer for indoor planting will do.
---
Other Products you may be interested in
---
Customer Reviews