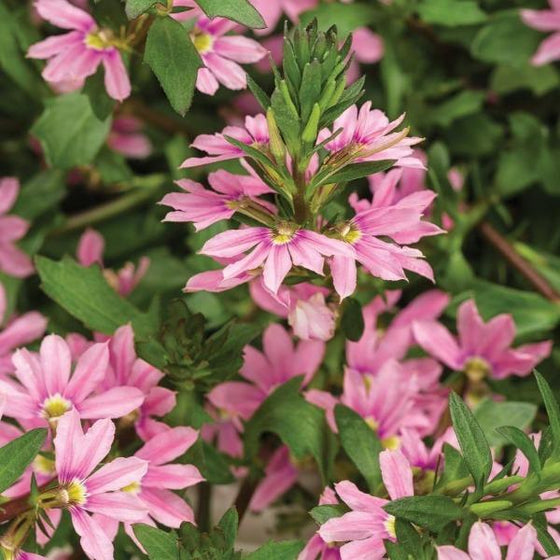 Images Depict Mature Plants
Scaevola Whirlwind Pink Flower Plants for Sale Online
Scaevola Whirlwind Pink Flower (Scaevola aemula 'whirlwind pink') is an annual native to southern and easter Australia. It's commonly known as the fairy fan flower because its beautiful pink fan-shaped flowers and bright green oval-shaped foliage resemble that of a traditional Japanese fan. This drought-tolerant and heat-resistant plant can withstand many climate conditions, making it fairly easy to take care of. This plant is perfect for any floral environment but is commonly used in hanging baskets, as a border crop, or for mass planting. Its growing habit adds height, fullness, and beautiful color to a garden. Scaevola is fairly new to U.S. gardeners but is catching on very quickly because of its low maintenance and beautiful appearance.
---
| | |
| --- | --- |
| Hardiness Zone: | 10-11 |
| Mature Height: | 1 to 2 Feet |
| Mature Width: | 1 to 2 Feet |
| Classification: | Flowering Perennial |
| Habit: | Upright |
| Flower Color: | Pink |
| Foliage: | Dark green |
| Attracts: | Hummingbirds, bees |
| Uses: | Deer resistant |
| Soil Condition: | Prefers moist soil |
| Light: | Full sun, partial sun |
| Water Requirements: | Water frequently, do not let dry out |
Growzone: 10-11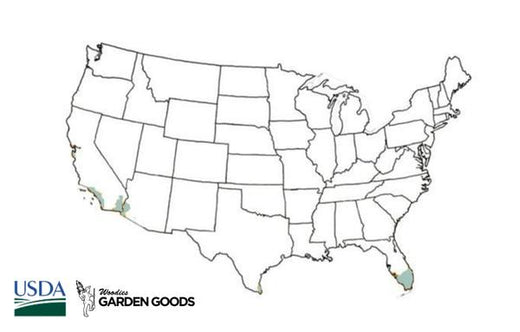 How to Care for Scaevola Whirlwind Pink Plants
After purchasing a Scaevola Whirlwind Pink Plant, be sure to read our recommended care instructions to ensure a healthy and happy plant all season long!

When Should I Water My Pink Fan Flower?
Pink fan flowers are heat-resistant and drought-tolerant meaning they do not require an intense watering routine. The best practice for watering your Scaevola is if their soil is dry to the touch, you can water. It is very important not to overwater your annual. This could result in major root damage and end up in root rot. If you are repotting or replanting in your garden, be sure to water well for at least the first 2 weeks until they become fully established.

How Much Sunlight Should My Scaevola Whirlwind Pink Flower Get?
We suggest you plant your Scaevola Whirlwind Pink flower in a spot in your landscape that receives 6 to 8 hours of sunlight each day. These plants can survive just fine in some shaded areas, however, they must get the proper hours of sunlight each day to bloom their very best.

How do I Fertilize My Scaevola Whirlwind Pink Flower?
We suggest using a slow-release granular or water-soluble fertilizer with your Scaevola regularly. This routine will help aid your flower to bloom much fuller during their blooming season. The best time to fertilize your plant is at the time of planting to ensure your plant is ready to go in the soil it needs to thrive in. If your pink fairy fan flower is planted in a container or kept inside, you will need to fertilize it a bit more frequently to keep it looking healthy and happy.

Do I Need to Prune My Fairy Fan Flower?
Fan Flowers do not require any pruning or deadheading. However, if their stems start to look leggy feel free to carefully pinch their stems back. Not only will this help the overall appearance of your annual, but it will help promote new growth and make your plant look much fuller. If you notice any dead flowers, leaves, stems, etc. you are more than welcome to carefully prune them off as well.
---
Frequently Asked questions
How Do I Plant My Pink Scaevola?
Where Should I Plant My Scaevola in My Garden?
Why is My Scaevola Whirlwind Pink Flower Dying?
---
Other Products you may be interested in
---
Customer Reviews