Images Depict Mature Plants
Lamium Pink Pewter for Sale Online
Lamium Pink Pewter or Spotted Dead Nettle plants are a semi-evergreen perennial widely used as a groundcover in many varieties of gardens and landscapes. This plant produces small, salmon-pink flowers that are complemented by silver-green heart-shaped foliage, making them a beautiful sight to see. They will bloom from late spring/ early summer into the fall.
It is important to note that these plants are evergreen in mild winter climates; anywhere that is too cold, your plant will not survive as a perennial. However, this plant is also sensitive to heat and humidity. We recommend that you plant this in an area of your garden that receives enough sun and shade throughout the day. Lamium Pink Pewter is deer and rabbit resistant and is virtually pest and disease-free. Once this perennial is established in your garden, you will watch it thrive for years to come.
---
Growzone: 4-9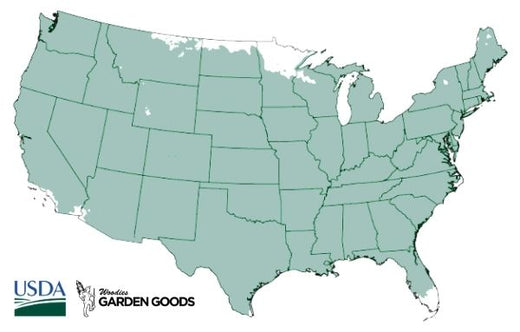 | | |
| --- | --- |
| Hardiness Zone: | 4-9 |
| Mature Height: | 6-8" |
| Mature Width: | 18-24" |
| Sunlight: | Full Shade to Part Shade |
| Water Requirements: | Average |
| Flower Color: | Salmon-Pink |
| Foliage: | Silver-green |
| Selling Points: | Ground cover, Deer resistant, containers |
---
How to Care for Lamium Pink Pewter
Before you buy your Lamium Pink Pewter plant, be sure to read the recommend care guide to ensure your plant remains happy and healthy for years to come!

What is the Right Sun Exposure for my Spotted Dead Nettle?
Pink Pewter Lamium perennials thrive best in part sun to fully shaded areas. If you live in the northern parts of the United States, your plant can grow in almost any sunlight conditions; from full sun to full shade, your plant will thrive. However, if you live in Southern parts of the country, we recommend giving your plant time in the shade throughout the day. The best time to give your plant shaded time is in the midafternoon. Doing so will help keep your plant shaded and protected from the harsh, hot sun. It is crucial to note that Dead Nettle plants do not like excessive heat and humidity.

When Should I Fertilize My Lamium Pink Pewter Plants?
It is critical to fertilize your plants at the time of transplanting them into your garden. Doing so will ensure they have the proper nutrients to establish their roots well and have a good basis to grow happy and healthy in your garden for years. Once your plant is established, you will only have to fertilize your plant once a year in the Spring. Doing so in the Spring will prepare your plants for a healthy growing season. Do not fertilize your plants during their growth dormancy season in the winter. Doing so could damage your plant for the next growing season and could burn its roots.
What is the Best Soil for My Lamium Pink Pewter Plants?
Spotted Dead Nettle plants love to be in humus-rich, well-draining soil conditions that retain a medium level of moisture. Even though this plant is drought-tolerant once it is well established, it still prefers to have moisture in its soil at all times. However, there is a fine line between just enough moisture and too much that causes root rot disease. Do not overwater your plant because that could cause their roots to sit in standing water for too long and cause permanent root damage.

When Should I Prune My Spotted Dead Nettle Lamium Pink Pewter Plants?
You may prune your Dead Nettle plants whenever you see dead or dying limbs but do so carefully. It is important not to prune your plants during the winter because it could disrupt their next growing season if you cut the wrong part of the plant. During their growing season, you can prune your plants once their blossoms look like they are spent. Doing so will remove dying flowers and make space for new, fresh foliage to grow. You will remove old parts of the plant that your Lamium is focusing its energy on and providing new space for your plant to refocus its energy on instead.
---
Frequently Asked questions
Is my Spotted Dead Nettle Plant Edible?
Where Should I Plant my Lamium Pink Pewter Plant?
Is my Lamium Pink Pewter Plant Resistant to Wildlife?
---
Other Products you may be interested in
---
Customer Reviews