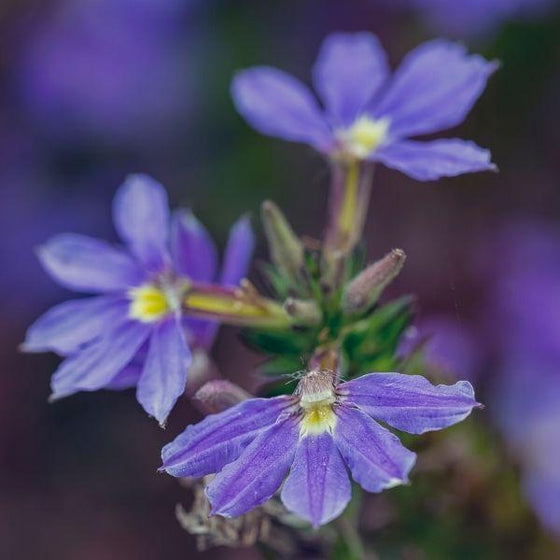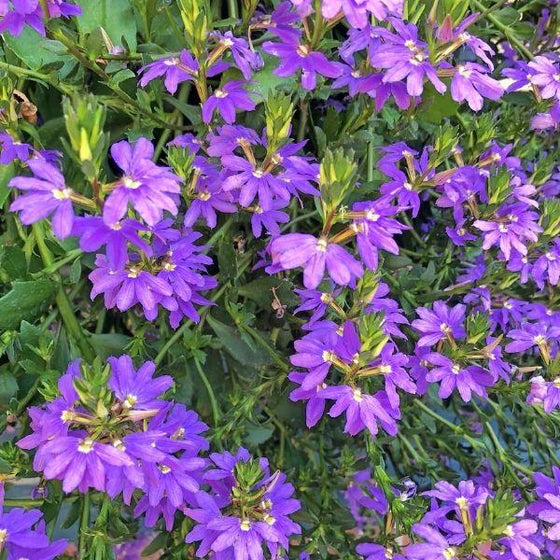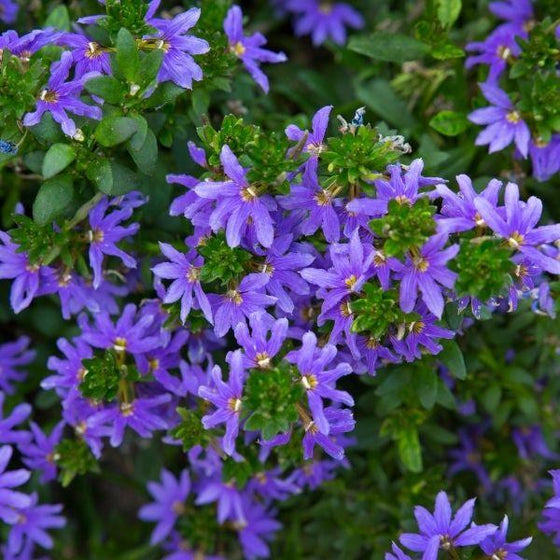 Images Depict Mature Plants
Scaevola Whirlwind Blue Fan Flower Plants for Sale Online
Scaevola Whirlwind Blue Flower (Scaevola aemula 'whirlwind blue') is a semi-trailing annual that grows beautiful blue-purple blooms. A plant native to eastern and southern Australia, this drought-tolerant and heat-resistant plant makes for a perfect addition to any floral environment. Scaevola is commonly known as the fan flower for its flowers that are shaped like Japanese fans. Their bright green, oval-shaped foliage compliments their vibrant colors.
Commonly featured in hanging baskets, for mass planting, or as a border crop, this plant adds height, fullness, and color to a garden. This annual is fairly low maintenance because it can withstand various climates and have no trouble at all. Believe it or not, this flower is newer to gardeners in the U.S. but is catching on quite fast because of its amazing qualities and beautiful looks.
---
| | |
| --- | --- |
| Hardiness Zone: | 10-11 |
| Mature Height: | 1 to 2 Feet |
| Mature Width: | 1 to 2 Feet |
| Classification: | Flowering Perennial |
| Habit: | Upright |
| Flower Color: | Blue, purple |
| Foliage: | Dark green |
| Attracts: | Hummingbirds, bees |
| Uses: | Deer resistant |
| Soil Condition: | Prefers moist soil |
| Light: | Full sun, partial sun |
| Water Requirements: | Water frequently, do not let dry out |
Growzone: 10-11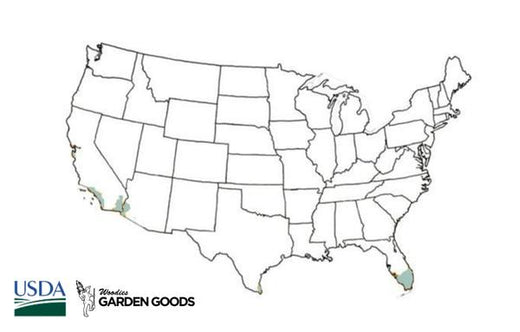 How to Care for Scaevola Whirlwind Blue Plants
After purchasing a Scaevola Whirlwind Blue Plant, be sure to read our recommended care instructions to ensure a healthy and happy plant all season long.

When Should I Water My Fan Flower?
Fan flowers are drought-tolerant and heat-resistant, so they do not require an intense watering schedule. You should only be watering your plant when its soil feels dry to the touch. If you are replanting or repotting your fan flower annual make sure to keep it well-watered for at least the first 2 weeks, or until they become fully established. Do not allow their soil to stay too moist, this will cause their roots to sit in too much water and could result in root rot.

How do I Fertilize My Scaevola Whirlwind Blue Flower?
We recommend you fertilize your Scaevola regularly using a slow-release granular or water-soluble fertilizer. This will help aid your annual to bloom many more flowers during their blooming season. The best time to fertilize is at the time of planting to ensure your plant is ready to go from the start. If your fairy fan flower is planted in a container you will need to fertilize it a little more frequently to keep it looking full and healthy.

How Much Sunlight Should My Scaevola Whirlwind Blue Flower Get?
The best place for your Scaevola Whirlwind Blue flower is in an area that receives at least 6 to 8 hours of sunlight each day. Because of their heat resistance and drought tolerance, these plants do not love cold weather or shady areas. They can survive perfectly fine in some shade throughout the day, but prefer a good chunk of the day to be in the sun.

Do I Need to Prune My Fairy Fan Flower?
Fan flowers do not require any deadheading or pruning. However, if their stems become leggy or little like they could use some extra TLC feel free to carefully pinch their stems back. Not only will this help your plant look more appealing, but it will also help promote new growth and make your plant look much fuller. If you see any dead leaves, flowers, stems, etc. you are more than welcome to pick those off carefully as well.
---
Frequently Asked questions
How Do I Plant My Scaevola?
Where Should I Plant My Scaevola in My Garden?
Why is My Scaevola Dying?
---
Other Products you may be interested in
---
Customer Reviews