Images Depict Mature Plants
Salvia May Night Plants for Sale Online
May Night Salvia produces magnificent deep purple flowers that attract butterflies and honeybees! The most intense deep indigo-purple spikes imaginable rise to 18 inches above the dark green leaves during June and July.
Salvia May Night is easily grown in average, dry to medium, well-drained soils in full sun. Plants may repeat bloom throughout the summer if cut back after the first flush of flowers. Salvia Plants are perfect for the perennial borders, cottage gardens, butterfly gardens, and wild gardens.
Perennial Plant of the Year 1997
---
Growzone: 4-9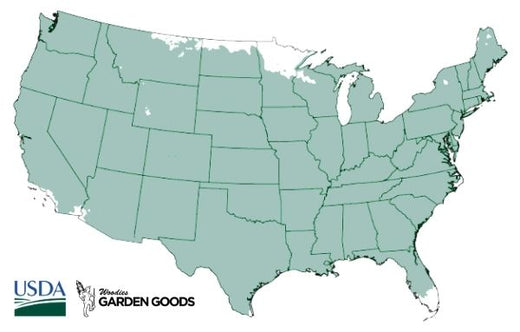 | | |
| --- | --- |
| Hardiness Zone: | 4-9 |
| Mature Height: | 18 Inches |
| Mature Width: | 15-18 Inches |
| Sunlight: | Full sun |
| Water Requirements: | Dry to medium |
| Selling Points: | Drought tolerant, fragrant, deer resistant, hummingbirds, butterflies and pollinators |
---
How to Care for May Night Salvia
Before you buy a Salvia May Night Plant, make sure to read about the recommended care instructions to keep this plant healthy and thriving.

How do I plant my Salvia May Night?
When planting a May Night Meadow Sage plant in a garden, we recommend digging a hole that is twice the width, but the same depth as the container the plant came in. Digging your hole too deep can cause the plant to drown, or develop root rot.

How do I prune Salvia May Night?
When pruning this plant, it is best to wait until after the Salvia flowers. One annual pruning is recommended, however you can remove dead or dying flowers throughout the growing season.

What fertilizer is recommended for May Night Meadow Sage?
This Sage Plany grows best if it's fertilized once in the spring before new growth emerges. We recommend using Bio-Tone Plus Starter Plus, it is a great starter fertilizer that provides plants with mycorrhizae fungus. This fungus naturally occurs and provides benefits to the plant by creating a barrier between roots and pathogens that can harm the shrub.

How often do I water May Night Sage?
After planting the Salvia May Night, give it a slow, deep watering. This is important especially during the early stages of being planted in your yard. Be patient with this because most of the water that hits the soil at first will run off, it takes time for the water to penetrate the soil and reach the plant roots. Water regularly while the root system is establishing, and more often if planted in hot climates or containers.
---
Other Products you may be interested in
---
Customer Reviews