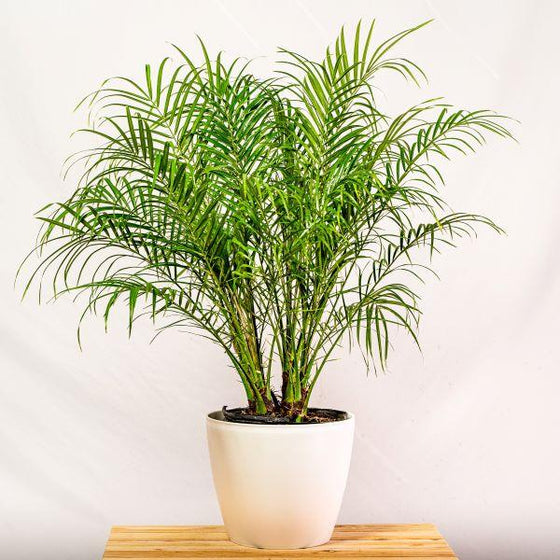 Images Depicted Range in Maturity & Container Size
Pots Not Included Unless Otherwise Stated
Date Palm for Sale Online
Pygmy Date Palms (Phoenix roebelenii), or Date Palm, is an indoor palm tree with graceful, arching fronds and an upright form. They are very sturdy and are more forgiving than other tropical palms. Date Palms do best with some humidity and plenty of bright, direct light.
Known for its ornamental fronds, the Date Palm is part of the Phoenix family and a favorite for indoor container plantings and outdoor landscapes, gardens, pool decks, and patios. This dwarf palm tree has air cleaning properties and is fairly low-maintenance.
More tolerant of conditions than other palms, Roebelenii Pygmy Date Palm does well in bright, direct light to full sun and can stand to dry out occasionally. They are considered the most graceful and beautiful of the palms and are frequently used in tropical containers for the summer months. Plants are either male or female, and both are needed to produce flowers and seeds. These palms are very unlikely to flower indoors. The size of the palm varies based on the size of the container. They look magnificent paired with Kimberlee Queen Ferns, petunias, and hibiscus.
Indoors, Roebelenii Pygmy Date Palm does best with at least a few hours of bright, direct light from western or southern exposure. They will tolerate lower light levels, but care needs to be taken that they are not overwatered. Pygmy Date Palms grow very slowly, usually about 6 inches a year of trunk space. Palm fronds appear from the center of the palm and expand as they age. Lower fronds will need to be removed as they age, contributing to the naturally upright habit of the Pygmy Date Palms.
---
Growzone: 9-11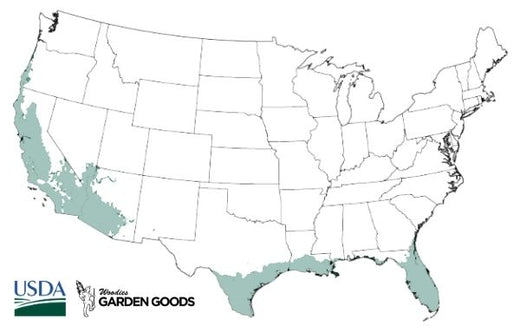 | | |
| --- | --- |
| Hardiness Zone: | 9-11 |
| Mature Height: | 5 to 6 Feet |
| Mature Width: | 3 to 4 Feet |
| Classification: | Green foliage |
| Sunlight: | Bright, direct to full sun |
| Habit: | Upright |
| Flower Color: | Does not flower indoors, white |
| Foliage: | Green fronds |
| Soil Condition: | Well draining, cactus or succulent mix (part sand) |
| Water Requirements: | Likes to dry out occasionally |
| Uses: | Performs well indoors or outside with lots of light |
---
How to Care for Pygmy Date Palm
Before you buy a Date Palm Plant, make sure to read about the care instructions that are recommended to keep this plant healthy and thriving.

How do I fertilize Date Palm?
Any all purpose fertilizer will work for Pygmy Date Palm. Indoor houseplant fertilizers fall into two groups: water soluble, liquid quick release, and granular, slow release fertilizers. Jack's Classic Indoor plant food works well as a powder, quick release fertilizer that is mixed with water to quickly provide nutrients to a plant that has been in a container for an extended time. On the other hand, there is a granular, slow release fertilizer such as Palm-Tone designed specifically for use with all palm trees that provides specific macro and micronutrients to palms in the quantities that they require. Either type of fertilizer offers nutrients that help plants with the transition to a new environment.

What is the best soil for Pygmy Date Palms?
Date Palms prefer regular potting mix with sand mixed in for plants potted in containers, otherwise a cactus potting mix would work. The cactus potting mix already has sand and other ingredients to encourage drainage. Outdoors, Date Palm Trees like a well draining soil, as they will not tolerate sitting in water. It is a good idea to mix in some Palm Tone when you plant.

What is the best light for Date Palm Trees?
Date Palms perform best in bright, direct light for several hours. Southern or western exposure indoors works best; they would be very happy in a sunroom with plenty of direct light. Outdoors, they perform well in part to full sun, but can handle shadier spots.

How often do I water Date Palms?
Date Palm Plants like to dry out somewhat between watering. It does not like to stay or sit in water. Plants that are watered too often will not do well.
---
Frequently Asked questions
Are Date Palms Safe for my Pets?
---
---
Other Products you may be interested in
---
Customer Reviews