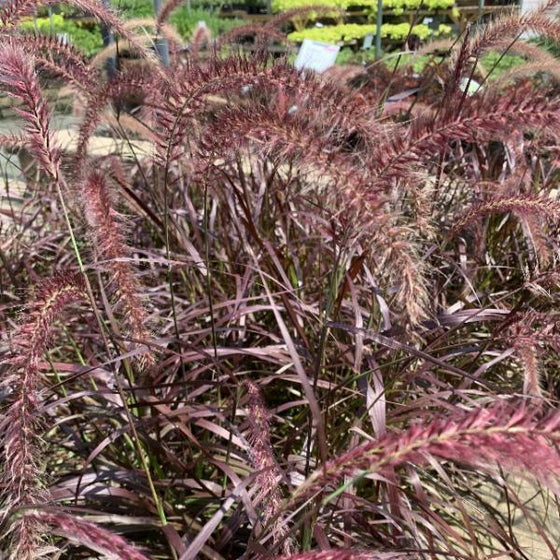 Images Depict Mature Plants
Purple Fountain Grass for Sale Online
Purple Fountain Grass (Pennisetum setaceum rubrum) is an attractive ornamental grass that features dark burgundy-black foliage and purplish-pink flower spikes that last through the winter. Its green foliage is the perfect plant to use as a specimen or mass planting perennial. During the mid-summer to early fall, Purple Fountain Grass's stunning foliage will turn a bronze-copper shade and will continue to complement other surrounding plants.
Purple Fountain Grass does best when planted in full sun, nutrient-rich soil, and in an area where it has plenty of space to spread. Unlike the rest of its species, this plant does not reseed. In cooler regions, the plant is typically treated as an annual instead. This is important to consider before planting because the likelihood of its return each year in zones six and lower is minimal.
---
Growzone: 8-11
| | |
| --- | --- |
| Hardiness Zone: | 8b-11 |
| Mature Height: | 2 to 4 Feet |
| Mature Width: | 2 to 3 Feet |
| Classification: | Warm season ornamental grass |
| Sunlight: | Full sun to part shade |
| Habit: | Clump forming |
| Foliage: | Burgundy purple, black |
| Flower Color: | Purplish, pink |
| Pruning Season: | Cut down to 6 inches in the late winter / early spring |
| Soil Condition: | Prefers average soil, but will tolerate wet soil |
| Water Requirements: | Water well until established |
| Uses: | Drought tolerant, ground cover, rain gardens |
---
How to Care for Purple Fountain Grass
Before you buy a Purple Fountain Grass plant, make sure to read about the care instructions that are required and recommended to keep this plant healthy and thriving!

How Much Sun Does Pennisetum Rubrum Need?
Pennisetum Rubrum prefers to be planted in a full sunlight area of a landscape. However, this ornamental grass can tolerate some light shade, but it does prefer at least 6 to 8 hours of full sun each day. Before planting, look for an area in your landscape that will receive bright, direct sunlight. This location will be the perfect spot for your new plant to grow to its fullest potential.

How do I water Purple Fountain Grass?
While your purple fountain grass is considered a drought-tolerant ornamental grass, it needs consistent watering while it gets established in your landscape. We suggest watering your new plant 1 to 2 times a week and make sure you are allowing time for the soil to dry between each watering. If you are not sure if the soil is dry enough, simply check to see if it is dry to the touch, if so, it's time to water. In climates that receive rain on occasion, you will not need to continue watering after your plant has been established. If you live in a climate that is more hot and dry, your plant will need to occasionally be watered.

How do I fertilize Pennisetum Rubrum?
Although not required, you can give your Pennisetum Rubrum an annual feeding with a slow-release, well-balanced fertilizer in the early spring to help stimulate new growth. Fountain grass grows fairly well in poor soil, but adding the fertilizer will boost its growth exponentially. Adding fertilizer will also help provide any additional nutrients it needs when flowering. During the flowering period (typically in the summer), feed it monthly with a general-purpose, slow-release fertilizer option.

When do I Prune Purple Fountain Grass?
We recommend pruning purple fountain grass in the late winter or early spring before it begins any new growth. When pruning this perennial you will eliminate any dead foliage, improve air circulation and sun exposure to stimulate the growth of new leaves. Feel free to perform light shaping and carefully trim off any dead foliage at any time of the year. When cutting back in spring, we suggest you gather up the leaves of each plant and bind them with a rope. Next, use pruners to cut the leaves straight across, around 4 to 6 inches from the base. Comb through the trimmed leaves by hand to remove any additional dead foliage.
---
Frequently Asked questions
What's The Difference Between Warm Season vs. Cool Season Grasses?
Does Purple Fountain Grass Get Diseases or Pests?
Can Purple Fountain Grass Grow in Pots?
---
Other Products you may be interested in
---
Customer Reviews