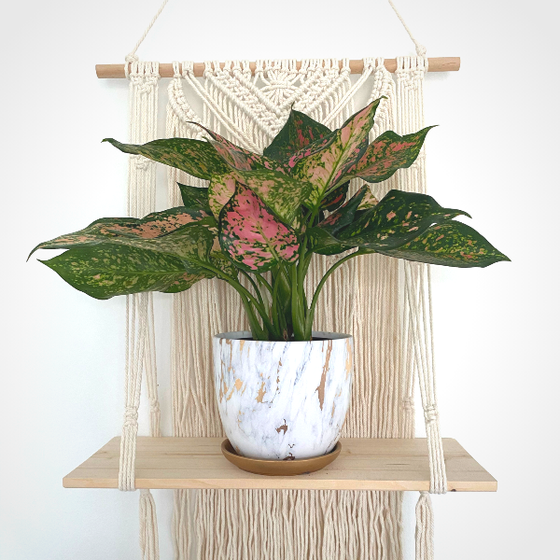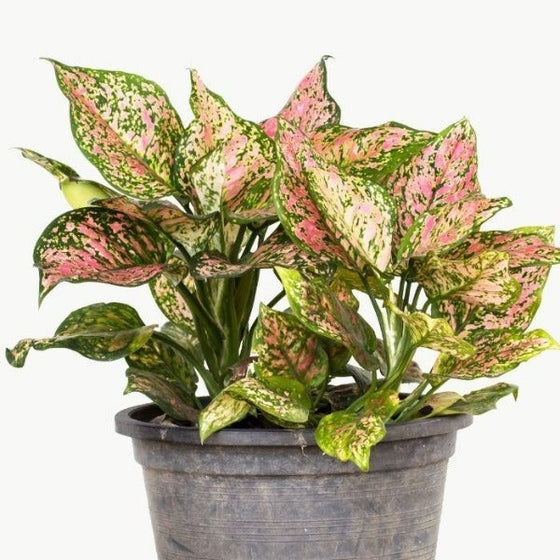 Images Depict Mature Plants
Pink Aglaonema Plants for Sale Online
Pink Dalmatian Aglaonema, or more commonly referred to as Pink Chinese Evergreen is an attractive indoor plant loved for its bright pink spotted foliage and easy care regimen.
Splashes of pink speckles on the dark green foliage match virtually any décor and offer a pop of color to your living room or office. This Aglaonema's pink coloration is unique on each leaf and brings a gorgeous pop of color to a room.
Though they are slow growing, these stunning houseplants are not to be slept on. For their beauty and easy plant care regimen makes them an easily loved house plant. Ideal care for these pink foliage plants includes bright indirect light and a well draining soil medium. Additionally these tropical plants enjoy moderate to high humidity levels.
As an added bonus to look forward to, the Pink Aglaonema produces a small white flower similar to a peace lily plant. The pink and green leaves make a statement when planted in a brightly colored pot, and the 6-inch containers are the perfect size to be used as a table centerpiece or to brighten up your desk at work.
Pink Dalmatian Chinese Evergreen is on NASA's list of clean air plants. It is excellent at removing benzene and formaldehyde from the air inside your home or office.
---
| | |
| --- | --- |
| Hardiness Zone: | 9-11 |
| Mature Height: | 30 to 36 Inches |
| Mature Width: | 30 to 36 Inches |
| Classification: | Colorful foliage |
| Sunlight: | Fluorescent to bright indirect |
| Habit: | Compact habit |
| Flower Color: | Inconspicuous |
| Foliage: | Dark green with spots of pink |
| Water Requirements: | Likes to dry out some between watering; If unsure, do not water |
| Uses: | Attractive plant to be featured or in the background of any room in the house, does well with minimal care |
Growzone: 9-11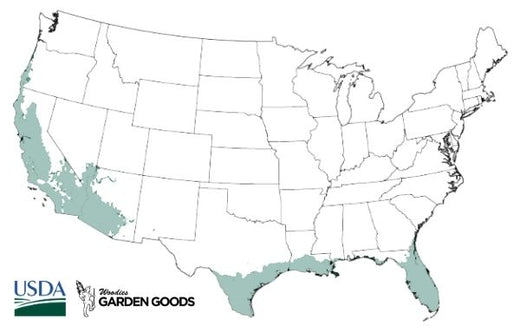 How to Care for Pink Dalmatian Aglaonema
Be sure to read our planting instructions to ensure a healthy and happy plant for years to come!

What is the best light for Pink Aglaonema Plants?
Pink Aglaonema Plants often have the best color in medium or indirect light indoors. Pink Aglaonema Plants does excellent in offices, living rooms, and even kitchens and bathrooms due to their ability to thrive in low light. Aglaonema can take some direct sun on the leaves, but you should diffuse the bright sunlight with a sheer curtain. Low lighting conditions will produce more pink on the foliage.

How often should I water Pink Aglaonema Plants?
Pink Aglaonema Plants should receive water relatively infrequently, as the plants like to dry out some between waterings. The easiest way to tell if a plant needs water is by the weight of the container. If the pot is heavy and the foliage is upright, the plant doesn't need water, whereas lightweight and limp leaves mean the plant needs some water. If the planting soil becomes extremely dry, it is often challenging to soak up water. Soaking the dry potting soil in a small dish or saucer can be a beneficial way to solve this problem. If you're unsure if the plant needs water, it is always better to let the plant go another day instead of drenching it with water as the water pushes air out of the root zone, and repeatedly doing this can cause root rot.
---
Other Products you may be interested in
---
Customer Reviews