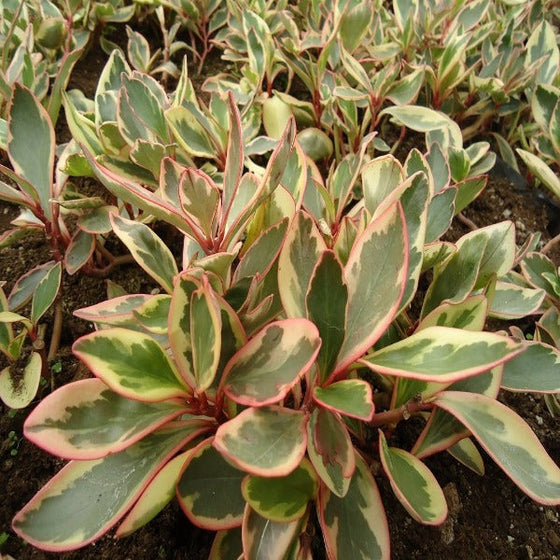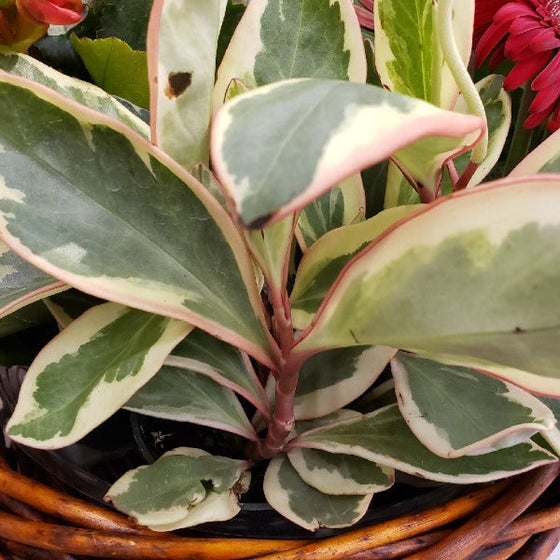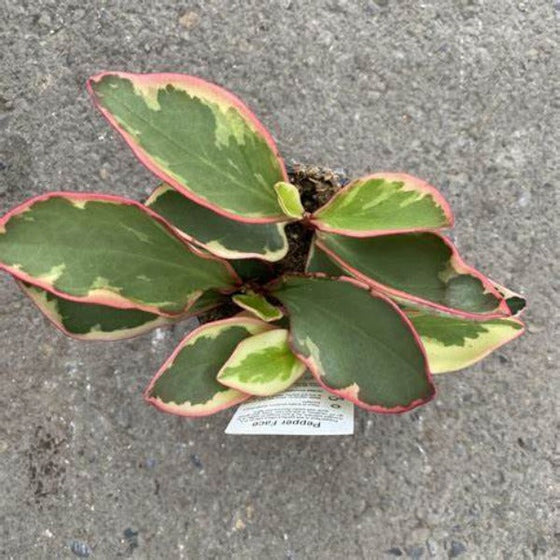 Images Depict Mature Plants
Peperomia Ginny For Sale Online
Peperomia Ginny or Rainbow Peperomia has an upright growth habit and large dark green leaves splashed with red and white, making it ideal for containers. The leaves of this plant are thick, and its edges are rosy-red with a slight touch of white. This slow-growing succulent plant also has red-colored stems, which makes them even more striking as houseplants.
This sport comes from the species Peperomia Clusiifolia, also known as the radiator plant. It belongs to the family of Piperaceae and is native to subtropical and tropical regions.
---
| | |
| --- | --- |
| Hardiness Zone: | 9-11 |
| Mature Height: | 6 to 8 Inches |
| Mature Width: | 6 to 8 inches |
| Classification: | Succulent |
| Sunlight: | Fluorescent to bright indirect |
| Flowers: | White flowers on flower spike |
| Foliage: | Variegated red, green, and white |
| Soil Condition: | Likes to dry out some between watering |
| Uses: | Attractive plant to be featured on a tabletop or windowsill, does well with minimal care |
Growzone: 9-11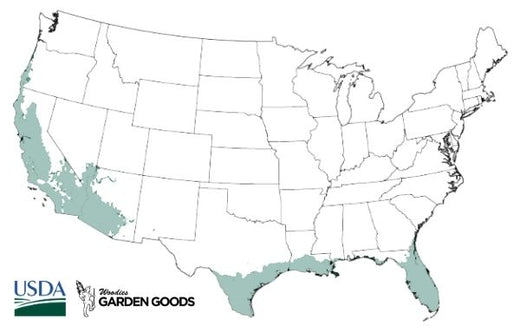 How to Care for Peperomia Ginny
Be sure to read our planting instructions to ensure a healthy and happy plant for years to come!

When should I re-pot my Peperomia Ginny?
After Peperomia Ginny has acclimated in your home after arrival, then you can repot into a pot of a similar size. Peperomias do not have a large root system and are happy in smaller pots. A popular option is placing the plant with its nursery pot inside of a larger, decorative container, and ensure the plant has adequate drainage of water away from the roots. Once it is difficult to place your finger into the soil because of the roots, then it is probably time to repot, just to the next nursery pot size up. Depending on how your plant grows and how you prune it, this could be quite a while.

How do I water Peperomia Ginny?
Peperomia Ginny should be watered relatively infrequently, as the plants like to dry out some between watering. The easiest way to tell if a plant needs to be watered is by the weight of the container. If the container is very heavy and the foliage is upright, chances are good the plant doesn't need water, whereas a light container and limp foliage means the plant needs some water. If unsure, press your index finger into the top inch of the soil. If the soil still feels dry up to the first joint, then it should be OK to water your Peperomiat.

How much light does my Peperomia Ginny need?
Peperomias are native to the rainforests of South America. They thrive in environments with partial to bright indirect sunlight and high humidity. However, these are also very resilient plants and will do just fine without either. A happy, well lit and well established peperomia Ginny will grow faster, produce more variegated leaves, and bloom flowers on tall flower spikes. Simply make sure you don't put your peperomia in harsh, direct sunlight.

What is the best soil for Tri-color Peperomia Ginny?
The best soil for peperomia Ginny is a well balanced mix of peat moss, perlite and vermiculite that dries some between watering but takes a long time to compact. Typically, any reputable potting mix will work well and includes those ingredients. Mixing an orchid or cactus soil with an indoor potting soil will usually help create the best of both worlds. If there is fertilizer already incorporated into the potting mix, then there won't be a need to add any additional fertilizer for a while.
---
Other Products you may be interested in
---
Customer Reviews