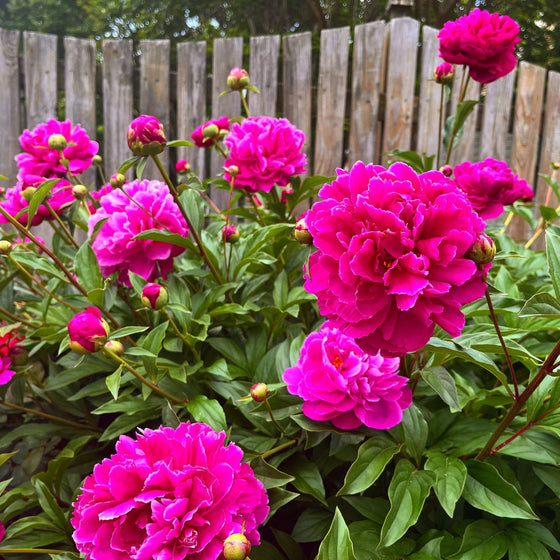 Images Depict Mature Plants
Peony Karl Rosenfield for Sale Online
The Karl Rosenfield Peony (Paeonia x 'Karl Rosenfield') is an herbaceous perennial that produces large double blooms spectacularly displayed on sturdy, upright stems.
This plant has lush, green foliage on a rounded form, making it an excellent background for spring bulbs. You can also use Karl Rosenfield Peonies as a spring specimen in a sunny mixed border. Not to mention, these peonies make for beautiful cut flowers in floral arrangements.
This plant loves full sun and requires a regular watering schedule; so its soil does not dry out. Karl Rosenfield Peonies are deer and rabbit resistant.
---
Growzone: 3-8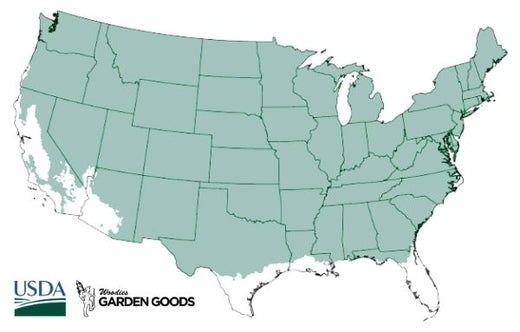 | | |
| --- | --- |
| Hardiness Zone: | 3-8 |
| Mature Height: | 2 Feet |
| Mature Width: | 2 to 3 Feet |
| Sunlight: | Full sun |
| Water Requirements: | Water well until established |
| Flower Color: | Bright red double bloom |
| Details: | Bright red flowers, fragrant, good cut flower |
---
How to Care for Karl Rosenfield Peony
Be sure to read our planting instructions to ensure a healthy and happy plant for years to come!

How Do I Plant My Karl Rosenfield Peony Plants?
It is crucial to plant your Karl Rosenfield Peonies in the fall to ensure they have enough time to establish in their new home before winter and their growth dormancy period begins. It is also crucial to note that these flowers typically do not bloom the first or second year after planting. This means, do not be alarmed if the first year or two of your Peony plants, you do not see any flowers bloom. First, find a location that receives plenty of full sunlight throughout the day and with well-draining soil conditions. Once you've found your site dig a hole about 12 inches wide and the same length as your plant's roots. This is also the time to add any compost to the bottom of the hole. Next, plant your perennial's roots 1 to 2-inches below the soil level with the buds pointing upwards. Once your plant is secure, slowly back-fill around the plant's roots and compact the soil to avoid any air pockets. After your plant is planted, give it gentle watering and water every day for the first five days to ensure your plant establishes well.
What Kind of Soil Does my Peony Karl Rosenfield Plants Need?
Karl Rosenfield Peonies thrive best in rich, fertile, well-draining soil conditions. These perennials like to have medium moist soil at all times, but it is critical not to let their soil get too wet and stay too wet. Make sure your plants are in well-draining soil so that they do not risk the chance of getting root rot disease. It is crucial to watch how often you water your Peony plants because too much water will oversoak their soil, but too little water won't keep them moist. It will take a bit of time to figure out the right balance for your new plant.

What Kind of Sunlight Should I Give My Karl Rosenfield Peonies?
These Peonies are not too particular with their sunlight requirements; they can handle full sun or partial shade and thrive beautifully. However, Peonies do grow best in full sun areas and prefer to be in the shade only during hot and bright summer hours. If you live in a colder region and plant your Peonies in the shade, doing so could result in weak stems and less flower production. If you start to notice these issues and your plant is in quite a bit of shade throughout the day, you should try to replant it in a better location for successful growth.

How Do I Prune My Karl Rosenfield Peony Plants?
Do not prune your Karl Rosenfield Peony plants until after blooms have passed and fallen off. If you prune before this happens, you could be cutting the growing season short for your plant and potentially the lifespan too. Clip expired blooms down to where the foliage meets the stem of the plant. When fall rolls around, do not be surprised if your plant's leaves turn yellow and wilt, this is normal. When this occurs, trim back all foliage to about three inches from the ground. Doing so will keep your plant tidy and will allow for new growth the next growing season to grow effortlessly.
---
General questions
What do the pot sizes mean?
---
---
Other Products you may be interested in
---
Customer Reviews