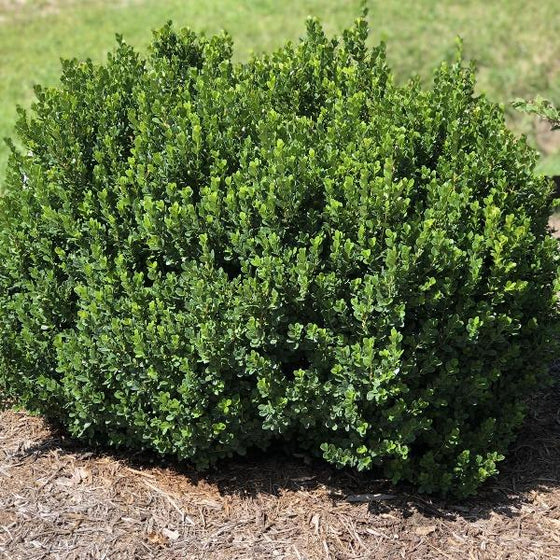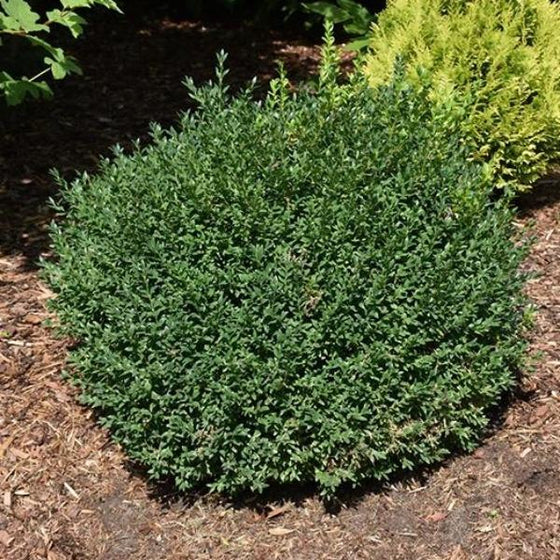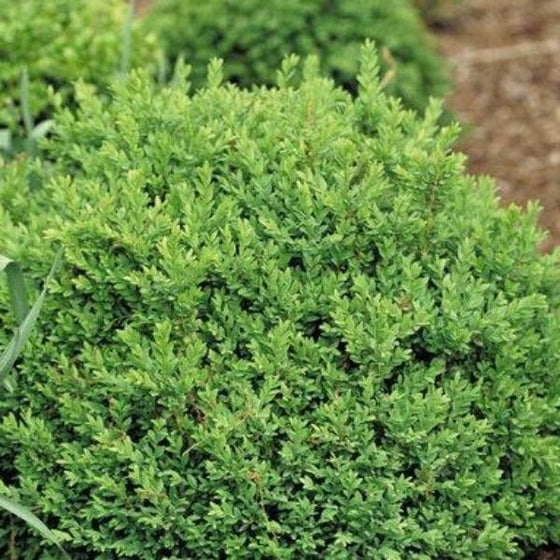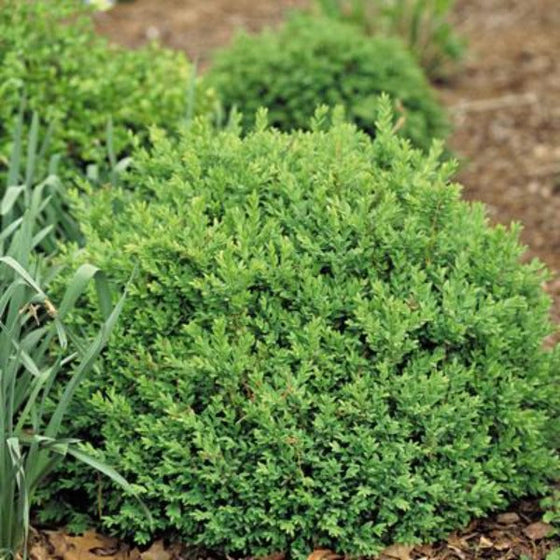 Images Depict Mature Plants
North Star Boxwood Shrubs for Sale Online
North Star Boxwood Shrubs(Buxus sempervirens 'Katerberg') are a solid and reliable American Boxwood variety. The deep green foliage grows very dense, only about 2.5 feet tall and wide, making it perfect for low hedges and borders.
This shrub is fairly slow-growing, but it is very tolerant of a wide range of soil and light conditions. This cold hardy, dense globe of a shrub enjoys both part sun and full sun. Keep them well watered until established, and even then, an established North Star Boxwood likes to stay in moist, well-drained soils. Additionally these shrubs do well in an alkaline soil base.
Because these shrubs sport a compact shape, they require little if any pruning. However, it is a common practice of pruning to form a low dense, thick hedge. The North Stars also work great in border plantings or for use in formal herb gardens.
While you do not need to prune these shrubs very often to maintain their natural rounded habit, they can withstand heavy pruning and are great candidates for topiary and other structural pruning designs. A North Star Boxwood shrub will certainly bring a touch of class and refinement to your English cottage garden or classic landscape designs.
---
| | |
| --- | --- |
| Hardiness Zone: | 5-9 |
| Mature Height: | 2.5 to 3 Feet |
| Mature Width: | 2 to 3 Feet |
| Classification: | Dwarf evergreen shrub |
| Sunlight: | Full sun to full shade |
| Habit: | Mounded, dense globe, slow growing |
| Water: | Prefers to stay in evenly moist, well draining soil. Not drought tolerant |
| Foliage: | Dark green |
| Soil Condition: | Moist, well-drained soil |
Growzone: 5-9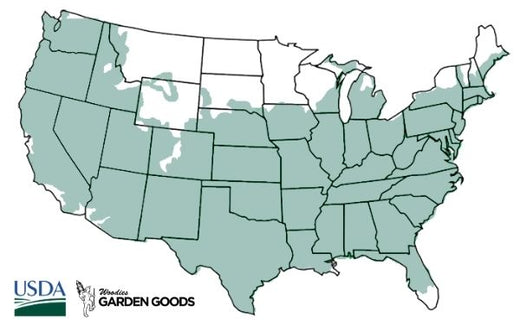 How to Care for North Star Boxwood
Be sure to read our planting instructions to ensure a healthy and happy plant for years to come!

How much water do North Star Boxwood Shrubs need?
Northstar Boxwood Shrubs prefer to stay in evenly moist, well-draining soil. They do not like to sit in standing water, as 'wet feet' can cause root rot, but they are not particularly drought tolerant either. It is best to water thoroughly on a regular basis - check the top few inches of soil and wait to water again until the first two to three inches are dry to the touch. Depending on your grow zone and the seasonal weather, the rate at with your soil drains can vary, so it is important to check and find a watering routine that works for you.
What kind of fertilizer is best for Northstar Boxwood Shrubs?
North Star Buxus shrubs are slow growing, keeping a low and even habit. This means they do not need much fuss in the way of pruning or fertilizer, but both chores will certainly help your shrub thrive and grow thick dense foliage. While these shrubs are hardy and can tolerate a wide range of temperatures, shade and soils, they will be happiest in soil that is slightly alkaline but otherwise well-balanced and loamy. When first planting, you can use a starter fertilizer such as Espoma Bio-tone starter plus in order to provide the young roots everything they need. Then, in very late winter to early spring, before growth has begun, you can use a balanced all purpose fertilizer such as Espoma Plant-tone. Steer away from fertilizers that will introduce too much acidity to the soil.

How much sunlight do Northstar Boxwood Shrubs Need?
North Star Boxwood Shrubs are cold-hardy and tolerant of many conditions from grow zones 5 - 9. They are perfect for creating a sense of order and tidiness to your gardening or landscaping designs. They will do just fine in full sun, partial sun, partial shade, or even full shade when in warmer climates. If you are looking to fill a spot in your garden that other shrubs would not thrive in, try a North Star Boxwood for year round interest and rich green color.

How much can I prune my North Star Boxwood Shrubs?
Just because you don't have to prune a North Star Boxwood very often doesn't always mean you can't. The North Star Boxwood shrub is a flexible candidate, perfect for easy-going gardeners and topiary artists alike. The dense foliage will grow in a handsome round habit naturally. However, this shrub will also tolerate very heavy pruning as well, wonderful for topiaries and low hedges. The best time to prune for health and aesthetics is either early spring or late summer, before or after the main growing season.
---
Other Products you may be interested in
---
Customer Reviews