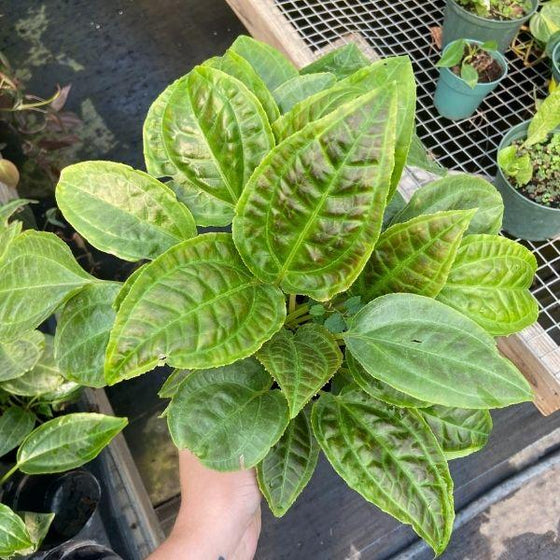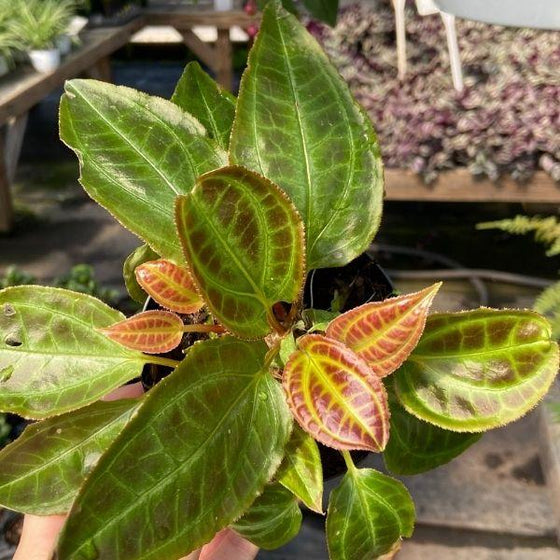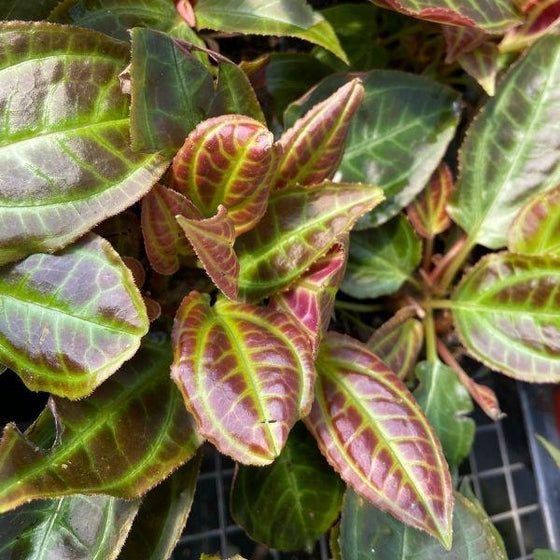 Images Depict Mature Plants
Monolena Primuliflora (Ant Plants) for Sale Online
Monolena Primuliflora or the Ant Plant is an attractive plant with bold and thick foliage that produces dainty pink and white flowers. It is very appealing to those who like foliage plants, tropical flowers, and anyone who specializes in caudex-producing plants. This plant is fairly unique and on the more rare side than your typical Snake Plant or other commonly known houseplants.
This plant requires bright, indirect sunlight and soil that is well-draining but always stays moist. Even the slightest bit of dryness to their soil will cause them to become leggy and lose their leaves. You can provide them with artificial lighting to ensure they receive the proper warmth and humidity they need to thrive.
---
| | |
| --- | --- |
| Hardiness Zone: | 10-11 |
| Mature Height: | 12 Inches |
| Mature Width: | 1 to 2 Feet |
| Classification: | Houseplant |
| Light Requirements: | Full sun, partial sun |
| Water Requirements: | Likes to stay moist |
| Soil: | Well-draining, evenly moist |
| Foliage: | Green |
| Flower: | White, pale pink |
Growzone: 10-11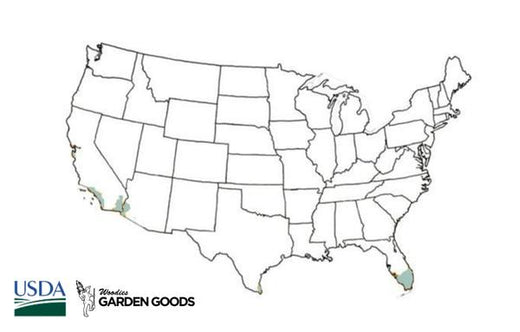 How to Care for Monolena Primuliflora
Before you buy a Monolena Primuliflora Ant Plant plant, make sure to read about the care instructions that are required and recommended to keep this plant healthy and thriving!

How Much Sunlight Does my Ant Plant Need?
Ant Plants thrive best in bright, indirect sunlight conditions. They also do great in well-lit terrariums, given the terrarium is big enough to allow your plant to grow. Be careful not to give your plant too much direct sunlight, this could cause their leaves to burn. You can also use artificial lighting if your home or space does not provide the necessary light for your plant to live indoors. Place your lights a few inches above their foliage for them to grow and thrive best. A fluorescent light will provide enough warmth and light for your plants. However, if you notice your plant is lagging, try adding a space heater for some extra warmth.

What Kind of Soil Should I Give Monolena Primuliflora?
Monolena Primuliflora plants thrive in rich, evenly moist, and well-draining soil conditions. The key to keeping your plant happy and thriving is to never allow its soil to dry out. Even the slightest bit of dryness in their soil could cause them to drop leaves. Just like most plants, be careful you do not overwater them. This could lead to root rot disease and hurt your plant's growth. Try placing your pot on top of a shallow tray of water. The constancy of the water making its way through the drainage holes will allow your plant to grow happy and healthy.

How often should I water Monolena Primuliflora?
These plants need to be watered frequently and consistently. As mentioned, they cannot survive in even the slightest bit of dry soil. When you first purchase your Ant Plant, make sure to keep an eye out for their soil's moisture so that you can get a perfect understanding of just how often you should be watering your plant. If you notice its leaves are browning or falling off, try adding a tray filled with water and pebbles and place it under the pot. This will consistently water your plant, but not overwater it and cause any damage to the roots.

Does Monolena Primuliflora Require Fertilizer?
This plant grows fairly quickly and benefits greatly from frequent applications of fertilizer. In the summer, when they are in their growth period, you can fertilize them up to every two weeks. We recommend diluting the fertilizer to about 1/4 of its recommended potency. Also, choosing a feed that has high levels of nitrogen will make this plant thrive! In the winter months, you can fertilize once every 4 to 6 weeks. Be sure not to over-fertilize in those months because they are in their growth dormancy and can be very sensitive during those months.
---
Frequently Asked questions
Why is My Plant Called 'Ant Plant'?
Are Monolena Primuliflora Plants Rare?
What is a Caudex?
---
Other Products you may be interested in
---
Customer Reviews