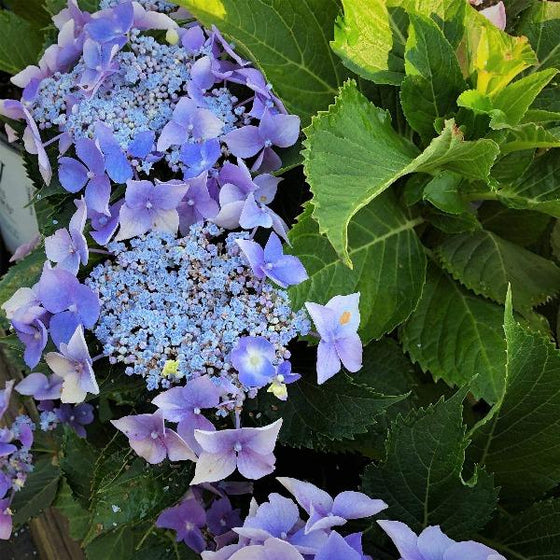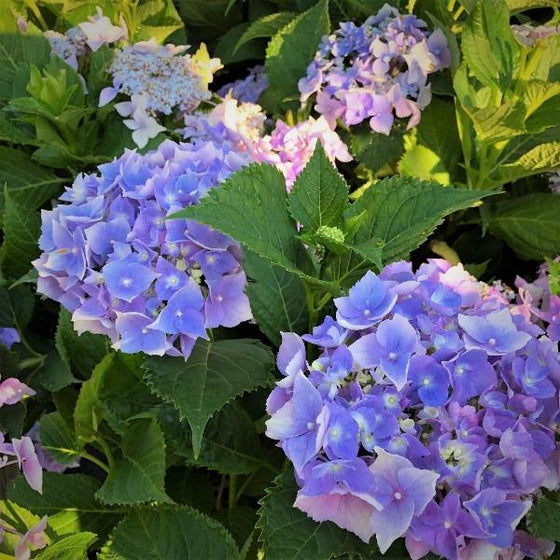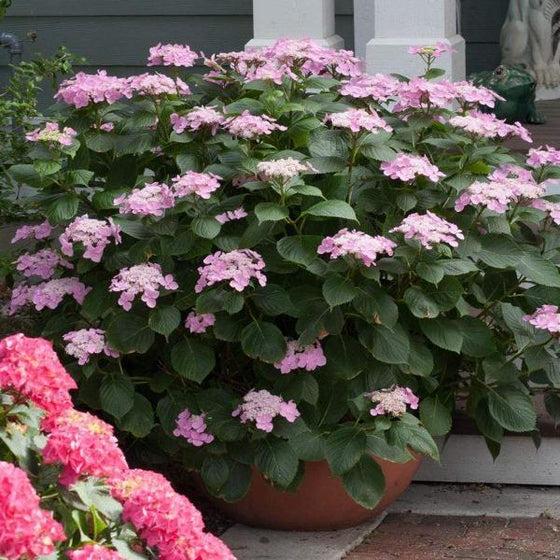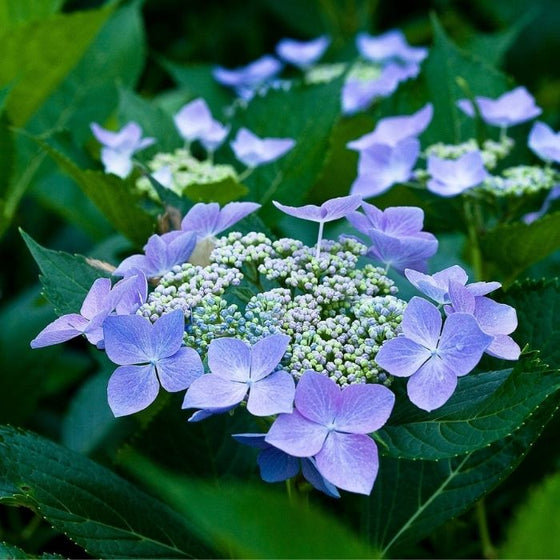 Images Depict Mature Plants
Let's Dance Starlight Bigleaf Hydrangea for Sale Online
Let's Dance Starlight Bigleaf Hydrangea (Hydrangea macrophylla) is a lacecap cultivar from Proven Winners known for its blue and pink flowers and rich green foliage. It represents the first reblooming lace-cap hydrangea and has exceptionally rich vibrant bloom colors. The lacecap florets will turn blue in highly acidic soils and pink in slightly acidic or alkaline soils. Add aluminum sulfate to the soil to encourage blue flower color and lime to encourage pink.
Big Leaf hydrangeas are deciduous shrubs that are ideal for any shade setting and prized for their large, bright florets and dense, serrated foliage. Let's Dance Starlight Hydrangea that thrives in USDA Zone 5-9 with partial shade and well-drained soils but can also tolerate full sun if the soil is kept moist. This flowering shrub blooms every summer on both old and new growth, regardless of the severity of the preceding winter.
Hydrangea macrophylla 'Lynn' grows to be 2 to 3 feet tall and wide and is perfect for shrub borders, groupings, or masses. Its compact size makes it ideal for mixed containers and its height makes it the perfect "thriller" element to the "thriller, spiller, filler" container grouping. The lacecap blooms also make beautiful cut flower arrangements that can be dried to create wreaths and other decorations.
---
| | |
| --- | --- |
| Hardiness Zone: | 5-9 |
| Mature Height: | 2 to 3 Feet |
| Mature Width: | 2 to 3 Feet |
| Classification: | Broad leaved deciduous shrub, summer flowering, re-bloomer |
| Sunlight: | Partial to full sun |
| Habit: | Upright, mounding |
| Foliage: | Dark green |
| Flower Color: | Pink and blue depending on soil acidity |
| Pruning Season: | Prune after flowering in summer, flowers on old wood |
| Soil Condition: | Any well drained soil |
| Water Requirements: | Water well until established |
| Uses: | Extremely attractive when used as a focal point in the mixed border, mass planting, specimen planting, or container planting |
Growzone: 5-9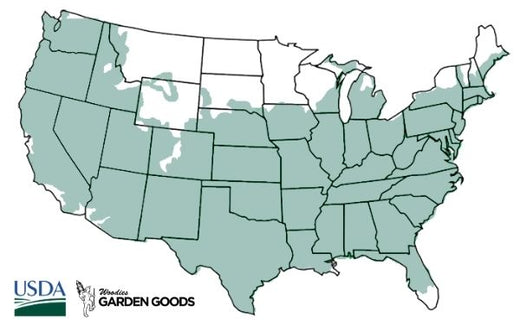 How to Care for Proven Winners® Color Choice® Let's Dance® Starlight Hydrangea
Before you buy a Let's Dance Starlight Hydrangea, make sure to read about the care instructions that are required and recommended to keep this plant healthy and thriving.

How do I plant my Let's Dance Starlight Hydrangea?
We suggest when planting your newly purchased Let's Dance Starlight Hydrangea plants that you dig a hole twice as wide as the root system but not deeper. Depending on the quality of your existing soil you may need to add a locally sourced compost or topsoil to the back-fill soil. We do not recommend using straight topsoil or compost as a back-fill soil because more times than not these products will retain entirely to much moisture and will cause the root system to rot.

How do I prune Let's Dance Starlight Hydrangea shrubs?
Hydrangeas require very little pruning but can be trimmed after flowering if needed. Cut back the flowering stems all the way back to healthy bud formation. In late winter or early spring, prune the winter damaged or weak stems to prepare for new growth. It is important to always use sharp tools when pruning any plant. A sharp cut will heal quicker than a jagged cut, which will also minimize the likelihood of disease infesting a cut during pruning.

How do I water Let's Dance Starlight Hydrangeas?
After back filling and lightly compacting the 50/50 mix of existing soil and compost, give the Let's Dance Starlight Hydrangea a good deep watering. This is not to be rushed. Most of the water you put on the plant at first will run away from the plant until the soil is soaked. A general rule of thumb is to count to 5 for every one gallon of pot size. Check the plant daily for the first week or so and then every other day there after. Water using the counting method for the first few weeks. A watering donut bag can be used to help aid in this process and also provide plants with a good soaking due to the slow release of the water into the root-zone of the plant. Soaker Hoses can also be used to water when planting a long hedge.

How do I fertilize Let's Dance Starlight Hydrangeas?
Macrophylla Hydrangeas grow best if they are fertilized once or twice in the summer. Although some authorities recommend special fertilizer mixes to get the maximum results, hydrangeas do amazingly well with a more relaxed approach. It naturally has blue flowers; however, the color can be changed and enhanced by adding soil acidifier such as Espoma Soil Acidifier to the soil. Either chemical fertilizers or organic matter can be used successfully.
---
Other Products you may be interested in
---
Customer Reviews