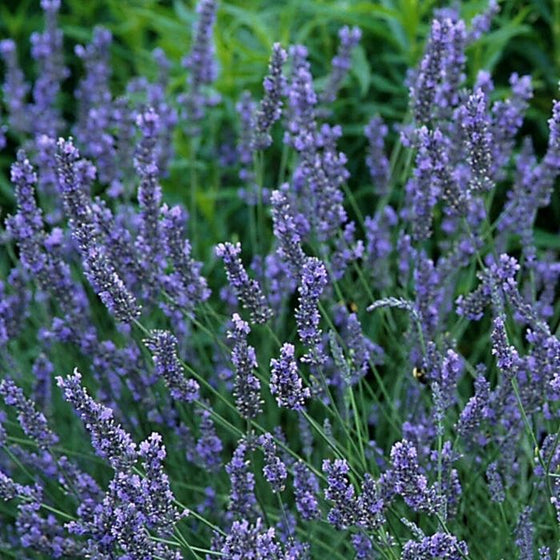 Images Depict Mature Plants
Lavender Grosso for Sale Online
The Lavender Grosso (lavandula x intermedia grosso) is the most fragrant Lavender available on the market today. Honeybees and gardeners love this plant. Beyond the plant's potent fragrance and bright purple blooms, the herbaceous perennial plants are loved for their heat tolerance and easy to grow nature.
Lavender Grosso produces the darkest flowers of any Lavender Plant. Lavender Grosso is considered Lavandin which is a French hybrid lavender that is commonly grown in France and used in scenting perfumes and making sachets. The plant boasts deep purple flower spikes that sit atop slim, but sturdy flower stems and bright green foliage.
Ideal conditions for Lavender Grosso include full sun and a well draining soil medium. The Grosso strain is extremely drought tolerant as well as deer resistant and cold hardy. This stunning perennial will produce best results in USDA hardiness zones 5-8.
French lavenders flower later than their English Lavender cousins. Mix French lavenders with English types such as Lavender Phenomenal to have months of fragrant lavender blooms! Growing lavender in the garden has so many uses beyond just its beauty in the garden! Cut and dry lavender heads for beautiful dried flower arrangements. Or use the lavender to add scents to potpourri, candles and soaps.
---
Growzone: 5-9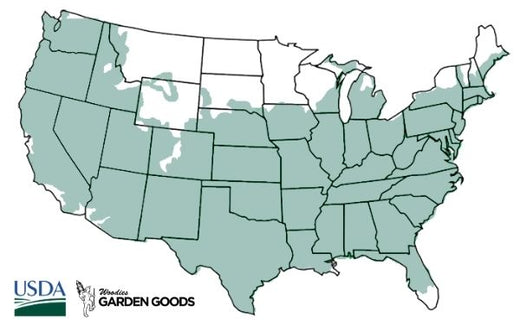 | | |
| --- | --- |
| Hardiness Zone: | 5-9 |
| Mature Height: | 2.5 to 3 Feet |
| Mature Width: | 3 to 3.5 Feet |
| Sunlight: | Full Sun |
| Water Requirements: | Water well until established |
| Selling Points: | Fragrant foliage, long bloom period |
---
How to Care for Lavender Grosso
Be sure to read our planting instructions to ensure a healthy and happy plant for years to come!

How to plant Lavender Grosso
Since this plant grows best in zones 5 through 9, it can grow well just about anywhere in the United States - even in places you didn't think it could! It is cold hardy, drought-resistant, and tolerant of extreme temperatures and humidity. When you're ready to plant the lavender, make sure to choose an area in your garden that receives full sunlight and has well-draining soil. If the soil retains too much moisture and doesn't drain well, it could cause root rot which can kill the plant.

Fertilizing Lavender Grosso
Fertilizer or other organic matter, like compost, can help provide added and necessary nutrients to your plant. The best time to fertilize your plant is at the start of the growing season in spring. Fertilizer should help promote additional growth, and doing so at the start of the growing season can help the new growth establish itself before the season ends. We recommend fertilizing annually at the start of the season and using a slow release fertilizer, like Bio-Tone Plus Starter Plus. It's a long standing favorite among gardeners, ourselves included, due to the high contents of ectomycorrhizal and endomycorrhizal - a beneficial fungus that helps to retain moisture and absorb nutrients through the root system.

Watering Lavender Grosso
A fresh plant is most vulnerable during the transplantation phase (when it's just been planted in a new area). It hasn't had a chance to take to the new environment and establish itself, therefore, it is going to require more maintenance for the first few weeks. Thorough watering is recommended at least once a week, if not multiple times, to help the roots settle and grow. If you're not sure whether you're sufficiently watering the plant, check it yourself by sticking a gardening trowel into the ground and feeling the soil by hand. The soil should be moist about 1-inch below the surface.
---
General questions
What do the pot sizes mean?
---
---
Other Products you may be interested in
---
Customer Reviews