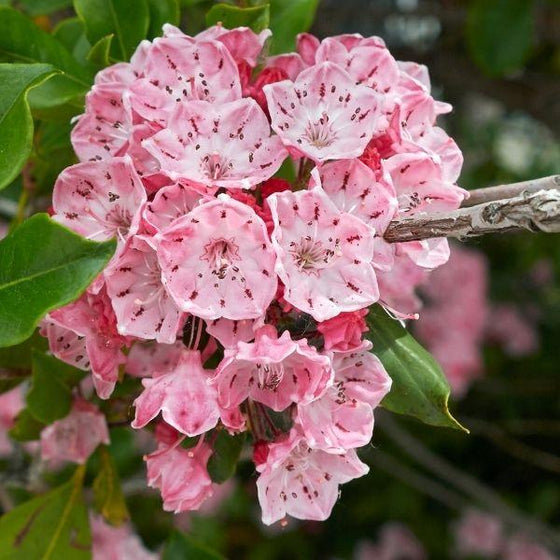 Images Depict Mature Plants
Elf Mountain Laurel for Sale Online
Elf Mountain Laurel Shrubs, or Dwarf Mountain Laurel, produce light pink and white flowers in May. Some of their flowers have pink centers and create a beautiful and elegant contrast to the bright green foliage. Their flowers start as pink buds before they blossom for their growing season.
Make sure you plant your shrub in well-draining soil conditions to ensure this plant grows healthy and does not get root rot disease. Elf Mountain Laurel shrubs are good plants to add to your garden because of their unique flowers and coloring.
---
Growzone: 4-8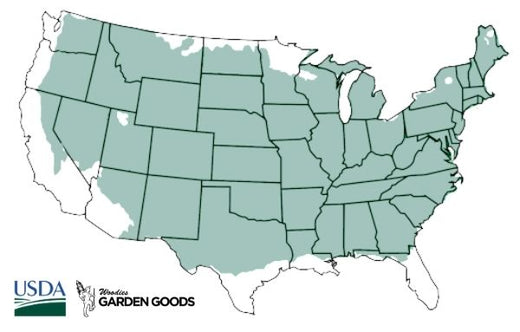 | | |
| --- | --- |
| Hardiness Zone: | 4-8 |
| Mature Height: | 2 to 3 Feet |
| Mature Width: | 2 to 4 Feet |
| Classification: | Broadleaf evergreen shrub, flowers in May |
| Sunlight: | Part sun to part shade |
| Habit: | Upright, great for naturalizing |
| Foliage: | Evergreen |
| Flower Color: | Light pink buds with white flowers |
| Pruning Season: | Prune lightly after bloom to promote bushy growth |
| Soil Condition: | Moist, rich, acidic, humusy, well-drained soils |
| Water Requirements: | Water well until established |
| Uses: | Tolerates moist soil and partial shade or full sun |
---
How to Care for Elf Mountain Laurel
Before you purchase your Elf Mountain Laurel shrub, be sure to read the recommended care instructions to ensure your plant remains happy and healthy for years to come.

How do I plant an Elf Mountain Laurel Shrub?
When planting your Kalmia latifolia Elf Mountain Laurel Shrub, first dig a hole twice as wide as the rootball but no deeper. Depending on the quality of the existing soil in your garden, you may want to add a locally-sourced compost or topsoil to the backfill soil. Doing so will help the young feeder roots of your shrub to spread through the loose, nutrient-rich soil than if you used only the existing. A good rule is that you should see the soil the plant was grown in after you backfill the hole.

How do I water Kalmia Latifolia Elf Mountain Laurel Shrubs?
We recommend keeping your shrub's soil consistently moist, but once the plant establishes this shrub is quite drought-resistant. However, if the soil conditions get too hot and dry, your plant could suffer. On the other hand, if the soil is too soggy, your plant's roots could get root rot disease, and this disease is irreversible. Try planting your Elf Mountain Laurel in a raised bed or planter to help with drainage.

How do I fertilize Elf Dwarf Mountain Laurel?
We recommend that you fertilize your Mountain Laurel shrub with an acid fertilizer in the spring. Any fertilizer formulated for azaleas and rhododendrons will be the best choice for your Mountain Laurel shrub. Feeding them in the spring will encourage more vigorous blooming. Be sure to avoid fertilizing in the winter. Your shrub goes into a growth dormancy period during this season and will not need any fertilizer at this time.

What Kind of Soil Does my Elf Mountain Laurel Shrub Require?
These shrubs prefer to be in moist, well-draining soil conditions. Mountain Laurels also like to be in acidic soil. This shrub's natural habitat is woodsy areas near swampy zones but not soggy soil. When planting your new shrub, try your best to keep it away from clay soil because it is not ideal for good drainage. If you have dense soil conditions in your garden, try planting in a raised bed filled with a well-draining soil mixture.
---
Frequently Asked questions
How do I prune Elf Mountain Kalmia latifolia?
How Do I Propagate Mountain Laurel Shrubs?
Are There Any Disease or Pest Problems with Mountain Laurel Shrubs?
---
Other Products you may be interested in
---
Customer Reviews