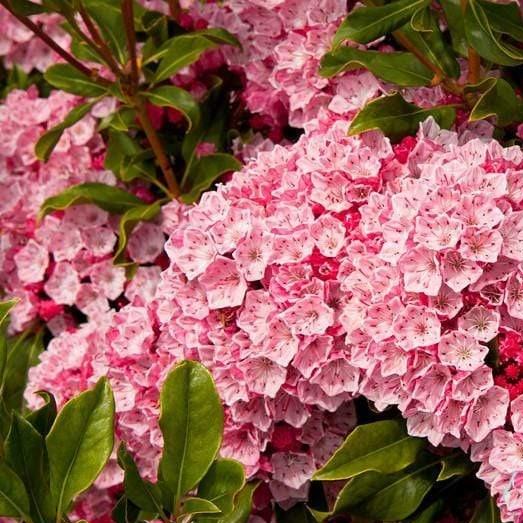 Images Depict Mature Plants
Olympic Fire Mountain Laurel for Sale Online
Olympic Fire Mountain Laurel forms a beautiful evergreen shrub that grows almost 5 feet tall and 4 feet wide at full maturity. They display glossy green foliage year-round and produce large clusters of raspberry-red flower buds that open pink cup-shaped flowers.
These Mountain Laurel shrubs' flowers bloom from early spring to early summer and look beautiful when placed in formal areas around your home, in woodlands, and even in containers. Olympic Fire Mountian Laurel shrubs grow in a compact round form, adding a unique shape to any landscape. Your shrub will do best in the morning sun and afternoon shade, acidic and well-draining soil, and when they are mulched.
---
Growzone: 4-8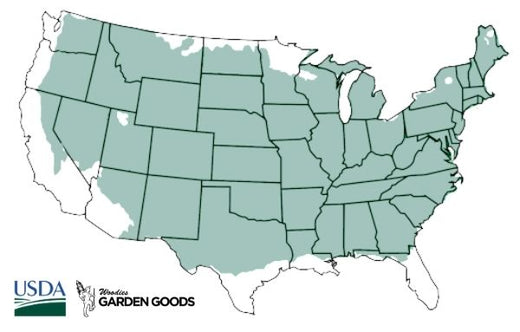 | | |
| --- | --- |
| Hardiness Zone: | 4-8 |
| Mature Height: | 4 to 6 feet |
| Mature Width: | 2 to 4 feet |
| Classification: | Broadleaf evergreen shrub, flowers in late May/ June |
| Sunlight: | Part Sun to Part Shade |
| Habit: | Upright, great for naturalizing |
| Foliage: | Evergreen |
| Flower Color: | Scarlet buds with pink flowers |
| Pruning Season: | Prune lightly after bloom to promote bushy growth |
| Soil Condition: | Moist, rich, acidic, humusy, well-drained soils |
| Water Requirements: | Water well until established |
| Uses: | Tolerates moist soil and partial shade or full sun |
---
How to Care for Olympic Fire Mountain Laurel
Before you purchase your Olympic Fire Mountain Laurel shrub, be sure to read the recommended care instructions to ensure your plant stays happy and healthy for years to come.

How Much Sunlight Does my Laurel Shrub Need?
If you live in a cool climate, you can plant your shrub in a full sun area of your garden, and it will thrive as long as there is consistent soil moisture. We recommend giving your plant partial shade throughout the day, meaning morning sun and afternoon shade. If you plant your Laurel shrub in woodlands, it will grow in full shade, beneath trees, etc. If you live in a warm climate, we do not recommend planting this shrub in direct sunlight. The direct bright sunlight will be too much for the plant to handle, and it could dry out or get leaf burn.

When Should I Prune my Olympic Fire Mountain Laurel Shrub?
This shrub is known for its brilliant summer display of scarlet redbuds and pink flowers from early to mid-summer. The flowers bloom during the previous season's growth, so you must wait to prune until blooms expire to avoid cutting off the developing flower buds. Removing dead and dying limbs will minimize the possibility of diseases and allow the plant to re-concentrate its energies and produce flowers. It is crucial to use sharp tools when pruning Kalmia latifolias or any plant for that matter. Knives, hand cutters, saws, and shears should be sharpened if necessary before pruning any plant. A sharp cut will heal quicker than a jagged cut and minimize the likelihood of disease investing during pruning.
How Should I Mulch My Olympic Fire Mountain Laurel Shrub?
To encourage your plant's soil to stay moist, mulch around the base of your Laurel shrub. We recommend that you mulch your plant around spring or fall and use rich, lime-free materials. These materials could be peat moss, rotted leaves, or compost made without lime. Mulch will keep your plants cool and moist and help keep away weeds that try to compete for your plants' soil or moisture. Be sure not to add mulch too close to the stump- so you don't suffocate your plant. Keep the mulch layer about a couple of inches deep and a few inches away from the stump.

What Kind of Soil Does my Olympic Fire Mountain Laurel Shrub Require?
Your shrub should be in acidic soil that has a pH value below 6. Preferably your plant should be in soil that ranges between 4.5 and 5.5. The soil conditions should be rich but well-draining for your plant to thrive. We recommend also using sandy soil to help encourage draining. If your plant is not in well-draining soil conditions, it could risk root rot disease, and if that is not caught quickly, it will permanently damage your plant. If your garden has heavy clay soil conditions, you should add plenty of organic material and plant in raised beds or slopes to ensure your plant grows happy and healthy.
---
Frequently Asked questions
Where Does My Olympic Fire Mountain Laurel Shrub Grow Naturally?
Why is my Mountain Laurel Dying?
How Can I Save My Mountain Laurel Shrub from Dying?
---
Other Products you may be interested in
---
Customer Reviews