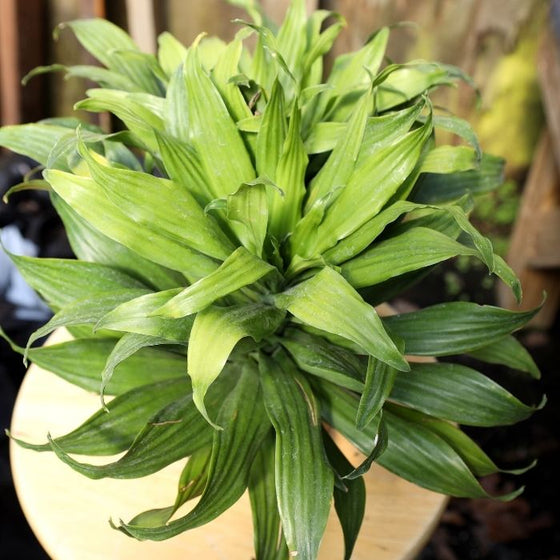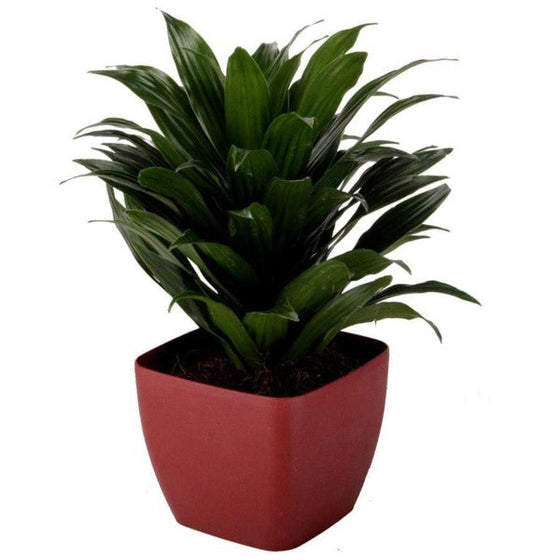 Images Depict Mature Plants
Dracaena Janet Craig Compacta for Sale Online
Compact Janet Craig Dracaena is a dwarf form of the Janet Craig Dracaena. Nicknamed the "corn plant,' this compact version of Dracaena is perfect as a tabletop plant or on your desk at work.
The Janet Craig Compacta sports sword shaped dark green leaves that arch out gracefully. Popular as indoor plants, these Dracaena are extremely easy to grow and tolerate a wide variety of conditions. Botanically referred to as 'Dracaena Deremensis,' the dwarf Janet Craig plants grow best in a bright indirect light conditions and a well draining potting mix.
It's also recommended that you pot these grassy plants into a pot with a drainage hole and allowing the soil to dry in between waterings. Your Dracaena Compacta will also benefit from a well balanced fertilizer in the growing months of spring and summer. Come fall and winter, your house plant will likely go dormant and will pause new growth.
It is common for these indoor plants to lose lower foliage as it ages. Additionally, your plant may exhibit brown leaf tips. If this occurs we recommend reevaluating your watering regimen, for your Dracaena likely wants more moisture. Avoid using tap water on these tropical plants as they prefer a distilled water.
---
| | |
| --- | --- |
| Hardiness Zone: | 9-11 |
| Mature Height: | 4 to 6 Inches |
| Mature Width | 12 Inches |
| Classification: | Green foliage |
| Sunlight: | Fluorescent to bright, direct light |
| Habit: | Upright |
| Flower Color: | Unlikely to flower indoors |
| Foliage: | Dark green |
| Soil Condition: | Regular potting mix |
| Water Requirements: | Likes to dry out occasionally |
| Uses: | Best on desks and table tops |
Growzone: 9-11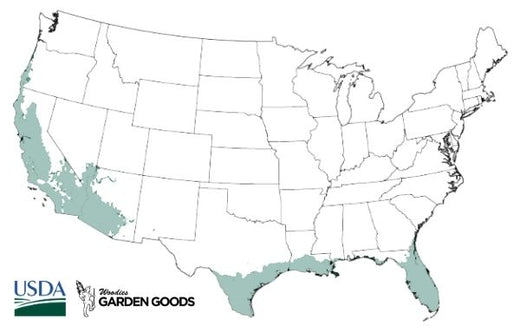 How to Care for Compact Janet Craig Dracaena
Be sure to read our planting instructions to ensure a healthy and happy plant for years to come!

What is the best light for Compact Janet Craig Dracaena?
Compact Janet Craig Dracaena performs well in fluorescent light like office buildings or atriums or anywhere away from direct light. They can handle the bright, indirect light found in a northern or partially shaded eastern windowsill. Western or southern exposure would work as long as the plant is away from the window or the window is well shaded.

What is the best soil for Compact Janet Craig Dracaena?
Compact Janet Craig Dracaena does best in soil that stays slightly moist. Regular potting mix works well, try to keep the soil from drying out too much that it compacts, as it can be difficult to rehydrate.

How do I water Compact Janet Craig Dracaena?
Compact Janet Craig Dracaena likes to stay slightly moist, not too wet or too dry. Too many yellow leaves means the plant is staying wet too often, whereas brown tips to the leaves means it has been kept too dry. They recover well from drying out occasionally. The easiest way to tell if a plant needs to be watered is by the weight of the container. If the container is very heavy and the foliage is upright, chances are good the plant doesn't need water, whereas a light container and limp foliage means the plant needs some water. Sometimes, water pours out of the container without being retained by the soil. Soaking the dry soil in a small dish or saucer can be a useful way to solve this problem. It is important not to water the foliage of these plants, or to over-water them as this will lead to leaf damage or plant death. If you're unsure, it is always better to let the plant go dry instead of drenching it with water. Moisture meters are another easy way to tell if plants need to be watered, and usually come with a guide to indicate what number or level of moisture different plants require.

How Do I Fertilize Compact Janet Craig Dracaena?
Any all purpose fertilizer will work for Compact Janet Craig Dracaena. Indoor houseplant fertilizers fall into two groups: water soluble, liquid quick release, and granular, slow release fertilizers. Jack's Classic Indoor plant food works well as a powder, quick release fertilizer that is mixed with water to quickly provide nutrients to a plant that has been in a container for an extended time. Osmocote Indoor/Outdoor is an option as a granular, slow release fertilizer that can be applied while potting and planting. Any type of fertilizer offers nutrients that help plants with the transition to a new environment. All of these fertilizers may be used when planting Compact Janet Craig Dracaena indoors.
---
Frequently Asked questions
How do you care for a Janet Craig Compacta?
---
Other Products you may be interested in
---
Customer Reviews