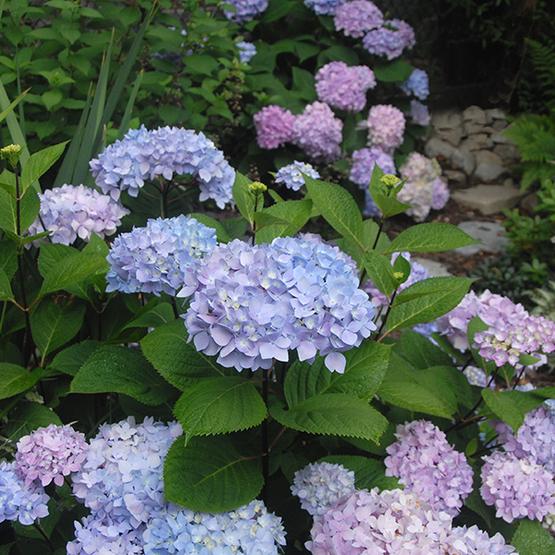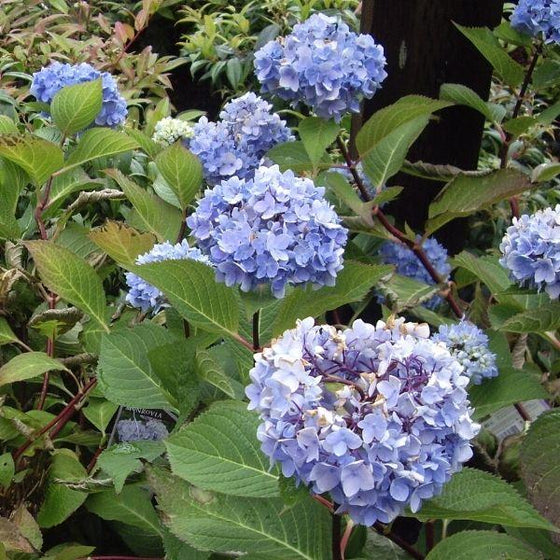 Images Depict Mature Plants
Blue Enchantress Hydrangea Shrubs for Sale Online
Blue Enchantress Hydrangea (hydrangea macrophylla 'Monmar') showcases a unique blend of multicolored flowerheads accented by luscious green foliage. Blue in more acidic soils and pink in more alkaline soils their flowers age to a cream-splashed green. This fantastic hydrangea is the perfect eye-catching treat for a shrub border, foundation garden, or even patio containers. When provided with organically rich, well-drained soil, a consistent watering schedule, and fertilized in early spring your plant is destined to thrive. This hydrangea can grow upwards of 5 feet tall at maturity and has a life expectancy of approximately 20 years!
---
| | |
| --- | --- |
| Hardiness Zone: | 5-9 |
| Mature Height: | 3 to 6 Feet |
| Mature width: | 3 to 6 Feet |
| Classification: | Broad deciduous shrub, summer flowering |
| Sunlight: | Best in part shade |
| Habit: | Upright, densely branched |
| Foliage: | Bright green |
| Flower Color: | Blue, Pink, Green |
| Pruning Season: | Prune immediately after flowering, flowers on old wood |
| Soil Condition: | Any well drained soil |
| Water Require: | Water well until established |
| Uses: | Extremely attractive when used as a focal point in the mixed border, mass planting |
Growzone: 5-9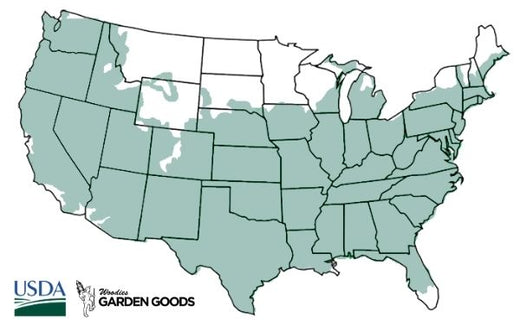 How to Care for Hydrangea Blue Enchantress
Be sure to read our planting instructions to ensure a healthy and happy plant for years to come!

How Often Should I Water My Blue Enchantress?
After planting your Blue Enchantress, check daily for the first week and then every other day thereafter. Hydrangeas love moist soil, however, soil that is too wet could cause root rot. Our best practice to give your plant good water after backfilling and lightly compacting the 50/50 mix of expositing soil and compost. Don't worry if you see most of the water running off, this is normal. To ensure your plant gets enough water count in increments of 5 for every one-gallon pot your plant came in.

How Do I Mulch My Blue Enchantress Hydrangea?
We recommend that you mulch your Blue Enchantress with a ground cypress mulch or a ground hardwood mulch, depending on your local availability. Any type of mulch will work great, but these two options are made of higher quality and will provide better nutrition overall as they break down. Mulching your hydrangea will help keep weeds away that are competing with your new plant for water and nutrients. It is important to remember not to cover any part of the plant's stem with mulch. We suggest leaving a one-inch gap of space between the mulch and stem of your new plant.

What Type of Fertilizer Should I Use With My Blue Enchantress?
Blue Enchantress naturally has blue flowers however, the color can be enhanced or even changed by adding soil acidifiers such as Espoma. Depending on the acidity, your shrub can change from blue to green to pink. This shrub has no preference for either chemical fertilizers or organic matter. If you choose an organic matter try combining it with a bit of chemical or slow-release fertilizer to maximize growth. Most importantly, do not fertilize your Blue Enchantress Hydrangeas in the fall. August and on, is when they prepare for dormancy, and fertilizing then could cause damage to your plant.

How Do I Plant My Blue Enchantress Hydrangea?
When planting your newly purchased Blue Enchantress, be sure to dig a hole twice as wide as the root system, but no deeper. Depending on the quality of your soil, you may need to add locally sourced topsoil or compost to the backfill soil. We do not recommend using straight compost or topsoil as the backfill soil for your hydrangea. This is because these products on their own will retain too much moisture and will cause the root system to rot.
---
Other Products you may be interested in
---
Customer Reviews