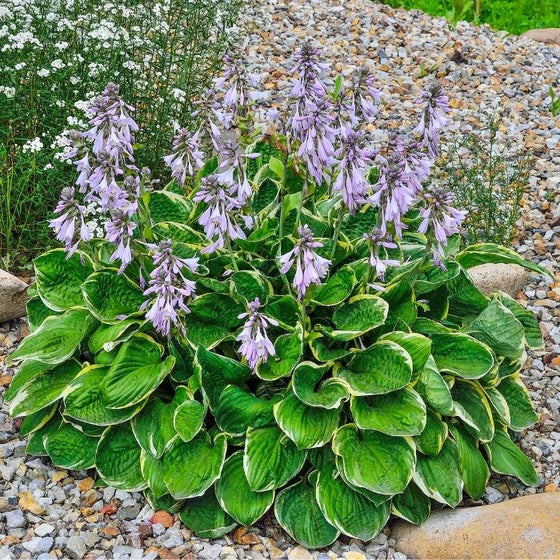 Images Depict Mature Plants
Patriot Hosta Plants for Sale Online
Hosta Patriot or Plantain Lily is a top choice for anyone looking to brighten a shady corner in their garden. Hosta Patriot is a medium hosta with a widespread, and it boasts wide, creamy-white margins on dark green heart-shaped leaves. This hosta plant prefers bright shade and humus-rich, moist, well-drained soil. These striking green leaves edged in white add beautiful contrast to a shade garden.
Hostas are shade-loving plants that are native to woodland areas in Korea, Japan, China, and eastern Russia. They need even and consistent moisture for optimum growth, and they can tolerate only so much sun. There are tons of different hosta varieties that range in colors from yellows, blues, creams, and greens. A partially shaded area with sun dapples, or only sun in the early morning, is the best placement for your Hosta Patriot. Make sure to protect it from wind as well.
In mid-summer, the center scape of a Hosta Patriot plant blooms with many small, trumpet-shaped lavender flowers, creating another burst of light color in your shaded garden areas. Hosta Patriot will continue to bloom until late August. The leaves are the prize feature for Hosta Patriot, and deadheading the scape after the blooms are finished will encourage better growth for the leaves during the growing season.
Hosta 'Patriot' is a sport of Hosta 'Francee,' but it features a much wider white edge on all of its leaves. The white is a creamier color on the younger hosta leaves in the spring, and the green is slightly lighter leaf color than that of its brother variant, Hosta 'Minuteman.' It was voted Hosta of the year in 1997 by the American Hosta Growers association, and is still considered a favorite shade perennials for gardeners all over.
It is worth noting that Hosta Patriot is a favorite for more than just gardeners. It is known to be a favorite snack for deer, vole, slugs and snails. One should be aware of what kind of pests can wander into your shade gardens before planting Hosta Patriot, or at least be prepared to set up preventative measures - you don't want your local wildlife enjoying your hostas before you can!
To encourage an even spread and prevent overcrowding, you should divide your Hosta Patriots in the early spring. This is the best time to spread your perennials before their main growing season. Your Hosta will tolerate clay soils, but soil with lots of drainage will help with maintaining even moisture. Spring dividing is a good time to mix in organic matter, peat moss, and other materials to improve your soil for better root growth.
It is actually considered one of only a few hostas that can tolerate more sun without their growth being affected too much. Being more sun tolerant does not mean they can tolerate direct sun, however. The further north your zone, the more sun your Hosta Patriot can handle.
---
Growzone: 3-8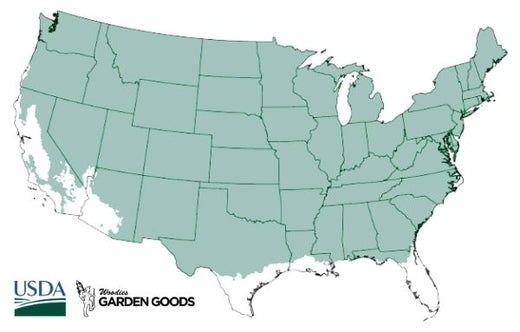 | | |
| --- | --- |
| Hardiness Zone: | 3-8 |
| Mature Height: | 12 to 20 Inches |
| Mature Width: | 24 to 30 Inches |
| Sunlight: | Full shade to partial shade |
| Water Requirements: | Average |
---
How to Care for Hosta Patriot
Be sure to read our planting instructions to ensure a healthy and happy plant for years to come!

How do I plant a Hosta Patriot Plant?
The most important thing to remember when choosing a location for your hostas is that the area is shaded. When you receive your hosta, lay the container out in the chosen location for a couple of days to allow the plant to acclimate to its new environment before putting additional stress on it by planting. When it comes time, remove the hosta from the container it came in. Dig a hole twice as wide but no deeper than the container. Gently loosen the roots at the bottom and then position your hosta plant. Backfill with a mix of the original soil and compost or topsoil.

How often should you water Patriot Hostas?
Hostas like to remain in moist soil, so water regularly to maintain desired conditions. Newly planted, or transferred hostas will require more frequent waterings, but established plants can thrive from one deep watering a week. This is preferred over frequent, light waterings. Apply water to the base of the plant, rather than from the top. Excess water on the leaves can cause the leaves to burn.

What type of mulch is best for my Hosta Patriot?
Mulching helps protect the roots of your hostas and retain moisture in the soil. Since Patriot Hostas especially love moist soils, mulching is very beneficial and recommended. We recommend using organic mulches such as pine needles, shredded bark, or leaves. When organic mulches start to decompose, they add much-needed nutrients to the soil surrounding your plant. Soil after winter is over, applying a 3-inch layer around your plant but be sure to leave a gap between the base of the plant and the mulch to prevent rot.

When should I fertilize green Hostas?
The best time to apply a slow-release fertilizer to a Patriot Hosta is in the spring before the plant blooms. If you opt for a balanced granular fertilizer, you can apply it once a month to encourage continuous growth and overall health. Stop fertilizing 6 to 8 weeks before the first frost. Failure to do this will result in the hostas being vulnerable to cold winter weather and your hostas may not come back the following spring.
---
Frequently Asked questions
What is the difference between Hosta Patriot, Hosta Minuteman, and Hosta Francee?
---
General questions
What do the pot sizes mean?
---
---
Other Products you may be interested in
---
Customer Reviews