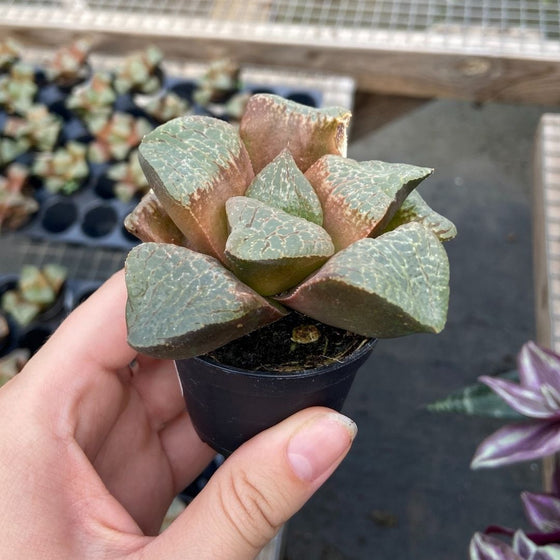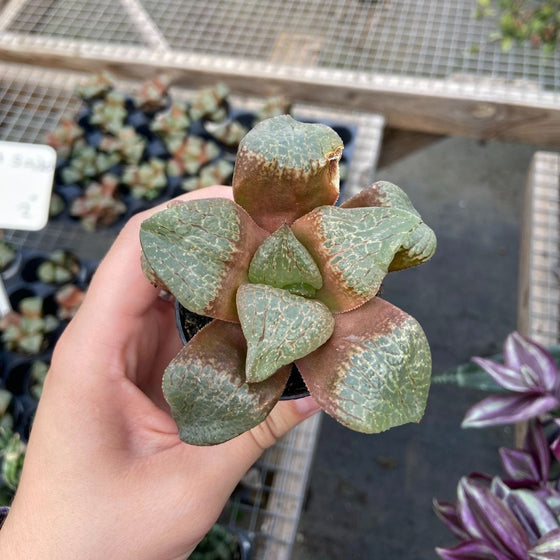 Images Depict Mature Plants
Haworthia Saiko Plants for Sale Online
Haworthia Saiko succulent plants are not easy to find, and some may call them rare succulents. This houseplant is unique because it has slight variegation to its leaves, making it easy to see its prominent white veins along the tops of the foliage. The most ideal location for your succulent is in a sunny windowsill so it can bask in the sun as long as it is shining. Your plant will need very minimal water- 1 tablespoon about once a month. Another incredible quality of this plant is that it is pet-friendly. This means, no matter where you place your succulents, you will not have to worry about your pets or small children being harmed by any poisonous parts of the plant.
---
| | |
| --- | --- |
| Hardiness Zone: | 9-11 |
| Mature Height: | 30 Inches |
| Mature Width: | 20 Inches |
| Classification: | Succulent |
| Sunlight: | Fluorescent to bright indirect |
| Habit: | Compact habit, rosette-shaped flower |
| Foliage: | Green, dense |
| Soil Condition: | Likes to dry out between watering |
| Water Requirements: | If unsure, do not water |
| Uses: | Terrarium, placed on a windowsill |
Growzone: 9-11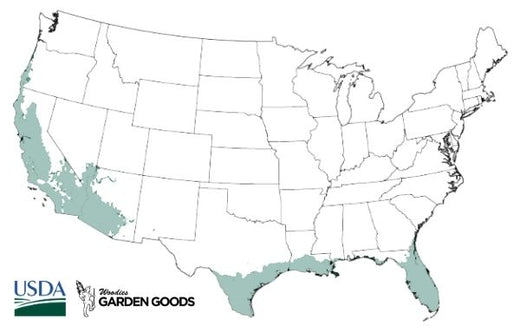 How to Care for Haworthia Saiko Succulent
After purchasing your Haworthia Saiko Succulent Plant, be sure to read our recommended care instructions to ensure a healthy and happy succulent for years to come!

How do I water Haworthia Saiko Plants?
As a succulent, Haworthia Saiko plants should be watered infrequently and prefer to dry out between waterings. When it comes to watering succulents, it is always better to let your plant go dry instead of drenching it with water. Too much water could lead to root rot disease and ruin your plant if you are not careful. It is crucial to water your Haworthia Saiko succulent at the base of the plant and not above the foliage level. If you water your plant in the morning and water above the foliage, the afternoon sun could burn the leaves of your succulents. We recommend watering your plant with one tablespoon of water roughly once a month.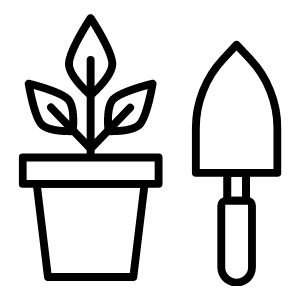 How do I repot my Haworthia Saiko Succulent?
When re-potting your Haworthia Saiko plant, be sure to choose a new container that is only 2 inches wider than the pot it is currently. We recommend using a durable pot with drainage holes to ensure your plant does not hold on to excess water and risk root rot disease. For additional drainage support, add clay pebbles to the bottom of the container. Doing so is a requirement if your pot does not have drainage holes. Carefully remove the houseplant and loosen its roots. Add cactus-mix soil to the bottom of the container. It is important when you place the plant in the pot, the base of the succulent is about an inch below the top of the container. Backfill the space with more potting soil and water thoroughly to encourage the roots to settle.

What is the best soil for my Haworthia Saiko Succulent Plant?
The best soil for Haworthia Saiko plants is a well-balanced mix of peat moss, perlite, and vermiculite that dries some between watering but takes a long time to compact. A potting mix formulated for cactus plants is a great way to get all of these in one. You can add a granular, slow-release fertilizer at the time of planting to help your plant thrive during the transplanting transition. Do so only if your potting soil mix does not already include fertilizer. Too much fertilizer will burn your houseplant's roots and cause permanent damage.

How Much Sunlight Should I Give My Haworthia Saiko Plants?
Haworthia Saiko plants thrive best in bright, direct sunlight. Any extremely sunny spot that most of your houseplants couldn't survive in is the perfect location for this succulent. We recommend placing your houseplant in a sunny windowsill so it can soak up the sun all day long. Because this plant has slight variegation to its leaves, bright sunlight will help bring out the distinction of the variegated parts of the plant. If your succulent is in a spot where there is not at least 6 to 8 hours of bright sunlight, it will not look its best, and the variegation might disappear. If you notice your plant is looking less than satisfactory, try placing it in a more sunny area of your home and see if that perks your plant back up.
---
Frequently Asked questions
How do I propagate my Haworthia Saiko Plant?
Can I Place My Haworthia Saiko Succulent in a North Facing Window?
Is My Haworthia Saiko Toxic to Pets?
---
Other Products you may be interested in
---
Customer Reviews