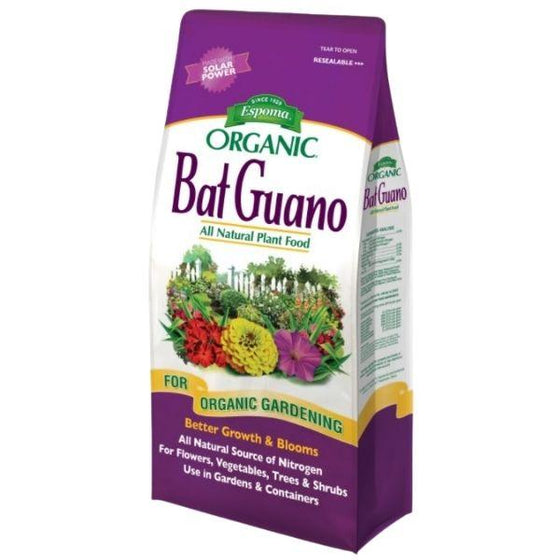 Images Depict Mature Plants
Espoma Bat Guano for Sale Online.  
Espoma Organic Bat Guano is derived from wild insect-eating bats and procured from a unique cave environment in the southwestern USA. It provides nitrogen that will help plants develop a deep green color while producing rapid growth, plus phosphorus that promotes root growth and blooms.
All-Natural Fertilizer
All-Natural & Organic.
Provides all major nutrients.
Use in Gardens & Containers.
Use to make compost tea.
Use Espoma Bat Guano On:
Flowers, vegetables, trees, and shrubs, in gardens or containers. Indoors or Outdoors
When to use Espoma Bat Guano:
Trees & Shrubs – Spring & Fall
Vegetables & Flowers – Monthly throughout the growing season.
Potted Plants – Monthly
---
| | |
| --- | --- |
| Brand: | Espoma |
| Use: | Everything from Flowers to vegetables to trees and shrubs. |
| Application: | Use at time of planting to ensure the plant gets the maximum nutrients |
| Derived from: | Feather Meal, Poultry Manure, Bone Meal, Alfalfa Meal, Greensand, Sulfate of Potash, Sulfate of Potash Magnesia |
How to Care for Espoma Bat Guano
When purchasing fertilizer for your garden, make sure to read our recommended advice on how to properly feed your plants so that they live their best lives.

Which plants benefit from being fed Espoma Bio~tone Starter Plus?
The nutrients in Espoma Bio~tone Starter Plus will aid any plants that your plant in your garden beds and landscape.

How do you use Espoma Bio~tone Starter Plus?
Espoma Bio~tone Starter Plus should placed into the bottom of the hole that your new plant is going to be planted in.
---
Additional Information
How to use Espoma Bat Guano:
Trees and Shrubs: Apply ¼ cup per inch of tree trunk diameter or foot of shrub branch spread around the drip line. Water thoroughly.
Vegetables and Flowers: Apply ¼ cup per 10 square feet and water thoroughly.
Potted Plants:

New Plants: Mix 2 tablespoons per gallon of soil or ¼ cup per cubic foot.
Established Plants: Apply 1 teaspoon per 4 inches of pot diameter into the soil around the edge of the pot. Water thoroughly.
Fertilizer Tea: Use ½ to 1 cup per 5 gallons of water and allow to steep 24 – 48 hours. Strain and apply to garden soil around the plants. Use the
How to apply:
Sprinkle the dry material on the soil surface and water.
Fertilizer Tea: When fully steeped use as a soil drench.
Espoma Bio-tone is a gardener's best friend. Use it with everything you plant. Espoma Organic Bio-Tone Starter Plus Plant Food is an effective organic fertilizer that has high amounts of plant nutrients, good bacteria, and fungi to help the plants digest it. This properly and precisely formulated mix encourages large root masses while helping plants establish fast. It has a high amount of ectomycorrhizal and endomycorrhizal, a fungus that forms a symbiosis with the plant's roots and helping in retaining water and absorption of key minerals.
An all-natural supplement for plants, the bio-tone starter plus plant food gets all the good bacteria that they need to prevent transplant loss and help the plants establish bigger blooms and have deeper roots. It has a combination of the bacterias the plants need and the fungi that help the gardeners to work in poor soils, even in new construction.
---
Other Products you may be interested in
---
Customer Reviews