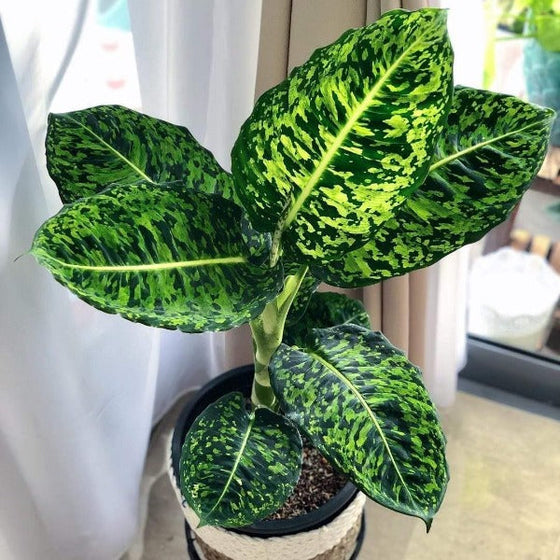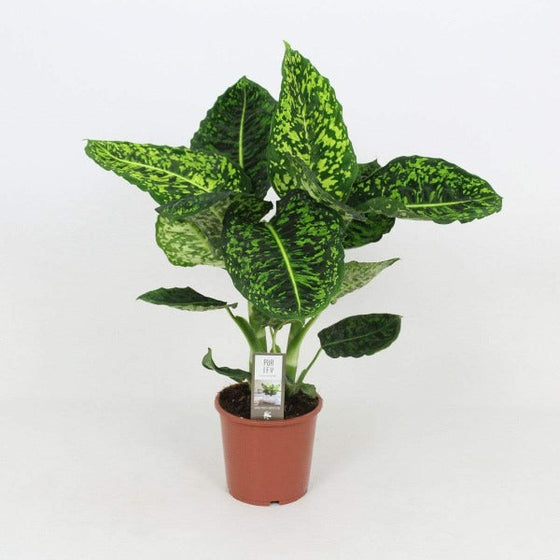 Images Depict Mature Plants
Dieffenbachia Reflector Plants for Sale Online
Dieffenbachia Reflector is an easy-to-grow house plant that thrives in low-light areas. The gorgeous, deep green leaves are splotched with lime green and yellow spots with a whitish-green central leaf vein. Use Dieffenbachia Reflector to add a decorative touch to any home or office. These are ideal plants to grow in a warm room out of direct sunlight.
Native to tropical rainforests of South and Central America, this houseplant loves humid environments. Bright indirect light, well-draining soil, and misting the plant's leaves often are all ways to take care of your plant to watch it thrive! This plant is also known as Dumb Cane because if its stems are consumed, it will cause temporary speechlessness. Keep this plant out of reach of children and animals because it is very poisonous.
---
| | |
| --- | --- |
| Hardiness Zone: | 9-11 |
| Mature Height: | 30"-36" |
| Mature Width: | 30"-36" |
| Classification: | Colorful Foliage |
| Sunlight: | Fluorescent to bright indirect |
| Habit: | Compact habit, densely branching, insignificant flower |
| Flower Color: | No Flowers |
| Foliage: | White and Green |
| Soil Condition: | Likes to dry out some between watering |
| Water Requirements: | If unsure, do not water |
| Uses: | Attractive plant to be featured or in the background of any room in the house, does well with minimal care |
Growzone: 9-11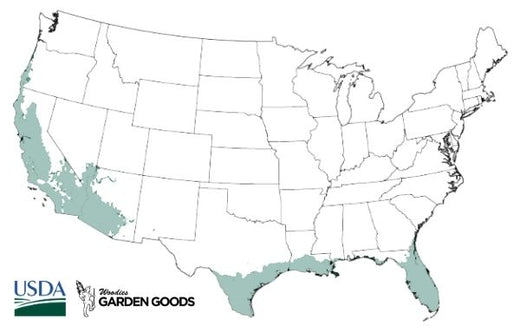 How to Care for Dieffenbachia Reflector
Be sure to read our planting instructions to ensure a healthy and happy plant for years to come!

What is the best soil for Dieffenbachia Reflector?
The best soil for Dieffenbachia Reflector is a well-balanced mix of peat moss, perlite, and vermiculite that dries some between watering but takes a long time to compact. Typically, any reputable potting mix will work well and includes those ingredients. Adding a granular, slow-release fertilizer while planting is an effective way to help the plant thrive in the transplanting transition.

How do I fertilize Dieffenbachia Reflector?
Your Dumb Cane plant will only need a small amount of fertilizer once every four to six weeks during its growing seasons of spring to early fall. Your plant should not be fertilized during the winter because this is their dormancy period. If your plant receives fertilizer during dormancy, its next growing season could be hindered. Any general fertilizer will give your plant the nutrients it needs to be healthy and happy.

How do I water Dieffenbachia Reflector?
The Dieffenbachia Reflector should receive water relatively infrequently, as the plants like to dry out some between watering. The easiest way to tell if a plant needs water is by the weight of the container. If the container is heavy and the foliage is upright, chances are good the plant doesn't need water, whereas a light pot and limp foliage mean the plant needs some water. Sometimes, water pours out of the container without being retained by the soil. Soaking the dry potting soil in a small dish or saucer can be a way to solve this problem. It is crucial not to water the foliage or over-water the plants because this will to leaf damage or plant death. If you're unsure, it is always better to let the plant go dry instead of drenching it with water. Moisture meters are another easy way to tell if plants need to be watered and usually come with a guide to indicate what number or level of moisture different plants require.

What is the light requirement for Dieffenbachia Reflector?
We suggest planting your newly purchased Dieffenbachia Reflector into a container 2"-4" wider and 3"-5" deeper than the container it is in currently. Use a well-draining potting mix, and be sure to disturb the roots when transplanting. We recommend adding a slow-release fertilizer to the new potting mix. The most common cause of plant death after transplanting is planting the new plant too deep. A good rule is that you should still see the soil the plant was grown in after back-filling the container. Keep in mind that this new potting mix will retain more moisture than the previous container, so watering, in the beginning, should be less frequent.
---
Other Products you may be interested in
---
Customer Reviews