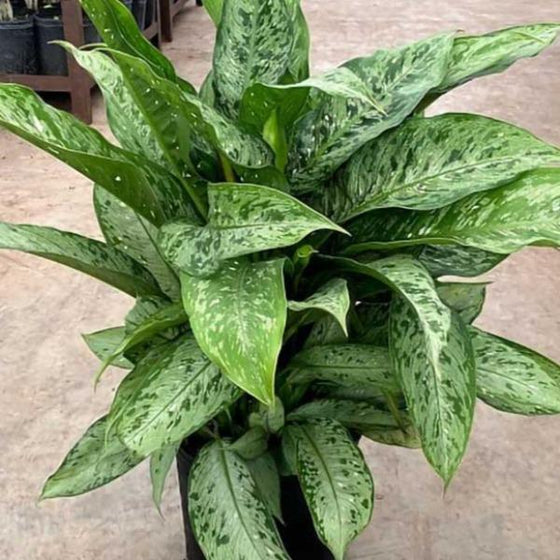 Images Depicted Range in Maturity & Container Size
Pots Not Included Unless Otherwise Stated
Dieffenbachia Memoria Corsii for Sale Online
Dieffenbachia Memoria Corsii features attractive, large, muted green foliage with gray-green centers and attractive tiny specks of cream. The specks are more spaced out and smaller than on other Dumb Cane plants, giving these large leaves a hypnotizing galaxy effect. Dieffenbachias prefer filtered bright light to produce their best colors, but they will thrive in low light as well. Memoria Corsii Leopard Lily plants are both unique, eye-catching, and a perfect addition to your home plant collection.
---
Growzone: 9-11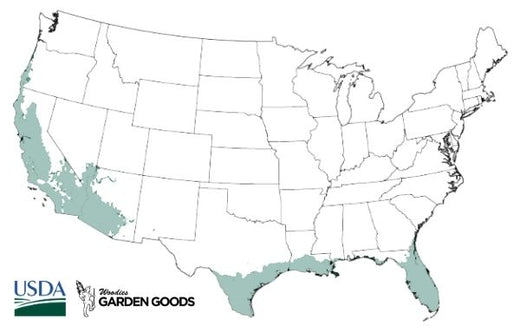 | | |
| --- | --- |
| Hardiness Zone: | 9-11 |
| Mature Height: | 3 to 4 Feet |
| Mature Width: | 2 to 3 Feet |
| Classification: | Tropical houseplant |
| Sunlight: | Fluorescent to bright indirect |
| Habit: | Compact habit, densely branching, insignificant flower |
| Foliage: | White and green, rounded oblong leaves come to a point |
| Soil Condition: | Average to acidic soil with some moisture retention, well-draining |
| Water Requirements: | Water thoroughly after soil dries some, needs humidity |
| Uses: | Attractive plant for bathrooms or low light, does well with minimal care |
---
How to Care for Dieffenbachia Memoria Corsii
Before bringing your new Dieffenbachia Memoria Corsii Plant home, make sure to read the recommended care instructions for a successful transition after shipping.

How do I water Memoria Corsii Dieffenbachia Plants?
The Dieffenbachia Memoria Corsii like humid environments that do not have too much of a draft, but they will tolerate their soil drying out between waterings (even prefer it!). Water thoroughly until water flows out into the drip tray, and remove all excess water from the tray when it is done draining. Then wait until at least the top inch of soil has dried out before watering again. A humidity tray (a tray with stones below the pot filled with water) will help this plant thrive if your room is on the drier or cooler side, since the water will evaporate into the foliage.

How do I fertilize Dieffenbachia Memoria Corsii Plants?
Indoor houseplant fertilizers fall into two groups: water soluble, liquid quick release, and granular, slow release fertilizers. Jack's Classic Indoor plant food works well as a powder, quick release fertilizer that is mixed with water to quickly provide nutrients to a plant that has been in a container for an extended time. On the other hand, Osmocote Indoor/Outdoor is an option as a granular, slow release fertilizer that can be applied while potting and planting. Any type of fertilizer offers nutrients that help plants with the transition to a new environment.

What is the best soil for Memoria Corsii Dumb Cane?
The best soil for Dieffenbachia is a well balanced mix of organic matter that dries some between watering but takes a long time to compact. Typically, any reputable potting mix will work well and includes things like peat moss or perlite. Adding a little bit of cactus mix to the soil can help improve drainage.

What is the light requirement for Leopard Lily Memoria Corsii?
Dieffenbachia Memoria Corsii will do just as well in low-light or fluorescent light as they will in bright indirect light. Direct light can scorch the leaves, so make sure there is some filtration (like a sheer curtain) if it lives on a windowsill with lots of sunlight.
---
Additional Information
Dieffenbachias are easy to grow and will thrive in your indoor conditions. Remember to keep your Memoria Corsii Dieffenbachias away from cold drafts and don't allow them to sit in water as this can cause the root system to rot. Dieffenbachia plants prefer above-average warmth. If the air temperature drops below 60 degrees or the plant is exposed to cold drafts, it may begin to lose its lower leaves and look like a palm tree.
---
Frequently Asked questions
Are Dieffenbachia Memoria Corsii Toxic to Pets?
Is Diffenbachia Toxic to Children?
Why does my Dieffenbachia have yellow leaves?
How to Propagate Dieffenbachia Memoria Corsii?
---
Other Products you may be interested in
---
Customer Reviews