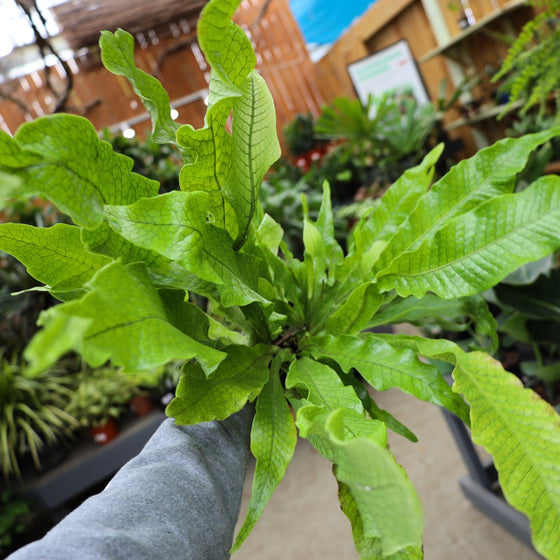 Images Depicted Range in Maturity & Container Size
Pots Not Included Unless Otherwise Stated
Crocodile Fern Plants for Sale Online
The Crocodile Fern differs from many in appearance because of its spear-like shaped leaves with wavy edges and a unique pattern that resembles the scales of a crocodile rather than feather or palm-like fronds. Although native to tropical regions - the Crocodile Fern roots itself on trees have adapted very well to growing in temperate regions as a house plant.
Pet-Friendly.
An epiphytic fern, which means in the wild it typically grows on other things, like tree trunks or buildings.
The foliage has scales like the skin of a Crocodile.
Can do well in containers or affixed to planks.
*Decorative containers are shown are for display purposes only. All plants are shipped in black plastic nursery containers unless otherwise specified.
Crocodile ferns appearance can bring to mind a seaweed plant growing on dry land. They are epiphytic ferns, which means in the wild they will grow on other living things, such as tree trunks. When you buy it as a houseplant, it will be planted in a container, but it can easily be attached to wooden planks and hung on a wall much like staghorn fern.
---
Growzone: 9-11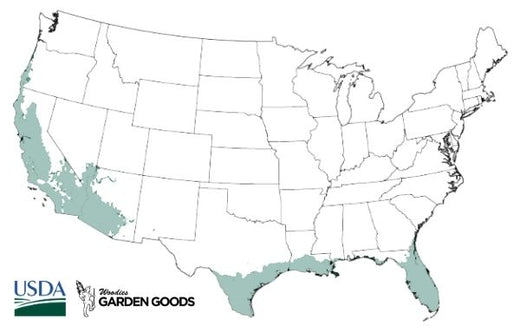 | | |
| --- | --- |
| Hardiness Zone: | 9-11 |
| Mature Height: | 12 to 24 Inches |
| Mature Width: | 12 to 24 Inches |
| Light Requirements: | Low light to bright Indirect |
| Water Requirements: | Likes to stay moist |
| Selling Points: | Pet friendly |
---
How to Care for Crocodile Fern
Be sure to read our recommended care instructions to ensure a healthy, happy, and thriving fern for years to come!

What Is The Best Soil For Crocodile Ferns?
Crocodile Ferns prefers rich potting soil that is loamy and contains an abundant amount of vegetative compost. Use a commercial African violet mix, or make your own by mixing one part charcoal chips, one part coarse sand, two parts garden soil and two parts composted leaves. Mix these ingredients together well to create a rich, well-drained medium. Transplant your nursery Crocodile Fern into a pot that is about twice as large as the root ball. This will give the roots an adequate room to expand and mature.

How Should I Water Crocodile Ferns?
Crocodile ferns require plenty of water. Since trapped water tends to increase the risk of fungal diseases, use a pot that contains at least one drainage hole in the bottom. Water this plant whenever the surface feels slightly dry, providing enough water to force a few drops through the pot's drainage holes. Humidity is a major concern in growing ferns indoors. Create adequate amounts of humidity by placing a tray with pebbles under the pot and spray the leaves with a gentle mist several times each week.

What Is The Best Lighting For Crocodile Ferns?
Like many ferns, the Crocodile Ferns prefer low light or indirect sunlight. A northern or eastern window provides the best light exposure. Turn the plant once or twice each month to encourage even growth.
---
---
Other Products you may be interested in
---
Customer Reviews