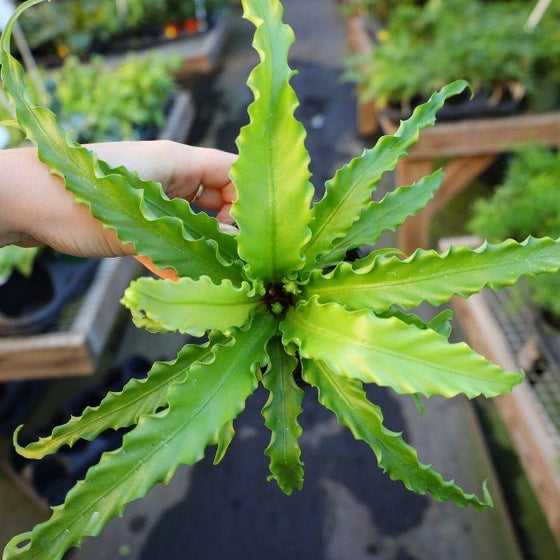 Images Depicted Range in Maturity & Container Size
Pots Not Included Unless Otherwise Stated
Victoria Birds Nest Ferns for Sale Online
Victoria Birds Nest Ferns (Asplenium nidus 'Antiquum') are native to tropical regions such as Australia, Hawaii, Southeast Asia, and East Africa. These plants will thrive as a houseplant when given the proper living environment. Its long green foliage has scalloped edges, making it a beautiful statement piece in any home. Victoria Birds Nest Ferns are a pet-friendly houseplant that easily adapts to low-light conditions and does not require a strict watering schedule.
The best way to keep your fern happy and healthy is by providing it with high humidity and a regular misting routine. Bird's nest fern is an epiphytic fern, which means in the wild, it typically grows on other things, like tree trunks or buildings. When you buy it as a houseplant, it will be planted in a container, but it can be affixed to planks and hung on a wall much like staghorn ferns.
---
Growzone: 10-11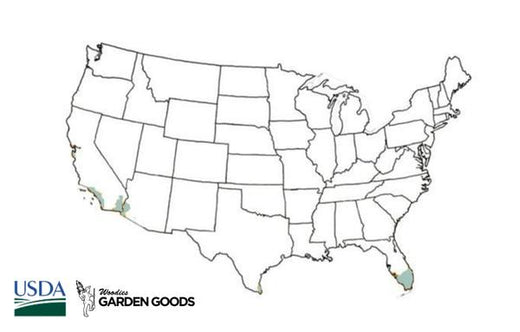 | | |
| --- | --- |
| Mature Height: | 24" |
| Mature Width: | 12 to 18" |
| Light: | Low light to bright indirect |
| Water: | Likes to stay moist |
---
How to Care for Victoria Birds Nest Fern
After you purchase your Victoria Birds Nest Fern, be sure to read the recommended care instructions to ensure your plant stays happy and healthy for years to come!

How Much Sun Does My Victoria Birds Nest Fern Need?
These ferns grow best in filtered sunlight and partial shade conditions. It is best to keep your plant away from direct sunlight because it will be too bright and burn your plant's leaves. The only time your Victoria fern can receive direct sunlight is in the very early morning sun. This houseplant can be easily acclimated to shaded areas of your home, making it easy to place this plant virtually anywhere. We recommend placing your fern near an east or north-facing window.

How Often Should I Water my Victoria Birds Nest Fern?
Birds Nest Ferns require a moderate amount of consistent moisture. We recommend allowing the top 1 to 2 inches of soil to dry out between watering. However, it is crucial not to let their soil dry out completely; this could cause your plant's leaves to drop. Also, it is important not to overwater your plant. Make sure your fern is in a container with drainage holes, and you always allow excess water to drain out when necessary. Too much water retention will cause your plant's roots to rot.

What Kind of Soil does My Victoria Birds Nest Fern Need?
These plants prefer soil that is loose and rich in organic matter. You also must use a well-draining potting mix to ensure your plant does not get root rot disease from too much water retention. We recommend using a peat-based potting mix that is great for container plants. Always make sure your plant is in a container with excellent drainage holes.

When Should I Fertilize My Victoria Birds Nest Fern?
During April through September, your plant's growing season, fertilize once a month. We recommend using a balanced liquid fertilizer that is diluted to half strength. Always apply your fertilizer directly to the plant's soil and never the fronds. Placing it on the fronds could burn them. For the rest of the year, your plant's dormancy period, do not fertilize. Too much food can cause your plant's foliage to grow abnormally or turn yellow-brown.
---
Frequently Asked questions
Do Victoria Birds Nest Ferns Like Humidity?
How Do I Repot My Victoria Birds Nest Fern?
Is My Victoria Birds Nest Fern Toxic to Animals?
---
Other Products you may be interested in
---
Customer Reviews