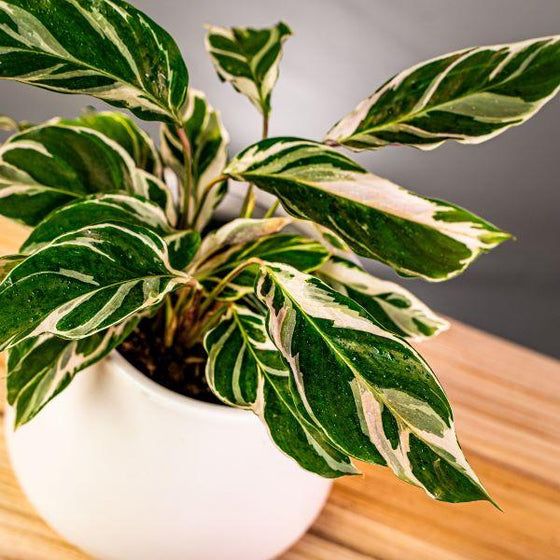 Images Depicted Range in Maturity & Container Size
Pots Not Included Unless Otherwise Stated
Calathea White Fusion Plants for Sale Online
Calathea White Fusion is a tropical plant known for its darkly patterned leaves contrasted with light green, white, and lilac stripes. The unique, gracefully arching foliage resembles a delicate and elegant peacock tail. The plant is also known as White Fusion Peacock Plant or Zebra Plant.
Ideal conditions for the White Fusion plant includes a medium to bright indirect light, a well draining soil, and high humidity levels. The White Fusion has been named one of the more high maintenance Calathea plants to grow. However, as long as you stick to their desired care regimen, you can easily keep this plant alive.
The most common problems people have with this indoor plant revolve around its sensitivity to the minerals in tap water. Additionally, this plant requires a moist soil with just the right amount of light. Some other steps to include in your Calathea plant care regimen include keeping a consistent room temperature above 60 degrees Fahrenheit and applying a well-balanced fertilizer blend in the growing seasons of spring and summer.
We recommend planting your Fusion in a pot with drainage holes and watering your plant when the top inch of the soil has dried. You never want to leave your plant sitting in water for an extended period of time, as this will often lead to root rot.
Cleaning your plant's variegated foliage with an organic neem-oil based spray can help to avoid pest infestation issues like spider mites. If the leaves of your White Fusion begin turning brown, we recommend checking your plant for pests and root rot. Planting your Calathea in a well draining potting soil will help you avoid this issue.
These plants are also particularly sensitive to direct light and would do best in east or west facing windows.
*Decorative containers shown are for display purposes only. All plants are shipped in black plastic nursery containers unless otherwise specified.
---
Growzone: 9-11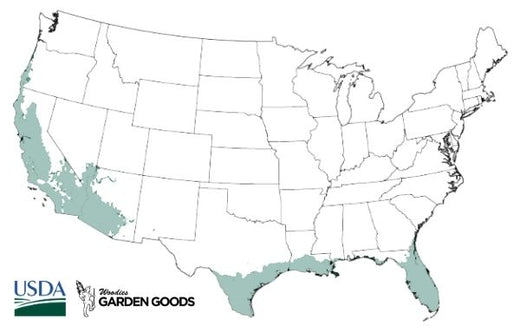 | | |
| --- | --- |
| Hardiness Zone: | 9-11 |
| Mature Height: | 1 to 1.5 Feet |
| Mature Width: | 10 to 12 Inches |
| Classification: | Colorful foliage |
| Sunlight: | Fluorescent to bright, indirect |
| Habit: | Compact |
| Flower Color: | White, rarely flowers |
| Foliage: | Green and white |
| Soil Condition: | Well draining |
| Water Requirements: | Likes to dry out between watering |
| Uses: | Excellent indoors in offices or low light areas |
---
How to Care for Calathea White Fusion
Be sure to read our planting instructions to ensure a healthy and happy plant for years to come!

How much light does my Calathea White Fusion Plant need?
Calathea White Fusion does well with bright, indirect light. An eastern or northern facing window would be ideal. A western or southern window would work, as long as a curtain or blind prevents direct sunlight from touching the foliage. You can also use fluorescent light instead of sunlight, and your Calathea will thrive and survive just the same. The fluorescent light mimics the effects bright indirect sunlight has on your houseplant.

How do I water my Calathea White Fusion?
Calathea White Fusion plants like to dry out occasionally between watering. They will tolerate staying moist but prefer not to have constantly wet soil. Calathea White Fusion appreciates humidity; a pebble tray or window in the kitchen or the bathroom would suffice. Be careful you don't overwater your Calathea because it could lead to root rot disease and cause serious damage to the root system.

What type of fertilizer is best for my White Fusion Peacock Plant?
Any all-purpose fertilizer will work for White Fusion Peacock Plant. Indoor houseplant fertilizers fall into two groups: water-soluble, liquid quick release, and granular, slow-release fertilizers. Any fertilizer offers nutrients that help plants transition to a new environment. We offer a one-year warranty on our plants when you purchase Bio-tone at checkout and use it per label instructions. All of these fertilizers may be used when planting Calathea White Fusion.

What Kind of Soil Does My Calathea White Fusion Need?
Calathea prefers to be kept in consistently moist soil conditions. However, it is vital to give them well-draining soil to avoid soggy or waterlogged conditions. Over time this could result in rot root disease. We suggest making your soil mixture to best serve your houseplant. Use peaty, airy, lightweight potting mix including perlite, orchard bark, and any standard potting soil.
---
Frequently Asked questions
Is Calathea White Fusion difficult to care for?
Why are my Calathea White Fusion leaves curling?
---
---
Other Products you may be interested in
---
Customer Reviews