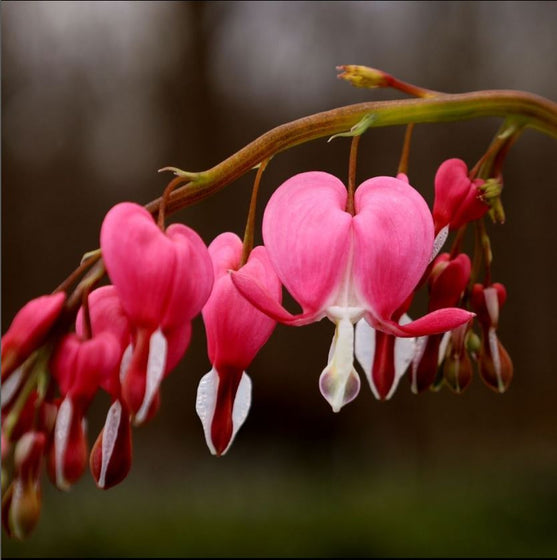 Images Depict Mature Plants
Bleeding Hearts Dicentra for Sale Online
Dicentra spectabilis, commonly known as Bleeding Hearts, is a unique perennial that many gardeners love for shady borders and woodland gardens. The Fuschia-colored blooms are heart-shaped and grow along tall arching stems above mounds of green foliage. An early spring bloomer, the Bleeding Hearts is an easy-to-care plant that also attracts hummingbirds and bees.
---
Growzone: 3-9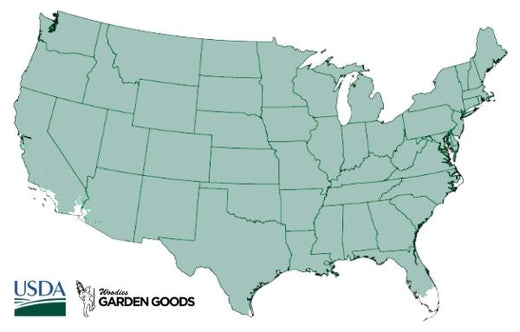 | | |
| --- | --- |
| Hardiness Zone: | 3 to 9 |
| Mature Height: | 1 to 1.5 feet |
| Mature Width: | 1 to 1.5 feet |
| Sunlight: | Part Sun to Full Shade |
| Water Requirements: | Water well until established |
| Selling Points: | Showy Flowers, Attracts Hummingbirds |
---
How to Care for Bleeding Hearts
After purchasing your Bleeding Hearts plant, be sure to read our recommended care instructions to ensure a happy and healthy perennial for years to come.

How do you plant Bleeding Hearts Plants?
Choose a spot in your garden where your Bleeding Hearts can grow in moist well-draining soil and partial shade (next to a shade tree is the perfect spot). Place your plant in a hole that is twice as wide but no deeper than the container it came in and backfill with a mix of existing soil and organic matter for added nutrients. Give your plant a slow, deep watering to encourage the roots to settle.

How often should I water my Bleeding Hearts Dicentra?
As mentioned, these woodland plants like to remain in moist soil so they need regular waterings; this is especially important in the summer when the summer heat dries out the soil quicker than it would during the spring or fall.

Do I need to fertilize Bleeding Hearts Plants?
Bleeding Hearts plants are low maintenance and generally do not need fertilizing. If you know that the soil in your garden is not nutrient-rich, an annual fertilizing may be necessary. We recommend an spring feeding of all-purpose fertilizer.

How should I mulch my Bleeding Hearts Plant?
Adding a layer of mulch around your Bleeding Hearts Plant will protect the roots of your plant while retaining moisture in the soil. Opting for an organic mulch will also add nutrients to the soil as it decomposes. Make sure to leave a gap between the mulch and the base of the soil to prevent bacteria build-up.
---
Frequently Asked questions
When should I plant my Bleeding Hearts Plant?
When do Bleeding Heart Plants bloom?
Are Bleeding Hearts Plants Toxic to Pets and Humans?
---
Other Products you may be interested in
---
Customer Reviews