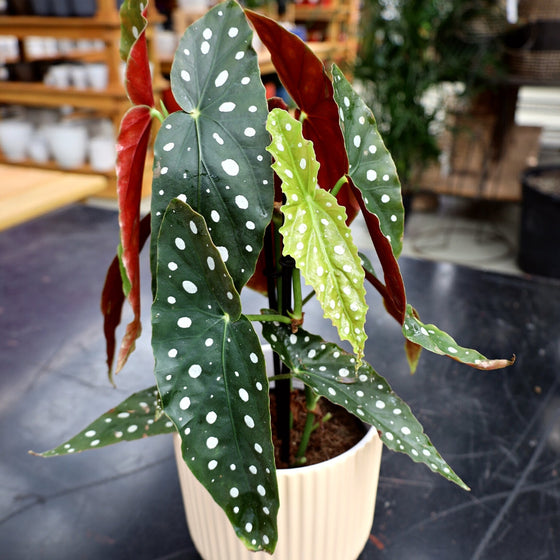 Images Depicted Range in Maturity & Container Size
Pots Not Included Unless Otherwise Stated
Polka Dot Angel Wing Begonias for Sale Online
Begonia Maculata Wightii goes by the nickname 'Polka Dot Begonia,' for obvious reasons. Boasting the most unique spotted foliage atop angel-wing-shaped leaves, it's really no wonder why these tropical plants have become a spectacle in the houseplant world.
The large olive-green leaves have dramatic silver spots and the plant produces white flowers. This stunning Angel Wing Begonia can be grown in a hanging basket or pot and is known to be a vigorous grower.
Aside from the mesmerizing silver polka dots and large angel wing-shaped leaves, these popular plants are loved for their low-maintenance care regimen and tolerance to a wide range of conditions. Ideal conditions for Begonia Maculata plants include bright indirect light, high humidity levels, and a well-draining soil medium.
Additional tips for Begonia Maculata care include a moderate watering schedule and potting in a vestibule with drainage holes to avoid conditions of root rot. If the leaf tips of your Begonia begin browning, it is likely your tropical plant is craving more moisture.
For best results, we recommend applying a well-balanced fertilizer to your Polka Dot Begonia in the growing seasons of spring and summer.
If you are in search of an eclectic houseplant to bring unique flare and beauty to an indoor space, the Polka Dot Angel Wing Begonia is surely the plant for you!
---
Growzone: 9-11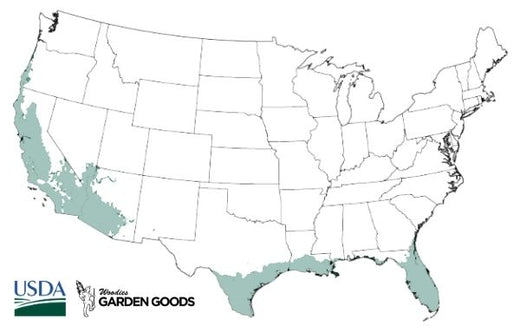 | | |
| --- | --- |
| Hardiness Zone: | 9-11 |
| Mature Height: | 20 to 30 Inches |
| Mature Width: | 20 to 26 Inches |
| Classification: | Foliage plant |
| Sunlight: | Fluorescent to bright, direct light |
| Habit: | Upright |
| Flower Color: | white |
| Foliage: | Dark green with shiny "polka-dots" |
| Soil Condition: | Regular potting mix |
| Water Requirements: | Likes to stay slightly moist |
| Uses: | Dramatic focal points |
---
Frequently Asked questions
---
Other Products you may be interested in
---
Customer Reviews