Images Depicted Range in Maturity & Container Size
Pots Not Included Unless Otherwise Stated
Domino Peace Lily Plants for Sale Online
Domino Peace Lily (Spathyllums) is a uniquely variegated version of the common Peace Lily. We recommend this houseplant to any beginner plant owner because it is very hardy and easy to grow. The variegation on the leaves is a marbled mixture of white and deep green. Spathyllums are known for their air-purifying qualities and ability to remove toxins from the air. Try placing them in an office, living room, or bedroom for a beautiful pop of greenery and white flowers. Peace Lily houseplants are one of the very few houseplants that will flower indoors. The only time these plants will not flower inside is if they are kept in low light conditions.  
---
Growzone: 9-11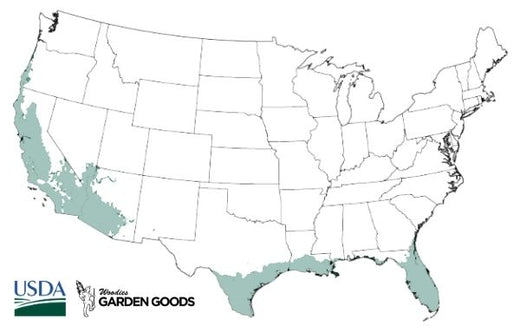 | | |
| --- | --- |
| Hardiness Zone: | 9-11 |
| Mature Height: | 20 - 30 inches tall |
| Mature Width: | 20 - 26 inches |
| Classification: | Flowering tropical houseplant |
| Sunlight: | Fluorescent to bright, indirect light |
| Habit: | Upright |
| Flower Color: | White |
| Foliage: | Green with white marbling |
| Soil Condition: | Regular potting mix |
| Water Requirements: | Likes to stay slightly moist |
| Uses: | Efficient at cleaning air indoors, does well in most indoor spaces |
---
How to Care for Domino Variegated Peace Lily
After you purchase your Domino Peace Lily plant, be sure to read the recommended care instructions to ensure your plant stays happy and healthy for years to come!

What is the best soil for Domino Peace Lily?
Domino Peace Lily houseplants thrive in soil conditions that remain slightly moist. If you are using a regular potting mix, try to keep the soil from drying out too much. If the soil dries out for too long, it could become compacted and be very difficult to rehydrate. However, it is important not to overwater your houseplant. If your Peace Lily is not in a container with drainage holes, you could run the risk of root rot disease. When your plant retains too much excess water, the roots are left sitting in standing water, and ultimately they rot. Peace Lilies also do well when grown exclusively in water without soil and are frequently found on green walls such as living, planted walls.

What is the best light for Domino Peace Lily?
Domino Peace Lily plants perform well in fluorescent lightings such as an office building or an atrium. These houseplants can handle bright, indirect light but cannot thrive in direct sunlight. We recommend placing them in a northern or partially shaded eastern windowsill. Western or southern exposure would work as long as the plant is away from the window or your window is well shaded. Your plant will produce more blooms if it is in bright, indirect lighting. Whereas if your plant is in low light conditions, it will not bloom as many flowers as it has the potential to.

How do I water Domino Peace Lily?
Your Domino Peace Lily likes to stay slightly moist, not too wet or too dry. If you notice yellow leaves, the plant is too wet, and if you notice brown tips on the leaves, meaning your plant is too dry. Your plant will recover well from drying out occasionally. You can wait until you see your Peace Lilies wilt to ensure you are away that this is the specific time to water them. Wilting can also be caused by your plant being too wet, so we recommend checking the soil condition before giving it a deep watering. If your plant's soil is still moist 1 to 2 inches deep, hold off a few days before watering again. Be sure your plant does not retain too much water, as this could cause root rot disease. Also, be careful your plant's soil does not dry too much because if it compacts, it is hard to moisten the compacted soil back up.

How do I fertilize Domino Peace Lily?
Domino Peace Lily plants do not need to be fertilized for them to thrive and bloom flowers. However, you are more than welcome to feed it any all-purpose foliage fertilizer during its growing seasons of spring and summer. Be sure to avoid fertilizing during the plant's dormancy seasons of fall and winter. Feeding your plant during their dormancy could negatively impact their next growing season. If you notice the tips of the leaves and blooms on your plant turning brown, you have probably over-fertilized. Over-fertilizing your plants cause their roots to burn and, in turn, causes their leaves and flowers to burn too.
---
Frequently Asked questions
Can I Mist My Domino Peace Lily's Leaves?
Is My Peace Lily Houseplant Toxic to Animals?
Why is my Domino Peace Lily Losing its Variegation?
---
Other Products you may be interested in
---
Customer Reviews