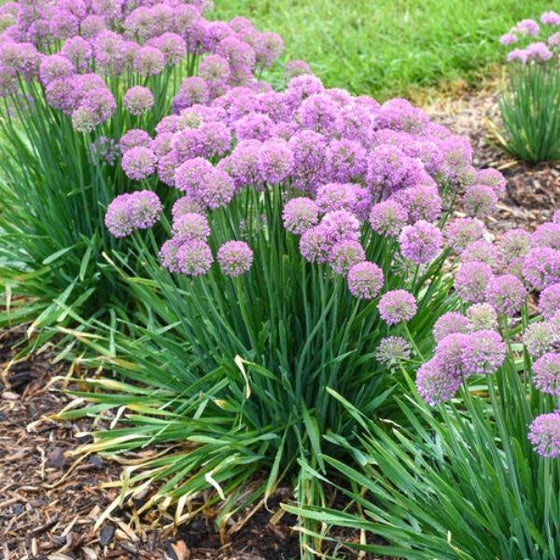 Images Depict Mature Plants
Serendipity Allium for Sale Online
Allium Serendipity is one of the best flowering ornamental onions available today. This hybrid cultivar flowers in the summer rather than spring-like its other ornamental onion relatives. Planting this perennial in your garden is a great way to extend the bloom time of alliums.
Allium Serendipity blooms in mid-summer and produces large globes of rose-purple flowers. As the plants mature, they will have dozens of flowers that look like purple orbs floating through the garden. This flowering onion is a clump former so expect the clusters to increase in size year after year. When the foliage is bruised, this plant will emit an onion fragrance to your garden—a Proven Winners Introduction.
---
Growzone: 3-9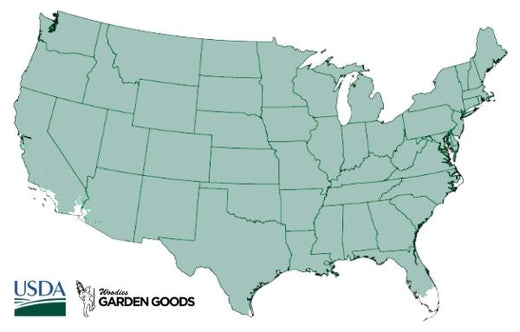 | | |
| --- | --- |
| Hardiness Zone: | 3-9 |
| Mature Height: | 15 to 20 inches |
| Mature Width: | 10-15 Inches |
| Classification: | Perennial |
| Sunlight: | Full Sun |
| Habit: | Upright, clump forming |
| Flower Color: | Lavender Purple |
| Flowering Season: | Mid-Summer |
| Foliage: | Green strap-like leaves |
| Soil Condition: | Prefers dry, average to sandy soil |
| Water Requirements: | Water well until established |
| Uses: | Interplant among other perennials to allow the flowers to rise above and "float" almost magically. |
---
How to Care for Allium Serendipity
Before you purchase your Allium Serendipity plant, be sure to read the recommended care instructions to ensure your plant remains happy and healthy for years to come!

How do I Fertilize My Allium Serendipity?
Your Serendipity Allium is an ornamental onion and will benefit from an application of fertilizer once a year. Any good quality fertilizer such as Espoma flower tone will work best. We recommend sprinkling this feed around the base of the plant for best results. Also, the best time to fertilize your perennial is in the spring before their growing season begins. Do not fertilize your Allium in the winter. Doing so will disrupt their growth dormancy period.

What Kind of Soil Do Allium Serendipity Plants Reqiure?
Your Allium Serendipity plant does not like to be in soil that stays constantly wet as this causes the root system to rot. Root rot will cause permanent damage to your plants and even kill them. Avoid overly moist soil, especially in the winter months when your plant is dormant. One way to avoid damp soil conditions is to plant your perennial in well-draining soil conditions. Well-draining soil will allow any excess water to escape from the plant to ensure it does not soak up unnecessary water. This plant also prefers to be in soil that is more on the acidic side (5.8 to 6.2).

How Much Sunlight Does my Allium Serendipity Plant Need?
We recommend that you give your Serndipity Allium plant at least 5 hours of full sunlight each day. You are more than welcome to give your plant more time in the sun, but 5 hours is the minimum they need to thrive. When the midday sun arrives, it is okay for your plant to be in part sun and not full sun. Sometimes too much full sun, especially during the hot midday sun, can be exhausting for your plants and dry them out quicker than normal. You mustn't let these plants stay in the shade for too long. Doing so will not allow them to blossom to their fullest potential.

How Much Water Does my Allium Serendipity Plant Need?
Allium Serendipity ornamental onions enjoy drying out in between waterings. If your plant's soil stays moist for too long, it could result in root rot disease. Root rot disease happens when your plant sits in standing water for too long and cannot absorb it all. Plant your Allium in well-draining soil so that when you water it, any excess water will drain away and not damage your plant. There is no need to water your perennial during the winter months. The winter is your plant's dormancy period, and they do not need any water while they are dormant.
---
Frequently Asked questions
Are my Ornamental Onion Plants Toxic to Pets?
Is my Allium Serendipity Plant Resistant to Deer and Rabbits?
Should the spent flowers be removed from Allium plants?
---
Other Products you may be interested in
---
Customer Reviews