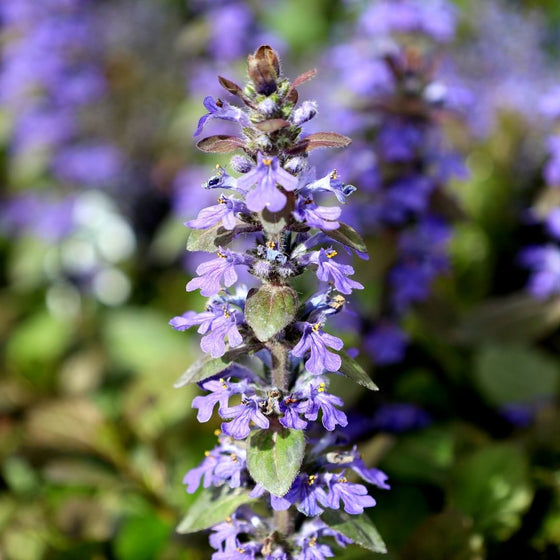 Images Depict Mature Plants
Ajuga Chocolate Chip Plants for Sale Online
Ajuga Chocolate Chip (Ajuga reptans 'chocolate chip') is a quick-spreading flowering groundcover with rich, chocolate brown foliage. Lavender-blue flower spikes rise from the foliage in late Spring to early Summer and may repeat bloom.
This deer-resistant and rabbit-resistant perennial thrives where other groundcovers may fail and are ideal for planting beneath trees and shrubs, on slopes, between stepping stones, and even in containers.
Producing 3-inch foliage and flowering spikes of up to 6 inches, the Ajuga Chocolate Chip may be the perfect groundcover for your needs, with the added convenience of no fertilization needed.
The Chocolate Chip Bugleweed is easy to care for; it only needs to be thinned every few years and it can be pruned after blooming using a high-raised mower. This ground cover is an optimal choice when looking for a low-lying, spreading perennial.
---
Growzone: 3-9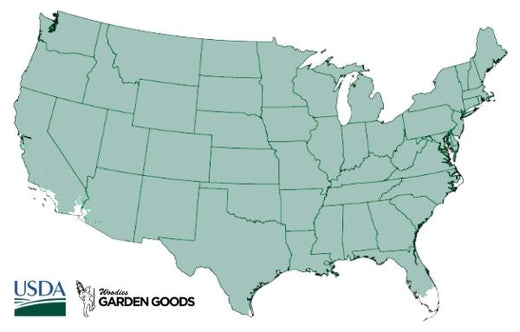 | | |
| --- | --- |
| Hardiness Zone: | 3-9 |
| Mature Height: | 2 to 3 Inches |
| Mature Width: | 1 to 3 Feet |
| Classification: | Perennial groundcover |
| Sunlight: | Full sun to full shade |
| Habit: | Spreading |
| Spacing: | Plant 6 to 9 inches apart for prompt covering, take caution with depth as the crown should not be covered to prevent rot |
| Flower Color: | Lavender-blue spikes in late spring through early summer |
| Flowering Season: | April to July |
| Foliage: | Rich burgundy-chocolate colored leaves with green undertones |
| Soil Condition: | Moist with good drainage |
| Water Requirements: | Water well until established |
| Selling Points: | Fast growing flowering ground cover, tolerates full sun to full shade, deer resistant and rabbit resistant, low maintenance, season extender |
---
How to Care for Ajuga Chocolate Chip
Before you buy a Ajuga Chocolate Chip plant (Bugleweed groundcover), make sure to read about the care instructions that are required and recommended to keep this plant healthy and thriving.

How do I plant Ajuga Chocolate Chip Bugleweed?
Ajuga Chocolate Chip Bugleweed is a fast spreading groundcover that can be planted 6-9 inches apart for prompt covering. Take caution not to cover the crown of the plant with soil as this will cause the plant to rot. Refrain from planting too close to un-edged flowerbeds or lawns as it grows very quickly. The Bugleweed may be used in container planting as the foliage will grow and spill over the sides for an abundant appearance. Great in contrast against light colored containers.

How do I prune by ajuga chocolate chip plant?
The Ajuga Chocolate Chip can be propagated by digging and dividing well established clumps in the fall or early spring. Every third year overcrowded groupings should be thinned to reduce crown rot. An otherwise low maintenance plant, the Ajuga Chocolate Chip may be trimmed after flowering with a high sitting mower.

What type of light does my Chocolate Chip Buglewood need?
The Chocolate Chip Buglewood is beyond accommodating and will thrive in full sun to full shade. Best foliage occurs with 3-4 hours of sun daily. Foliage may be smaller in full sun but this groundcover will produce more flower spikes in this condition.

What soil does my Ajuga Chocolate Chip Plant Need?
The Ajuga Chocolate Chip Plant prefers moist soil with good drainage. However, it will tolerate moderately dry conditions. Avoid planting in wet, heavy soils. Their rugged disposition makes them ideal for beneath trees, on slopes, and between stepping stones.
---
Frequently Asked questions
Is Chocolate Chip Ajuga invasive?
---
Other Products you may be interested in
---
Customer Reviews